Jobs
Study says work stress is as bad as secondhand smoke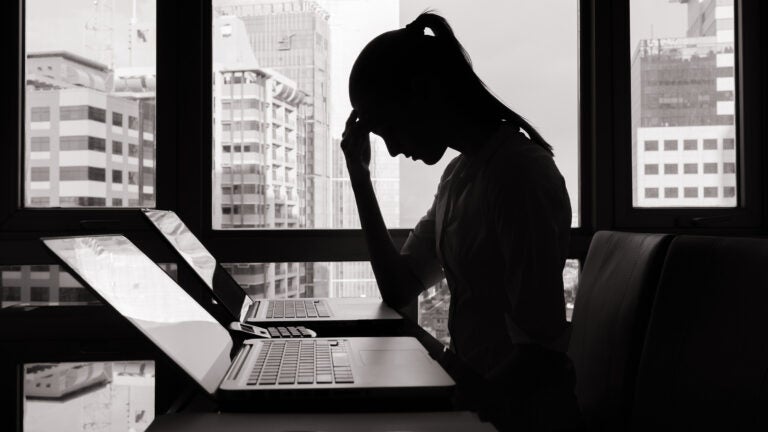 Add your job to the list of things that are bad for you. Researchers at Harvard and Stanford found workplace stress is as dangerous to your health as secondhand cigarette smoke.
The study, a "meta-analysis'' of 228 scientific studies, was conducted by Joel Goh, an assistant professor of business administration at Harvard Business School, and Jeffrey Pfeffer and Stefanos Zenios of Stanford University, and was recently published in the peer-reviewed journal Behavioral Science & Policy Association.
The team looked at 10 workplace stressors that impact a person's physical and mental health, from things like long working hours and shift work to low social support and lack of employer-provided healthcare.
The researchers then measured how those stressors impacted four "health outcomes'': self-rated poor physical health, self-rated poor mental health, physician-diagnosed health problems, and death.
The grim findings
They found that the presence of workplace stressors predicted negative health outcomes almost as well as exposure to secondhand smoke does.
The study found work-family conflict more than doubled the likelihood that employees will experience self-reported mental health problems and increased the risk of physical health problems by more than 90 percent. Job insecurity also correlated with an increase in self-reported physical problems.
A sense of low organizational justice (defined as "a lack of perceived fairness in the organization''), increased the odds of having a physician-diagnosed condition by about 50 percent, significantly more than secondhand smoke exposure.
Not addressing workplace stress can be costly, at both a financial and human level. According to Insights by Stanford Business, workplace stress is responsible for 120,000 deaths each year and $190 billion in health care costs.
Story continues after gallery
Jobs that make the world a worse place
[bdc-gallery id="30901″]
Expanding the conversation
While many employers have wellness programs that may encourage workers to join a gym, lose weight, or quit smoking, Goh told Boston.com that these programs often fall short because they only address half of the problem.
"Wellness programs are great at doing what they're designed to do,'' Goh said in a phone call. "But they're targeting [employee behavior], not targeting the cause of stress.''
Looking carefully at how managers and workplace conditions create a stressful work environment should also be part of the discussion, he says.
"There are two sides of the equation and right now we focus on one side,'' he said. "We're trying to call attention to the other side [of the equation], which is the effect of managerial practices.''
However, the study does not offer specific solutions for managers to make the workplace less stressful. Instead, Goh said he hopes it will lead to more discussions on how employers can implement policies that reduce employee stress.
"We're not prescribing methodology to mitigate stress, but we're trying to open up conversation to say 'these things matter,''' he said.
He also hopes bosses will realize that their policies can have an impact on their employees health and encourages them to strike a balance between productivity and wellness.
"Assuming an employer cares about their employee for benevolent or bottom line reasons, we think this is something many employers haven't thought on about,'' said Goh. "We're trying to say employers have a new control they weren't aware about.''