Jobs
Welcome back! When boomerang employees return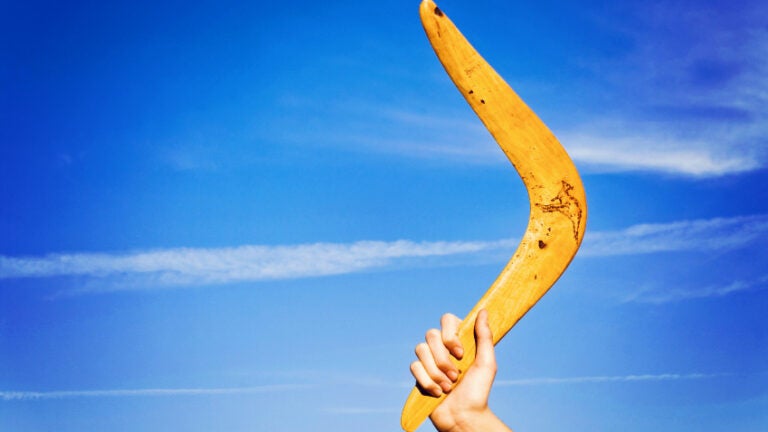 If you've ever left a job only to regret the decision after your new adventure didn't work out, there's good news. Chances are your old employer will welcome you back with open arms if you decide to "boomerang.''
A new study by Chelmsford-based Kronos Incorporated and New York-based WorkplaceTrends.com finds about three-quarters of HR professionals and nearly two-thirds of managers are more accepting of hiring back "boomerang employees.'' Over 1,800 human resources, managers, and employees participated in the survey.
Shifting control
The greater likelihood of allowing a former employee to return is a significant departure from past hiring policies. According to the survey, nearly half of all HR professionals said their company had a policy against bringing former employees back on board.
Kronos's Chief People Officer Dave Almeda says the idea of a company closing the books on former employees for good is "a dated view.''
"Relationships have changed from when employers felt like they where in control,'' said Almeda in a phone call with Boston.com. "Now there's a demand for specialized skills and the employers' path forward is to create an environment that welcomes them back.''
For employers, rehiring a former employee has plenty of advantages. For example, they are already familiar with company culture, practices, and benefits, and require little training, compared to a new hire.
Story continues after gallery
Check out Mass. business leaders first jobs
[bdc-gallery id="27666″]
Who boomerangs and why?
Almeda said there are three "flavors'' of boomerang employee.
First is the traditional worker who leaves one job to make a lateral or higher career move somewhere else. Second, is the employee who wants to "scratch an itch'' by trying something they've always dreamed about doing with their professional career. Finally, some employees leave due to life events like having children or relocating when a spouse gets a new job.
Almeda himself is a boomerang employee. After working for Kronos for five years, he decided to "scratch an itch'' at another company. But after a few weeks, he realized it wasn't going the way he thought it would.
But during his time away from Kronos he kept in touch and even had coffee with his former boss. When he realized he was ready to move again, he said his old boss welcomed him back.
"As I think about it retrospectively, I scratched my itch and it increased my loyalty [to Kronos] in meaningful ways,'' he said.
The millennial factor
According to the study's findings, younger workers are more likely to return a former employer. The report found 46 percent of millennials surveyed would boomerang back to an old company. Meanwhile only 33 percent of Generation Xers and 29 percent of baby boomers said they would do the same.
Because millennial workers came of age during the recession, WorkplaceTrends.com founder Dan Schawbel says, it's understandable that they would want try working at a few different companies while their careers are just taking off.
"The economy has delayed adulthood for many students and young professionals,'' said Schawbel in a phone interview. "They don't know [their position] is the perfect job for them unless they try to work somewhere else.''
The strength of a company's culture can go a long way in getting a former employee to return, said Schawbel, who encourages companies to think of their network of former employees as alumni who can still represent their brand after they leave.
"In terms of employer branding, you can't fake a corporate culture,'' said Schawbel. "If you hire the right people and they're a good fit, they'll speak highly of [the company] and get others to return and help in the recruiting process.''
War for Talent
Michelle Roccia, executive vice president of employee engagement at WinterWyman, said she's not surprised to learn that employers are willing to bring back qualified employees, because talent is in short supply.
"At this time, we're in a war for talent,'' said Roccia. "Hiring back a known commodity – assuming that person left on good terms and was good employee – makes sense.''
Familiarity also goes a long way for both parties, she said.
"It's like the devil you know or the angel you know,'' said Roccia. "They know the company, so there's less uptime or downtime to get them up to speed versus the employer taking a chance by bringing in someone new.''
She also agrees with Schawbel's sentiment that former employees can play a strong role in the recruiting process.
"You always want [employees] to speak well of the company,'' said Roccia. "It's the right thing to do and by doing that you give yourself more options.''
Bad news for outsiders
While the study has encouraging news for former employers, the results mean job-seekers who lack a prior connection to an employer will face greater competition from former employees. Schawbel points out that companies want to reduce their risk, which means they are more likely to take a chance on an employee who has already been through the recruiting and screening process.
"Overall, it's getting harder to be a job-seeker,'' said Schawbel. "The missing ingredient is an internal connection to the company…It's another disadvantage on top of everything else.''