Jobs
Somerville's Brooklyn Boulders offers an unconventional workspace for Bostonians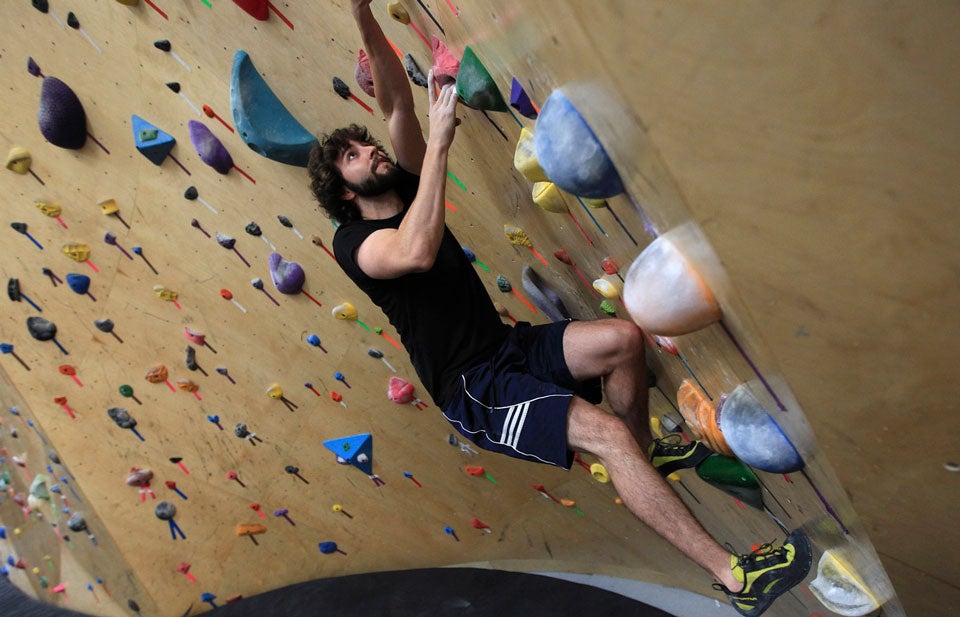 Bored with your conventional office space? Somerville's Brooklyn Boulders (BKB), an indoor rock climbing gym, offers 22-foot-high climbing walls as an alternative.
The national chain is in the process of incorporating modular co-working office spaces, glass-walled conference rooms, and even apartments into its gyms, according to a recent Bloomberg Business article. Bostonians looking for unusual workplaces are taking note.
When Joe Lemay left his Boston office job to launch a startup, BKB became the perfect place for the 38-year-old to balance work and exercise, Lemay told Bloomberg. "I'll be sitting there coding and get up from my chair, go over to a squat rack, and do 10 reps on the rack, then come back to my computer,'' Lemay said. "You can always be in the mindset of being active and productive at the same time.''
BKB describes the gym on its website as a "new type of community space inspired by the incredible people drawn together by climbing.'' Located at 12A Tyler Street, Somerville's BKB hones in on the appeal of all-inclusive offices, boasting 28,000 square feet of climbing walls, fitness equipment and classes, collaborative workspace with free Wi-Fi, a café, and a lounge. A BKB currently opening in Long Island City, New York will take it all one step further by featuring upstairs condos, and offering tenants discounted gym memberships.
Story continues after gallery.
Spice up your lunch break with these fun ideas:
[bdc-gallery id="29998″]
Apparently, climbing is appealing to a lot of other people as well. The number of climbing gyms nationwide increased by 10 percent in 2013, with a total of 28 new facilities opened, according to Climbing Business Journal.
If this type of office appeals to you, basic membership at BKB costs $115 per month, with a one-time $100 activation fee. But if you're the type of person who can only work in quiet areas, the climbing gym may not be the best situation for you: Bloomberg reports there's a physical fee for using the co-working areas of five pull-ups or one conversation with a stranger every half hour.
You can read the entire Bloomberg Business story here.