Jobs
MIT map shows how impossible it is to live on minimum wage in Boston, and everywhere else too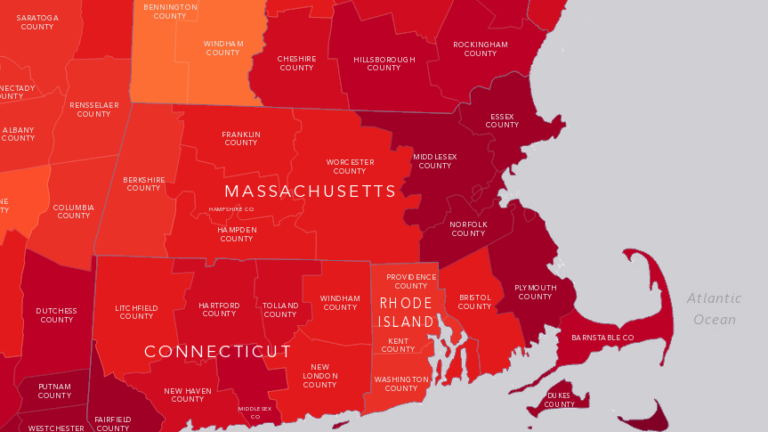 MIT has released a mapping tool that compares the cost of living and the minimum wage for different households across the United States.
Though the map is pretty, the results are not. They show that earning minimum wage across the country is rarely enough.
The map looks at three types of households: parents with a spouse and two children, single parents with one child, and single adults.
The map's colors correspond to the gap between the living wage – defined by MIT's "living wage calculator,'' which estimates the cost of living by looking at the local cost of basic needs – and the minimum wage for each of these three scenarios. The redder the map is, the larger that gap is.
Especially for parents with spouse and two children, the map is red and dark red in many places, including Boston.
The goal of making the map was to "help families and individuals to know more about their costs of living and also to think about how they might argue for better wages,'' Amy Glasmeier, the MIT professor who worked on the project, told Boston.com via email. "I also hoped to inspire policy makers to step up and ensure their wage scales were livable.''
Here's Massachusetts, for example, looking at parents with a spouse and two children:
In Suffolk County, the living wage is $27.01 per hour, while minimum wage is $8.00 – a gap of $19.01.
The gap for a single parent with one child is even greater at $19.87.
If you're a single adult, there is still a gap, but a smaller one at $5.77.
The map can also be changed to just look at major cities, using the same metrics. Here it is using the single adult metric:
Boston's gap for singles is lower than New York's, at $5.30 and $5.71 respectively.
"More rural areas are lower cost than cities,'' Glasmeier said. "At the same time, the gap is still quite large in rural areas.''
Glasmeier said that the results were what she expected, except for the state of Washington, where there was no gap for singles in Washington. But for the most part, there are very few places where minimum wage makes the cut.
Check out the full interactive map here.
These are the fastest growing jobs by 2022:
[bdc-gallery id="24570″]