Jobs
Burned-out workers with kids probably won't tell their bosses how they feel
According to a new study by research and consulting firm Kelton Global.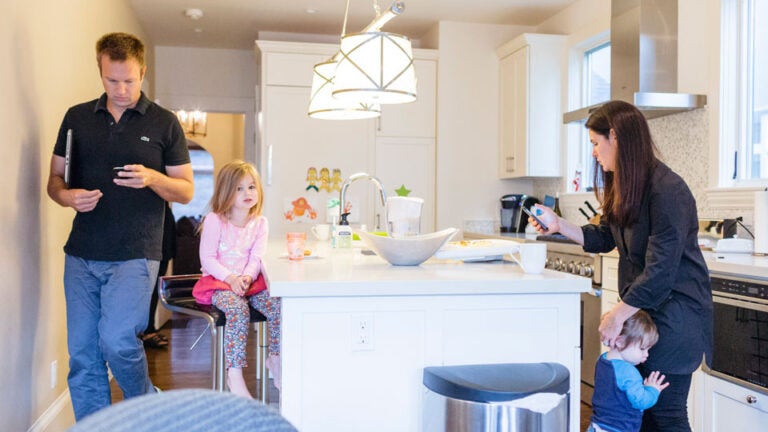 Working parents who feel burned out probably won't tell their bosses how they feel – even if their job is making them sick, anxious, and unhappy, according to a new study of working parents and their managers.
Commissioned by childcare provider Bright Horizons and conducted by research and consulting firm Kelton Global, the study, entitled "2015 Bright Horizons Modern Family Index,'' asked over 1,000 U.S. employees with kids to describe how work-life balance conflicts are handled by their managers.
While most bosses said their company culture supports working-parent needs, researchers found that employees felt differently, with over 98 percent feeling burned out and 75 percent admitting they probably wouldn't say anything about it.
"There still remains a lot of fear, and a gap from the perception of workers about having a dialogue with their supervisors,'' said Dave Lissy, CEO of Bright Horizons.
What's so scary about telling your boss you might need a lighter load, or a flexible working arrangement? The survey suggests many stressed-out workers are under the impression that their managers aren't concerned with their needs as caregivers, with 64 percent of respondents saying their employer is not attentive to the needs of working parents.
But Lissy suspects a lack of communication is to blame.
"I don't think managers are totally in the dark,'' Lissy said. "They acknowledge these issues are out there but if they're not hearing about them directly, they might not see them as big issues.'' In fact, only a third of managers said they had concerns that working parents were struggling to balance work and life.
Employees clearly see work-life balance as a pretty huge problem, however.
Almost half of working parents said they were worried about managing their health, and 77 percent said their burnout had caused them to feel anxious or to get sick more often. This pressure could eventually lead to workers feeling unhappy at their company, and more likely to search for a new job.
The survey also showed that work-life balance is not just a problem for working moms, with more than half of dads (52 percent) reporting they were stressed about maintaining their work performance while being more present at home.
"Working millennial dads have said they want to be engaged at work but they don't want to be absentee parents like maybe their fathers were,'' Lissy said. "This is not a gender-specific issue.''
So what's the solution? It's two-fold, Lissy said.
Story continues after gallery.
The least and most fulfilling jobs, according to the people who hold them:
[bdc-gallery id="25059″]
Both working parents and their managers overwhelmingly agreed that changes have to be made in the office, not at home, but while more companies adopt family-friendly workplaces, Lissy suggested this attitude is not being translated down from supervisors to managers who could convey that message to employees.
"What companies can do is empower their frontline managers with training to be open to these issues and to be flexible where flexibility is possible,'' Lissy said. "And companies should think about adopting programs that better support the needs of working families where that's possible.''
Workers, that doesn't mean you're exempt from improving communication with managers – if you never voice your problems, higher-ups might never question the quality of your work-life balance. "It goes both ways,'' Lissy said.