Jobs
Married to a man who's married to his startup
(When you have three kids.)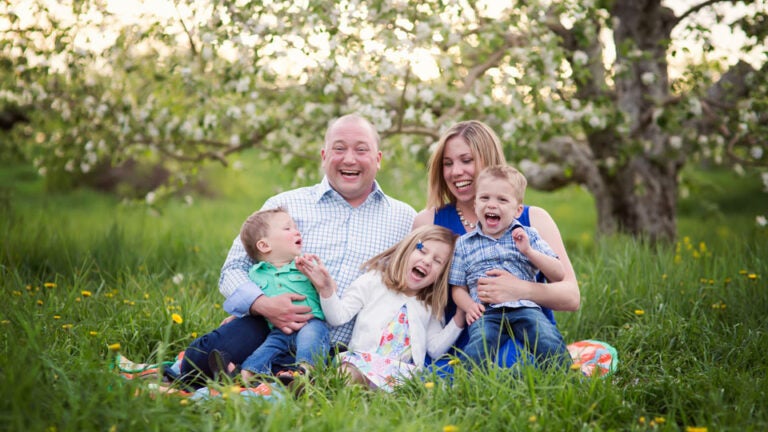 The prototypical image of a tech company founder is probably a hoodie-clad Mark Zuckerberg studying computer science in his Harvard dorm room before dropping out his sophomore year to disrupt the entire Internet.
But the reality is more complicated. According to Endeavor, a nonprofit that helps launch entrepreneurs, most founders don't even major in the STEM fields. In addition, the average age of tech founders in New York City is 31, and as TechCrunch points out, the older the founder, the more likely he or she is to find success.
That means many people at the helm of tech startups are not unattached 20-year-olds, but married parents trying to leave a stable job to make something new. And they're not doing it alone.
More attention is beginning to be paid to the "hidden co-founder,'' the spouse founders turn to when they need someone to bounce ideas off of, or keep them sane as they try to launch what's generally an under-funded and under-resourced company.
That's the role Jessica von Wallenstein found herself playing when her husband Cory decided to cofound Adored, a loyalty experience app that partners with businesses across New England and is set to go live on December 1.
"At first, it was like, 'Wait a second, you want to leave a normal job and just start a company?''' Jessica said. "Now, seeing it come to fruition is a lot easier than it was taking that first step.''
Story continues after gallery.
25 jobs with the best work-life balance, according to Glassdoor:
[bdc-gallery id="27450″]
Cory, the former chief technology officer of Internet performance company Dyn, met Jessica in 2001 on the first day of class at Worcester Polytechnic Institute. Cory got a bachelor's in electrical and computer engineering while Jessica studied biomedical engineering before briefly working in sales.
As women still only represent about 18 percent of startup founders, Jessica is like many hidden co-founders in that she is a wife and a mom. Now that the couple is in their early 30s and has three kids with a fourth on the way in Bedford, New Hampshire, Jessica stays home with the kids, while Cory works 60-70 hour weeks launching Adored and mentoring at Harvard University's iLab, MIT, and TechStars Boston.
Jessica has had a long time to get used to Cory's entrepreneurial bug. He's had it for as long as she's known him.
"I remember a conversation we had while dating, and I had a company I was building,'' Cory said. "And she said, 'Are you always going to be this way?'''
He told Jessica yes, he had wanted to be an entrepreneur since he was 13. "It's always been in my blood. It's exhilarating and exciting not knowing if you're going to be successful. We had some deep conversations about what that meant.''
Besides the crazy-long workweeks, Jessica learned that starting a business means Cory travels frequently between their home in Bedford and Boston where his investors are located, or to the 75 restaurants, cafes, stores, and ski resorts across New Hampshire, Maine, and Massachusetts that are already partnering with Adored.
"It's a very 'strike while the iron's hot' type of business,'' she explained. Which is why the couple meticulously schedules in time for family outings and date nights.
Jessica does her part to make sure they make time for one another through strict organization, calling Google Calendars a "lifesaver.''
"Set aside some time together that's scheduled on a calendar because if it's not scheduled, something always comes up,'' she added.
"Startups can affect a relationship, and relationships can affect a startup,'' said Cory. But it seems Jessica has only strengthened his business. He says he's "in awe'' of what she accomplishes in terms of building their strong family dynamic, and said they make a great life team. "It takes a lot of work to maintain that balance. Every Thursday night is date night. I do my best to not cancel and not reschedule, and it can make up for so much of the chaos. It pays out in dividends.''
Luckily, Cory's cofounder and Adored's CTO Dan Vine also has a wife and four kids, so he understands the work-life struggle Cory and Jessica endure. "It's nice that they're in a similar situation,'' said Jessica. "It's not like one is single with way more free time.''
Though Jessica admits being married to a startup founder is "challenging,'' and she doesn't have any desire to launch her own business any time soon, she said she trusts Cory and is excited for the launch of Adored.
Adored uses iBeacon indoor location technology (Apple's Bluetooth technology that tracks where your phone goes) to automatically reward customers when they visit a participating company, whether it's with a virtual loyalty card, or letting them know the daily specials and events.
"We started the company because iBeacon technology has been around for awhile and it's a marketer's dream and a consumer's nightmare,'' Cory said. "We thought, 'This can be used for the customer's advantage,''' he added. Adored requires no username, password, or email to use, and is 100 percent anonymous, so businesses can monitor customers behavior, but they can't send users dozens of marketing emails, Cory added.
"His complete optimism, confidence, and problem-solving techniques – it's hard not to get caught up in it,'' she said. "And I had that light bulb moment my second year of college that this is what he is and this is what it's going to be like. I've had time to adapt.''