Jobs
Dorchester sisters find a way to help their employees and their bottom line
After earning a StreetWise 'MBA' with nonprofit Interise.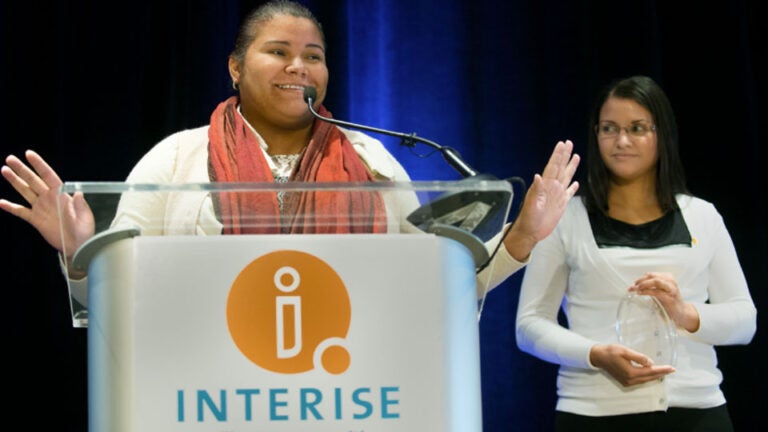 After immigrating to the United States nearly 20 years ago from the Dominican Republic, sisters Nisaury Tejeda and Victoria Amador decided several years ago they wanted to start a business with the help of their mother, Rosa Tejeda.
Since Rosa had been cleaning hotel rooms for over 15 years in the Boston area, the trio chose to tap into a market they were familiar with: the commercial and residential cleaning industry. They started Tremendous Maid in Dorchester in 2011, offering to scrub, strip, wax, and clean their clients' homes and offices till they were "5-star hotel clean.'' But Victoria said the family wanted a business that did more than just make money.
"We realized we needed a business with deeper meaning,'' Victoria said. So the women of Tremendous Maid set themselves apart from other local cleaning businesses by putting a larger emphasis on their employees, predominantly immigrants and low-income members of their community.
"This mentality has changed the way we feel and act throughout the company and our employees see the difference because they too are part of that cultural shift,'' Victoria said. The current staff is nearly 100 percent Latina, and despite the cultural differences between workers from different countries, Victoria said she urges them to treat one another with respect and empathy. "Our goal is to help our employees develop both personally and professionally.''
Not enough
But to help more immigrants "follow their dreams,'' as Victoria said, Tremendous Maid also had to grow, so the sisters became involved with Interise, a nonprofit born out of Boston University that helps small business owners grow their companies and create jobs, primarily in low-income neighborhoods like the one with which the Tejeda family was so familiar.
Interise does this through its StreetWise 'MBA' program, basically a crash course in small business executive education that lasts nine months. The classes meet bi-weekly, and are taught by instructors with entrepreneurial and adult teaching experience. Upon graduating, business owners get a certificate in Small Business Entrepreneurship from Boston University's Entrepreneurial Management Institute and a three-year strategic growth plan that outlines their specific goals for the future.
Most small businesses that get through the program succeed, with 57 percent of alumni reporting added jobs, and 68 percent reporting increased revenue in the 2015 annual survey Interise gave them. After all, they don't get admitted to the program unless they show "real scaling potential,'' Interise CEO Jean Horstman said.
Story continues after gallery.
Careers most likely to add jobs by 2019:
[bdc-gallery id="28554″]
Nisaury said the course gave her and Victoria a more "realistic'' growth goal. (She's always thought Victoria too ambitious.) But if you look at Tremendous Maid's progress since graduating from the program, it's easy to see why Victoria has high expectations.
In the past year, Tremendous Maid's staff of 33 saw a 215 percent increase in commercial revenue, adding 22 new commercial accounts, seven employees, and moving to a larger facility. They're now servicing over 300 units per month, and are entrusted with 37 business accounts. The company, which started with $0 in bookings, is nearing $1 million in contracts, Victoria said. This October, the sisters were awarded Interise's "Good Citizens Award'' for the jobs they've created for Boston immigrants.
"This is just the beginning,'' Victoria said, adding that her current goal is to have 125 employees by 2018, and to expand Tremendous Maid services to offer painting and snow services. With her newfound business acumen, this doesn't seem unrealistic to her, especially with the network she and Nisaury developed while getting their MBA. Most classes have about 12-15 members, and StreetWise alumni generally keep in touch, meeting once a month to talk about their ongoing business challenges and achievements. "They offer emotional support,'' Victoria said. Many end up working together.
Interise currently offers programs in Lawrence, Worcester, New Bedford, Haverhill, and of course, Boston. But Horstman wants more. She has her eyes set on Lynn and Brockton at the moment. "Many of our business owners become leaders in their community,'' she said. "They bring that entrepreneurial problem solving they have to fix issues in their neighborhoods. So we help the ones with the hunger for growth that are stuck. The MBA gets them unstuck.''