Jobs
Boston Harbor Hotel: Where employees stay for life
Top Places to Work 2015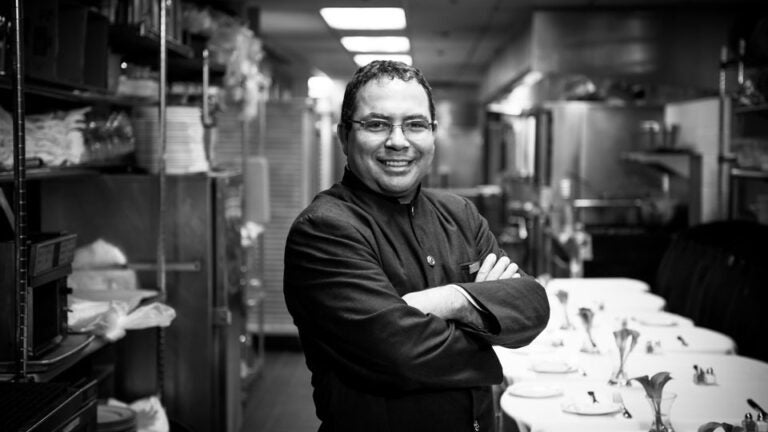 Carlos Espinosa was 22 years old, visiting some friends who lived in Boston, when he first walked by Boston Harbor Hotel. The Medellín, Colombia native found himself in awe of how lovely the building was, with its soaring arched entryway that overlooked both Boston Harbor and the Rose Kennedy Greenway.
"I came by this beautiful hotel and asked the doorman at the time if I could get a job there,'' Espinosa said. He had been half-kidding, he explained. He lived in Worcester at the time, was into drugs and heavy drinking, and his English wasn't the best. But the man said yes, and Espinosa went inside to apply, promising himself, "If I get a job at that hotel, I will stop everything.'' And he did.
Twenty-seven and a half years later, Espinosa still works at BHH, but as a room service waiter rather than a dishwasher, which was his first position. He loves how much his English has improved over the past two decades, and said interacting with guests and their children are the best part of the job.
"I get depressed when I stay home,'' Espinosa said. He recently had brain surgery through his nose and was instructed to take two months off to rest. He was back at work after three weeks. "My voice sounded like I had a cold,'' he added, laughing.
A very long-tenured bunch
The average U.S. employee stays with their employer around 4.6 years, according to the Bureau of Labor Statistics. In this vein, Boston Harbor Hotel is not like most employers.
Judy Brooks, BHH's director of human resources, said over 45 percent of the hotel's 400 employees have been there for more than 15 years. Another 40 percent have worked there for more than five years.
[The companies featured in this story are among the winners of The Boston Globe's 2015 Top Places to Work awards. You can see a full list of winners and read more coverage here.]
"We are very fortunate,'' Brooks said. "We have a number of long-tenured employees who have been here for 28, 27, 26, and 25 years now. A lot of that has to do with the fact that yes, it's a business, but it's also very much a family environment.'' In fact, 19 of the original staffers still work at BHH, which opened in 1987.
Brooks explained that part of what makes BHH so special is the amount of employees who immigrated to Boston from other countries. There are over 46 different languages and dialects spoken at the hotel, she said, and roughly 85 percent of the staff are first-generation immigrants from places like Colombia, El Salvador, Haiti and China.
What makes workers stay so long? Brooks said she considers the hotel industry to be a job sector where immigrants can still work their way up through the ranks and achieve a middle class life.
"You can work your way up from a busboy to a manager,'' Brooks said.
Long-tenured employees take pleasure in training the next generation of employees, she added, and one of the strongest ways workers bond is through charity.
Espinosa lost his daughter Carolina just 20 days after she was born, and started the Fundación Carolina Espinosa in her memory. The charity is dedicated to helping provide school supplies, clothing, and food to Colombian schoolchildren, and Espinosa said his co-workers have played a huge role in the foundation's success, helping him organize clothing drives and fundraisers.
"In 2010, I first started trying to collect supplies for a few kids over there and ended up with nine big boxes of clothes and school supplies,'' Espinosa said. "The hotel helped pay for shipping and we also pay for Internet there so kids can use an iPad they share. My coworkers and I – we are very close.''
You can see a full list of Top Places to Work winners and read more coverage here.