Jobs
Some companies find when they pay for workers to go back to school, everybody wins
Top Places to Work 2015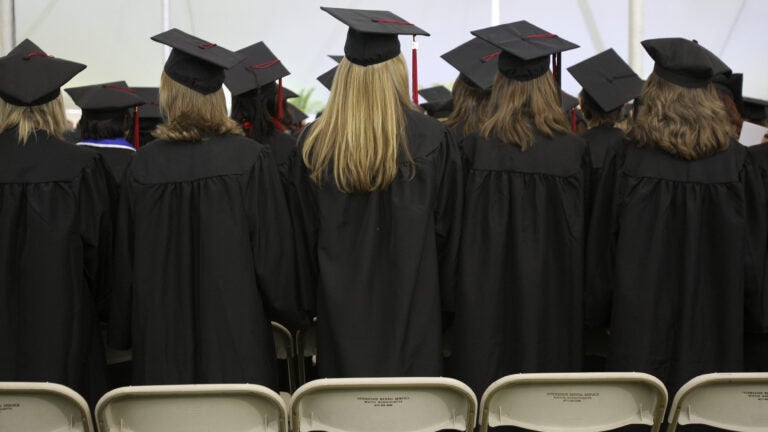 A common path for people pursuing an MBA is to quit their job and spend two years as a full-time student (maybe taking on a lot of debt in the process), hoping their degree will result in a higher-paying position after graduation, probably at a new company.
But some Massachusetts companies see a better way. They're picking up part of the school tab and offering flexible work arrangements with the goal of hanging on to talented, ambitious employees.
Going further without going elsewhere
Jenna Harrington is the senior manager of government affairs at Vertex Pharmaceuticals and is currently pursuing an MBA from the Wharton School of the University of Pennsylvania with help from the company.
Prior to joining Vertex, Harrington got her bachelor's degree in business from Wake Forest University in North Carolina and worked as a health policy consultant in Washington, D.C. after graduation.
"I had a passion for health policy but wanted to join the biotech industry and excel in a commercial role,'' said Harrington in a phone interview.
"I knew an MBA was going to be part of my education goals,'' she said.
Vertex offers employees up to $10,500 in education tuition reimbursements per calendar year. The company also reimburses employees for professional development seminars and workshops.
Harrington started working on her degree with her previous company before joining Vertex. When an opportunity to join the pharmaceutical company arose, Harrington took it and continued her education.
Her coursework covers marketing, business strategy, finance, and accounting. Not only is the coursework demanding, but the program also requires her to travel to Philadelphia twice a month on the weekends to meet with her peers. She pays for her travel expenses out of her own pocket.
"My goal is to set myself up to grow into a leadership role with Vertex,'' said Harrington. "Wharton's program lends itself well to that.''
In addition to offering financial assistance, Harrington says she appreciates her company's involvement in her professional development. Her supervisors ask her about her coursework and look for ways to integrate her lessons into her daily workload. Being able to continue to work while getting her education has been a huge help, she says.
"The company has been broadly supportive of my development,'' she said.
But even so, she's looking forward to getting her weekends back when the program wraps up next year.
Filling in the gaps
Like Harrington, Mark Turkall has also been reaping the benefit of his own company's tuition reimbursement package, but instead of an MBA, he's working on a bachelor's degree that got put on hold the first time around.
Turkall is a lead IT technical analyst at Tufts Health Plan in Watertown. He first joined the company in 1997 when he was 19 years old after dropping out of the Massachusetts College of Liberal Arts in North Adams.
He started in the company's claims investigation department and eventually transferred to the company's IT department. Once he started there, he knew IT was where he wanted to focus his career.
"It dawned on me that IT was the right direction and career choice for me,'' said Turkall.
Tufts Health Plan offers its employees up to $5,250 per calendar year in tuition reimbursement. Turkall first used the benefit in 1999 to get an IT certificate from Clark University.
Through the program he learned Javascript, HTML, and other tech-focused skills that helped him move up in this company to become a systems analyst.
[The companies featured in this story are among the winners of The Boston Globe's 2015 Top Places to Work awards. You can see a full list of winners and read more coverage here.]
But more than a decade after getting his IT certificate, he decided to go back and get the bachelor's degree he never obtained.
"It's always something a hiring manager will ask you,'' he said. "I decided, let's shore up my experience with a bachelor's to make sure it's in my back pocket.''
He is currently taking classes online through Colorado Technical University and expects to complete the program by fall of 2016.
Turkall says his classes have helped him stay on top of how technology is changing and to "stay on top of the industry and best practices.'' But he says other coursework is also helping him on the job.
"It's helped me a lot, not just the IT classes, but things like psych and sociology,'' he said. These are skills he believes will serve him well should he pursue a managerial career in the future.
"It's important to know how to work with different personalities and how you talk to them,'' he said. "You can learn a lot from hands-on work, but do you really understand psychology and how people work?''
In the end, Turkall says he's grateful his employer is committed to furthering his education and gave him a chance to complete the education he left unfinished earlier.
"I was lucky to get where I am without a degree, coming out of school at 19,'' he said. "If it was today, I don't think I would have the same opportunity and luck.''
You can see a full list of Top Places to Work winners and read more coverage here.