Jobs
Massachusetts defense company tops list for LGBT workplace inclusion
Raytheon is located in Waltham.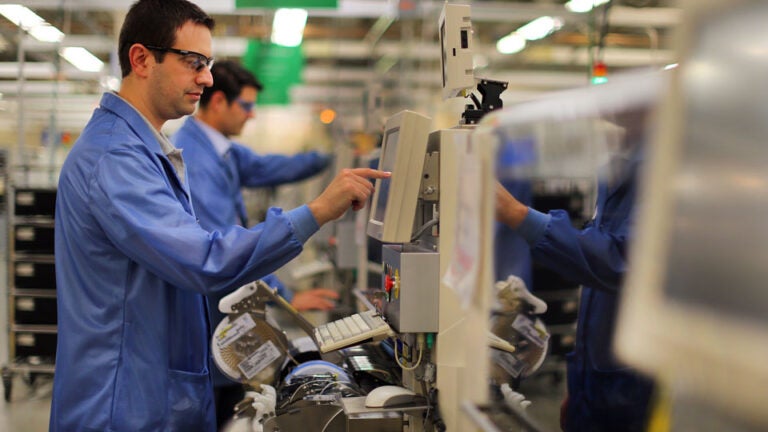 When it comes to lesbian, gay, bisexual, and transgender (LGBT) equality in the workplace, some companies are far ahead of the rest – especially in the aerospace and defense sector.
The Human Rights Campaign Foundation (HRC), the educational arm of the nation's largest LGBT civil rights organization, recently released its annual "Corporate Equality Index 2016''(CEI), which rates over 851 American workplaces for their LGBT workplace inclusion.
This year, the CEI found that a record-breaking 407 businesses nationwide earned scores of 100, the highest possible, and six were aerospace and defense giants, including Raytheon, a Waltham-based technology and innovation company specializing in defense, civil government, and cyber security.
"For leading aerospace and defense firms, there is no margin for error when it comes to attracting and retaining a top-notch workforce,'' Deena Fidas, director of the HRC Foundation's Workplace Equality Program, said in a statement. "No defense firm wants or can afford to lose a top scientist or engineer simply because of that individual's gender identity or sexual orientation.''
HRC's index is the nation's primary benchmarking tool for LGBT workplace equality. Using a 100-point scale, the CEI rates companies based on five categories that include their non-discrimination policies, employment benefits, responsible citizenship, and public commitment to equality. In 2015, the rankings started requiring that qualifying companies have a global non-discrimination code of conduct prohibiting discrimination based on sexual orientation and gender identity.
Story continues after gallery.
25 jobs with the best work-life balance, according to Glassdoor:
[bdc-gallery id="27450″]
Raytheon was founded in Cambridge in 1922, and currently sells its services and products in 80 countries and has 61,000 employees worldwide. In 2015, Raytheon was awarded for offering multicultural business opportunities, and in 2014, it was recognized as one of the country's top companies for women's business enterprises.
"Diversity at Raytheon is about inclusiveness — providing an atmosphere where everyone feels valued and empowered to perform at a peak level, regardless of the many ways people are different, including but not limited to age, race, gender, sexual orientation, family history or physical ability,'' the company says on its website.
Other aerospace and defense companies that earned 100 points for LGBT equality included Boeing Co. of Chicago; Lockheed Martin Corp. of Bethesda, Maryland; and Rockwell Collins Inc. of Cedar Rapids, Iowa.
"Our nation's top companies continue to rise to the challenge of creating workplaces that are fully LGBT-inclusive,'' said HRC President Chad Griffin in a statement. "This year's CEI demonstrates yet again that America's most successful companies continue to set the standard for inclusion, and understand that the fight for LGBT equality is a global endeavor, to be pursued with resolve and urgency.''