Jobs
What happens when the CEO sits at the next desk
Top Places to Work 2015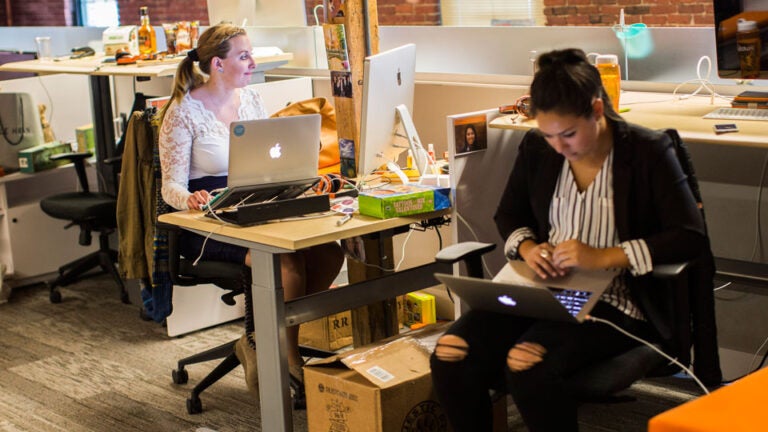 When was the last time you saw your CEO? At many companies, you might catch a glimpse as she glides to a meeting, or peep at him through frosted glass windows encasing a fancy office. If that's the case, you probably rarely speak to this person, especially in one-on-one settings.
Unless you work at HubSpot, the Cambridge-based maker of an inbound marketing software platform. At HubSpot, CEOs are just as likely to sit next to the intern as to the chief operating officer.
"No one at HubSpot has their own office,'' Dharmesh Shah, HubSpot's CTO and co-founder, explained to Boston.com. "Not either of the founders, not the COO/President, or anyone on the executive team. We have an open office set up where all employees sit at the same style of desks amongst each other.''
Sending a message
There are many reasons for this, Shah said, including the notion that all HubSpot workers are "teammates'' working toward a common goal, rather than employees working toward the goal of their boss, CEO Brian Halligan. To this end, mixing workers with all different levels of experience lets everyone have a say in business decisions, and comment on one another's ideas, a process Shah says helps everyone work more productively.
"First, it conveys to the team that we really are committed to a culture of openness and transparency,'' Shah said. "Second, we avoid a lot of wasted time and energy figuring out who should get an office, how big it should be and where it should be.  This minimizes office politics and lets everyone focus on their work.''
Younger HubSpot employees say this arrangement makes them feel more invested in the company.
"Decisions aren't made behind closed doors because we don't have any,'' said Hannah Fleishman, a 24-year-old working on HubSpot's product team. "You feel invested because you're so empowered sitting side by side with the CEO.''
Fleishman has worked at HubSpot for three years now, and said the open seating arrangement is just one part of the company's commitment to transparency, something that hasn't changed as it has shifted from being a two-person startup in 2006, to the 1,000+ person publicly traded company it is today.
[The companies featured in this story are among the winners of The Boston Globe's 2015 Top Places to Work awards. You can see a full list of winners and read more coverage here.]
This means every single employee at the company has access to detailed financial information, presentations from the board of directors, and notes from management meetings, Shah said.
"Our policy is, 'Unless there's a very good reason to protect information, we default to it being shared,''' Shah added.
Setting expectations
This "uncommon'' level of openness translates to employees having a rare level of autonomy over their contributions, even relatively inexperienced people who have just joined the company, Shah said.
"If you are responsible for a particular part of the business, you own it,'' he emphasized. "You make the decisions and are expected to deliver the results.  Nobody will tell you details about how to do something.''
If this sounds like an intense work environment to you, you'd be correct.
"It's open, collaborative and demanding,'' Shah said. "We hold ourselves to a very high standard.  We are driven by a singular mission to help organizations transform how they market and sell. But we are also maniacal about our metrics.  You can't care just about the mission or just about the metrics to succeed at HubSpot. You have to care about both.''
Shah acknowledged the rigorous work culture isn't for everyone, which is why HubSpot encourages job candidates to read their culture code before applying.
The code describes in detail how the company thinks and works, and includes the acronym "HEART'' – humble, effective, adaptable, remarkable, and transparent. If someone reads the creed without feeling inspired, he or she can self-select, Shah said.
But for those who do get the chance to work at HubSpot, walking in on your first day to find your desk next to the CEO's can be quite a shock.
"We're hiring like crazy, so there are always new faces and it's funny to hear their voices, like, 'It's so weird sitting right next to the CEO!''' Fleishman said. "I guess it is a little bit different. We'll probably never have offices. It's a good way to 'walk the walk' on being transparent and having leadership accessible.''
You can see a full list of Top Places to Work winners and read more coverage here.