Jobs
No room for 'one trick ponies' in modern job market
According to a new analysis by labor market analytics firm Burning Glass and Bentley University.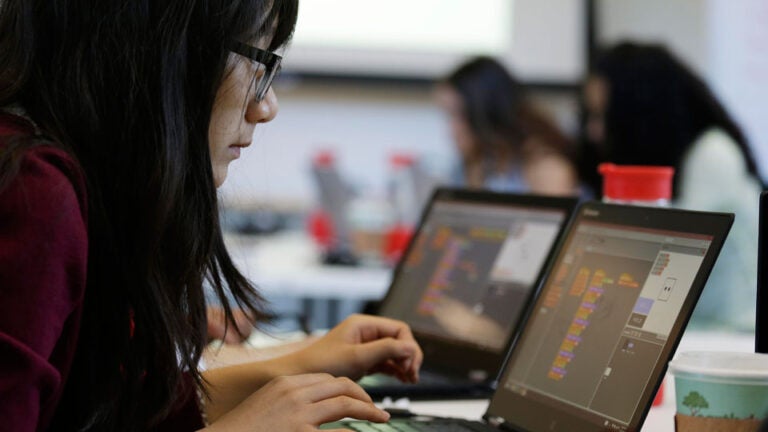 If you're hoping to land a job in 2016, you should probably have a few in-demand skills under your belt, such as some knowledge of coding, data and analytics experience, and a knack for social media.
Sound like a lot? According to a new analysis by labor market analytics firm Burning Glass, commissioned by Bentley University, you better get used to it.
Next year, business employers will be looking for "hybrid workers,'' people with multiple skills across multiple functions: For example, human resources managers who excel at social media, and sales representatives who are also IT professionals.
Gloria Larson, president of Bentley University, said the Waltham-based business school commissioned the study to find out which skill sets were most required for graduating students going into business.
"We wanted to know what was happening to the jobs themselves, be it marketing, or business development, or HR,'' Larson explained.
Burning Glass analyzed data from 24.5 million U.S. company job listings from September 2014 to August 2015, looking for which key skills showed up across nine job categories like business, IT, marketing, HR, and data analytics.
Bentley University found that 71 percent of in-demand skills were required across two different job categories, meaning candidates with cross-category skills would be the most marketable in the future, and many jobs that were previously popular are in decline, as their "once-innovative'' skills have become mainstream and integrated into other roles.
For example, postings for social media strategists have fallen 64 percent in the last five years, even though the skill of social media strategy has risen by nearly 376 percent in HR jobs, 150 percent in sales jobs, and 117 percent in marketing. And though job postings for web designers have fallen 8 percent, the skill of web design has risen by 11 percent in marketing and 9 percent in graphic design.
"Based on the data we analyzed, 2016 looks to be the year of the hybrid job – and the hybrid employee,'' Larson said. "The successful employee of tomorrow will need to combine traditional soft skills such as communication and collaboration with the hard, technical skills that used to belong to a select tech-savvy group.''
Some skills are more marketable than others.
The top three skills needed across the nine job categories were business development, knowledge of Oracle – a database management system, and mathematics, but knowing multiple coding languages like SQL and SAP, and having experience with data analysis were also extremely valuable, Burning Glass found.
Story continues after gallery.
Careers most likely to add jobs by 2019:
[bdc-gallery id="28554″]
Having these skills on your resume can make a significant difference to your starting salary, Larson added. "Anyone with data and analytics experience is going to skew higher salary-wise [than their counterparts,]'' she said. "Those with social media experience will skew higher but a little less. Same with sales.''
If you want to build your skillset in college, Larson recommended you look for a school that offers interdisciplinary majors. If you've already graduated, she suggested registering for individual courses in data analytics or coding, or finding a design, marketing, or programming boot camp in your area like Boston's computer programming school, General Assembly.
For those who are already employed, and want to expand their skillset within their company, Larson said workers should see if their employer would pay for them to take individual courses at a local or online college, or earn a masters degree.
"If you're a web designer, you need to expand your universe,'' Larson said. "Social media strategists are basically dinosaurs now. You're going to be encompassed by something else like communications or marketing. My advice would be go get some experience directly in something else, or ask to take on new responsibility at your company to broaden your cross-category skillset.''