Jobs
CEO desk: Founders of this fast-growing Cambridge start up don't have time for corner offices
Seth Birnbaum and Tomas Revesz founded EverQuote, a comparison-shopping site for auto insurance.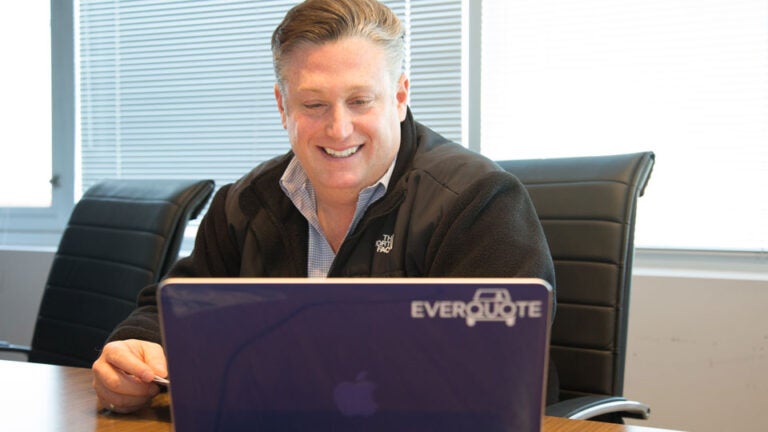 Not all CEOs have private desks, and many like it that way.
Seth Birnbaum and Tomas Revesz, co-founders of EverQuote, a comparison-shopping site for auto insurance, run their business from a large boardroom with glass walls located at the front of the company's Cambridge headquarters. While the pair says their lack of CEO desks was initially the consequence of a rapidly expanding startup, now, they say they wouldn't run their business any other way.
"We had offices when we started briefly, but we grew so quickly, we gave them to engineers,'' Birnbaum said one day recently. "So we moved into the conference room and never left.''
Pointing to the glass walls encasing the boardroom, Birnbaum cites "transparency'' as a significant factor to the company's swift success.
The pair founded EverQuote in 2011 with just three employees. Today, they oversee a staff of roughly 150 in their Kendall Square offices, and expect to generate about $100 million in revenue this year.
EverQuote helps consumers shop for car insurance by matching users to a short list of companies it believes will provide the best fit based on profiles new users fill out. The company's prediction technology is based on the buying patterns of previous customers, which requires a lot of data and analysis – something both CEOs want all of their employees to feel passionate about.
"Numbers are everything,'' Birnbaum said. "You can see how we're doing everyday. Everything's transparent.''
To this end, interactive digital screens relaying consumers' buying habits dot the walls of the engineers' enclave, while an ESPN-style flashing board in the sales room shows which employee is making the most sales that day. When someone makes a sale, a song of his or her choice erupts over the surround sound.
Revesz said even if EverQuote moved to a larger space, he and Birnbaum would stay in the boardroom, where they can watch over everything that happens each day.
"Having a private office goes against transparency,'' he explained. They like being able to see workers arrive in the morning and wave hello or beckon for employees to come sit in on investor meetings. "This creates an open, friendly environment of team spirit,'' Birnbaum continued.
The boardroom itself is pretty sparse.
To the right hangs a "City Slickers'' movie poster that Revesz likes, and there's a well-stocked mini-fridge filled with water and soda. A pair of slippers shaped like sharks (Birnbaum's) sit in the corner; the company bought all staffers a pair of animal-inspired slippers to boost morale last winter. Beyond that, Birnbaum and Revesz said clutter would go against their company's makeup.
"We're not a business that needs a traditional structure,'' Revesz said. "We have an Internet infrastructure. Everything we need is right on the computer.''
His one personal memento is his monitor's background – a picture of his family. Likewise, Birnbaum opened his phone to show that his screensaver is a picture of his daughter.
But there was one aspect of the office that set it a part from most spaces of its kind: the presence of goats.
Little furry stuffed goats sit on some salespeople's desks, while a metal-sculptured goat welcomes visitors at the entrance. A group photo of the company on a beach trip shows a live goat was in attendance (Employees said it was rented from a petting zoo.) Meanwhile, some EverQuote employees can be heard fondly referring to one another as "good goats'' as they pass one another in the halls. What gives?
As Revesz tells it, he and Birnbaum were at a biotech conference years ago, where they met a guy who had a thing for calling people he liked "good goats.''
"It stuck with us for reasons we can't begin to explain,'' he said, laughing. "But it became our thing. It started to have more meaning for our company culture of hard work and earnestness.''
Or as Birnbaum put it, "Goats eat everything and they keep climbing.''
Now, the most exemplary employee of the month (metrically-proven) receives a goat-shaped award and a gift card. "When we started this company, we decided the culture would be fun,'' Birnbaum said.