Jobs
Some companies are using co-working spaces as satellite headquarters to attract young talent
WeWork is a collaborative workspace with two locations in Boston.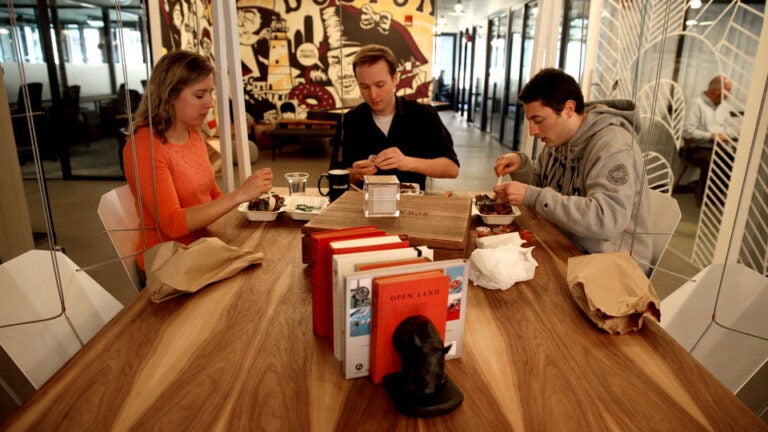 Since WeWork launched in 2010, the collaborative workspace has been a popular work environment among early-stage tech founders, startups, and freelancers who need flexibility and teamwork to drive their business.
Now, some larger companies are turning to the space for a slightly different purpose, using it as a satellite office to attract young talent.
Silicon Valley Bank, a 30-year-old bank that provides funding to startups and their investors, is one such business. The bank's headquarters are based in Santa Clara, California, but it has offices around the world, including one in Newton since 1991. More recently, however, the Silicon Valley Bank (SVB) signed a multi-year lease at WeWork's South Station location.
"There's a macro trend of urbanization growing,'' explained Mark Gallagher, a senior market manager at SVB. He's been heading the company's efforts to provide funding to innovative technology and life science companies in New England for nearly two decades. "When we felt constrained in Newton, we felt pressure to move into the city for some of our clients to be closer,'' he added.
Gallagher said SVB started the transition back in June, moving 15 employees from the Newton office to WeWork. Since then, SVB's office space at Atlantic Avenue has expanded to accommodate 60 workers.
Besides being closer to clients in the tech startup scene, Gallagher said the move has given SVB a better work culture, and has increased the company's access to the most talented workers Boston has to offer.
Story continues after gallery.
Here's your guide to co-working spaces around Boston:
[bdc-gallery id="30682″]
For the past few years, many young employees in Boston have made their desire to work in the city known, citing factors like transportation, a lively restaurant and bar scene, and other features of an active urban life. Tech companies in particular have had to change their business models to cater to employees unlikely to separate their work time from their personal time.
"The attraction and retention of talent would be something that would need a long term analysis, but we've become a more attractive employer in a dynamic and collaborative environment, as opposed to a suburban environment with cubicles and offices,'' Gallagher said, adding that many SVB employees at the WeWork offices often stay late to attend some of the evening events WeWork holds for networking, workshops, or even special interest meetings.
Why did SVB choose WeWork, when there are over 10 other co-working spaces around Boston?
Gallagher said the community developed by WeWork impressed them most.
"They've worked with so many developers and entrepreneurs,'' Gallagher said. "We can provide value and gain value by working with members here focused on technology and life sciences. If you think about our business, it's a natural fit.''
Having employees work out of WeWork has also had a noticeable effect on the 150 workers in Newton, Gallagher said.
"If I had to describe WeWork in one word, it would be 'energy,''' said Gallagher. "Some of that energy has back-flowed to our Newton campus. "People have been working out of their cubes so they can see each other.''