Jobs
How healthy is your office air?
A recent study by Harvard scientists suggests even low levels of CO2 can impair human health.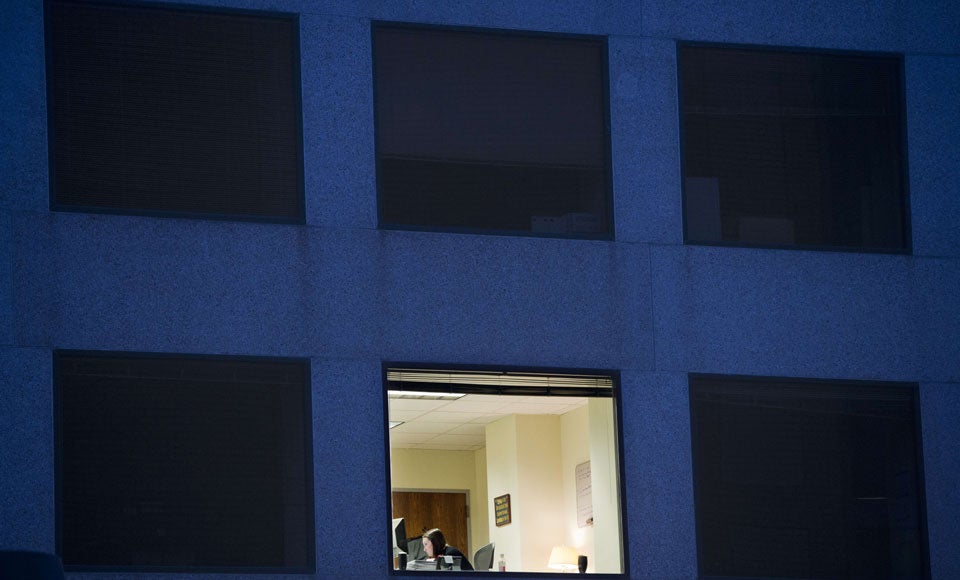 Carbon dioxide — that stuff that's warming the atmosphere and harming marine life – is clearly damaging in excess. Usually, low-to-moderate levels have been considered harmless, however. The gas is a natural part of the environment, after all.
But now researchers are saying even slightly higher levels of CO2 found in some poorly ventilated office settings can impair humans' ability to think and perform their jobs well.
In a recent study by Harvard and Syracuse scientists, published in Environmental Health Perspectives, researchers had 24 knowledge workers, like architects and engineers who typically spend their day in an office, work for eight hours in a simulated office setting where the scientists manipulated the levels of CO2.
They changed the levels of CO2 to low, moderate, and high over the course of several days (~550 ppm, 945 ppm, or 1,400 ppm, respectively), before giving the participants 1.5-hour cognitive assessments to test how that day's CO2 level affected the workers' higher-level thinking functions. Both the researchers administering the tests and the participants were blind to the amount of CO2 they experienced that day.
The researchers found that on days where CO2 levels were lowest – 550 ppm, similar to what you'd breathe outside – workers showed improved cognitive function, scoring 50 percent higher than they did on days where CO2 levels were at their worst, 1,400 ppm. On moderate CO2-level days of 945 ppm, they scored 15 percent worse than low-CO2 days.
Story continues after gallery.
Benefits of having a desk plant:
[bdc-gallery id="26400″]
This means that if you're working in a poorly ventilated office building surrounded by lots of people, there's a good chance your workplace's CO2 levels are harming your ability to "use information, respond to crises, and strategize,'' Fast Company points out.
While some scientists have expressed shock over the recent study's findings, previous studies by SUNY Upstate Medical University and Lawrence Berkeley National Laboratory showed that slightly higher levels of CO2 found in crowded rooms had a noticeable impact on participants' decision-making abilities, creating a lethargic, less productive bunch.
As the Environmental Protection Agency points out, one way to prevent drowsy, low-functioning workers is to ensure your office has proper ventilation, and if possible, to let in more air from outside. Unfortunately, The National Institute for Occupational Safety and Health reports that poor ventilation is a residual contributing factor in many sick building cases, where offices have unusually high numbers of sick complaints from employees.