Jobs
At Dorchester's WORK Inc., adults with disabilities finally get a shot at getting to work
WORK Inc. is located in Dorchester.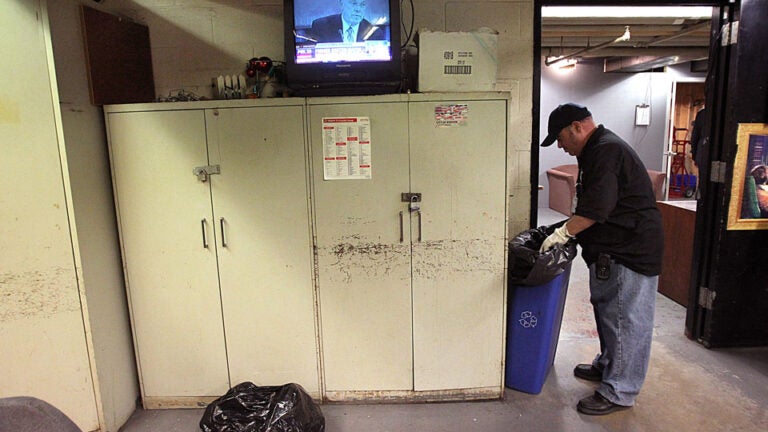 If you've ever had jury duty in Moakley Courthouse or studied at JFK Library, chances are you've come across custodial work done by graduates of WORK Inc., a Dorchester-based nonprofit that develops community-based employment for people with disabilities.
Those workers are outliers, though. The majority of working-age adults with intellectual and developmental disabilities are either unemployed or underemployed, despite their desire and ability to work, according to The Arc, a nonprofit that advocates for people with intellectual disabilities.
In fact, the Bureau of Labor Statistics shows that the percentage of working-age people with disabilities in the labor force is about one-third that of people with no disability. They're a largely unseen and un-tapped portion of the U.S. working class.
But that's where WORK Inc. comes in.
"They want to work,'' Al Fava, WORK Inc.'s vice president of commercial services, said. "They want to be members of society. They want to pay taxes, and in many ways they've always been told that they can't. We teach them they can do anything.''
WORK Inc. trains working-age adults with a wide range of mental and developmental disabilities to do computer work, custodial jobs, administrative duties, and culinary art. Those who complete the eight-week program get a full certification, plus help finding internships and jobs in the community.
While the nonprofit has operated for over 50 years, this week, Work Inc. opened a regional training center on Beach Street that is the perfect environment for gaining job-specific skills.
James Cassetta, CEO and president of WORK Inc., explained that the 8,000-square-foot Hillyard/WORK Inc. Training Center will offer training rooms designed to resemble the quarters participants would be expected to clean and maintain once they were hired by a commercial cleaning service. Hillyard, a janitorial product manufacturer and distributor, helped fund the center by donating sanitary supplies and equipment.
"Philosophically, we strongly believe that disabled individuals should be fully integrated into society just as much as you or I,'' Cassetta said. "Unfortunately, policymakers are not as invested as they should be.''
In Massachusetts, Cassetta said, there are roughly 300,000 people with disabilities who are capable of working.
"They're entitled to certain entitlements as they should be, but entitlement is easier to get than a job,'' he added. This leads to many willing, working-age disabled adults slipping through the cracks and remaining unemployed.
Story continues after gallery.
Least and most fulfilling jobs, according to the people who hold them:
[bdc-gallery id="25059″]
At the ribbon cutting ceremony for the opening of WORK Inc.'s training center, however, the mood was decidedly optimistic.
WORK Inc. employees milled about with program participants, state representatives, and Hillyard employees, smiling and showing visitors some of the features that make the space so special: a replica of a judge's chamber, a commercial bathroom, a conference room, a computer lab, and an office, all with different types of floors participants will learn to clean and maintain – carpeted, tiled, laminate, and wood.
Though the program is currently geared toward finding participants jobs in the Boston area, Fava said WORK hopes to spread across the nation at some point. The Dorchester center will start training new participants around January 1, 2016 and is fully booked already at about 125 individuals.
As Cassetta cut through the blue ribbon, the room erupted in cheers and claps.
"This is going to be the cleanest room in the whole world, " he said, grinning.