Jobs
Massachusetts's best big company isn't going anywhere
HubSpot topped 's list of top large places to work this year.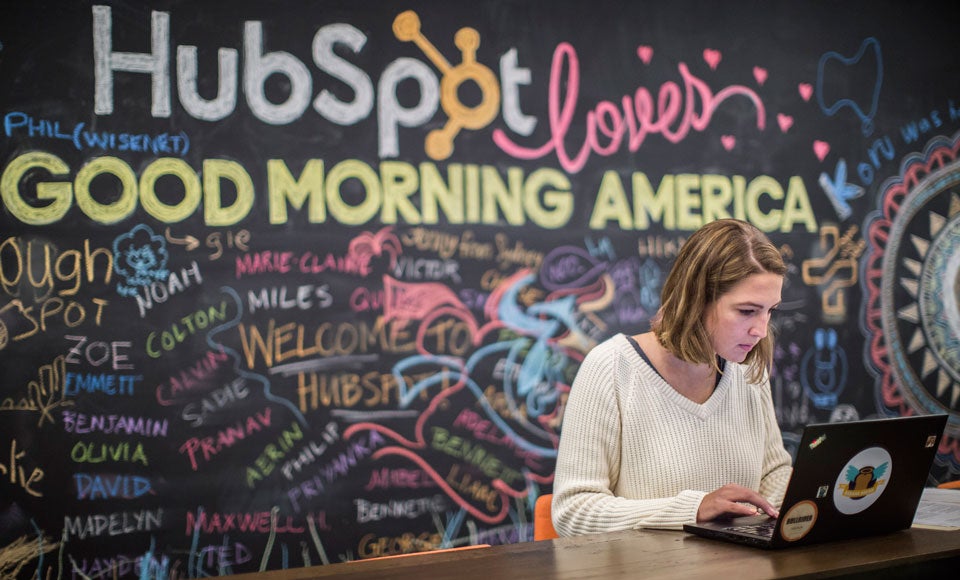 It's been a big year for HubSpot.
The Cambridge-based software company was named the "top large place to work'' by The Boston Globe, leaping eight spots from its No. 9 placement in 2014, and added over 87 employees to its local offices.
Showing no signs of slowing down, HubSpot announced last week that it plans on taking over the rest of its current home in The Davenport, a former furniture factory near the Lechmere T Station that's listed on the National Register of Historic Places. The company currently has about over 1,000 employees globally with the large majority in Cambridge, but is still hiring for many positions.
The sales and marketing software seller currently occupies about 118,000 square feet on the building's first, second, and fourth floors, BetaBoston reports, and the new lease will give them an additional 67,000 square feet and the option to take over the rest of the building (for a total of 218,000 square feet) if other tenants move out.
Story continues after gallery.
Jobs with the best work-life balance, according to Glassdoor:
[bdc-gallery id="27450″]
HubSpot was founded in 2006 by MIT grads Dharmesh Shah and Brian Halligan, and has resided in the East Cambridge location since 2010.
The publicly traded company is known for its hip office design featuring a nap room with a hammock, a meditation room complete with adirondack chairs, free snacks, standing desks for all employees, treadmill desks, multiple beer taps, and a gym, with architectural work done by IA Interior Architects. Homage to its roots is paid through Boston-themed areas like The Common, Beacon Hill, and Charlestown.
HubSpot is also known for its transparent work culture, with CEO Brian Halligan and other members of upper management often working in open cubicles alongside the rest of staff. This seating arrangement makes younger employees feel more invested in the company's success.
"Decisions aren't made behind closed doors because we don't have any,'' Hannah Fleishman, a 24-year-old working on HubSpot's product team, told Boston.com this fall. "You feel invested because you're so empowered sitting side by side with the CEO.''
[h/t BetaBoston]