Jobs
CEO desk: Founder of Cambridge startup prefers diner tables to corner office
Andy Palmer founded Tamr, a company that makes software that manages big companies' data.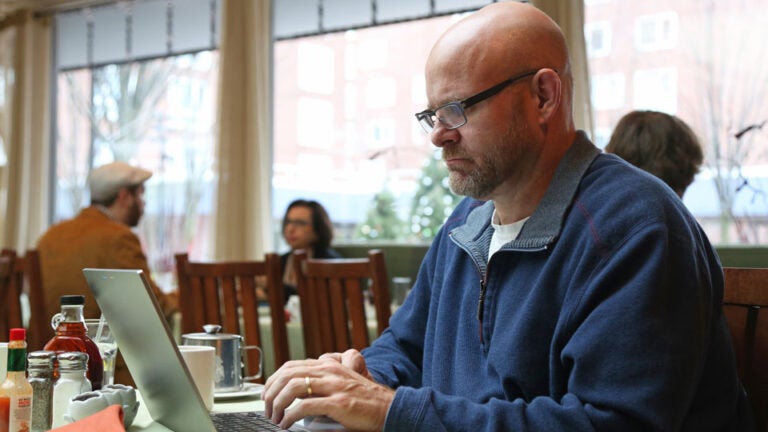 Andy Palmer, a self-described "nomad,'' may be the CEO of a highly successful startup, but that doesn't mean you'll find him tucked away in some corner office.
"I don't have an office and there are no assigned desks at Tamr,'' Palmer told Boston.com over a hearty breakfast at Henrietta's Table in Cambridge this fall.
"We think of Harvard Square as our canvas,'' he added, spreading his arms wide for emphasis.
Palmer founded Tamr in 2013 with the help of fellow database industry veteran and longtime business partner Michael Stonebraker. The Cambridge-based startup creates software aimed at helping businesses organize the large amounts of data they accrue, which can become sloppy and overwhelming, inhibiting their infrastructure. The goal is to give organizations the information they need to make quick, well-informed business decisions.
If that sounds complicated, Palmer certainly doesn't make it seem that way. In fact, he makes it sound like the most fun he's ever had.
"I'm a risk-taker,'' Palmer explains, while shaking hot sauce on his eggs. "At every stage of my career, I've taken more and more risks. My wife calls it 'career ADD' but with work, I'm just insatiably curious about new stuff. If you have that personality type, if you like to take risks – startups are a natural thing.''
The rugby-loving Palmer attended Bowdoin College as an undergrad where he studied English and computer science before getting an MBA from the Tuck School of Business at Dartmouth College. Between degrees, he moved to Australia for a stint, "doing computer programming gigs to fund my rugby habit.''
Since then, Palmer has certainly taken his love of serial entrepreneurship very seriously: His LinkedIn resume reads like a laundry list of over 50 companies he's founded or helped fund in technology, health care or life sciences, but he said he has a special affinity for startups that are mission driven.
At one of his previous startups, Infinity Pharmaceuticals, which was dedicated to dicovering and developing the best medicines for people with difficult-to-treat diseases, Palmer served as chief information and administration officer.
"That was amazing,'' Palmer said.
More recently, Palmer founded Koa Lab, a start-up club in the center of Harvard Square that focuses on helping young, first-time entrepreneurs collaborate in a shared workspace. Young, smart people are another passion of Palmer's.
"Here in Boston, we need to take more risks on young people,'' Palmer said. Koa is part of his way of doing that.
"Startups are so hard. Sure, I'm getting paid to play with software all day, and I love solving hard computer problems, but what inspires me every day are the young people. I love seeing them do the things no one thought they could do. Many people don't realize young people are doing a lot of the heavy lifting that makes the world go round.''
To this end, most of the people Tamr hires are young, earnest, and very well educated.
"IQ matters,'' Palmer said simply. "While that often means they've attended the best schools, I also look for a certain quality of character, a sense of purpose.''
"I'm not looking for people who want to work to pay the bills,'' he added.
And though Palmer has spent the bulk of his career launching new companies, he said he's ready to devote "100 percent'' of his time to Tamr. He and his wife even moved to Harvard Square to be close to the company's Church Street offices.
But just because Palmer has moved closer to Tamr headquarters doesn't mean he'll be spending a ton of time there. He prefers holding business meetings over a good meal at Henrietta's Table, where he can get work done in a more relaxed, unconventional setting.
His lack of formality translates to his management philosophy, which he describes as a "meritocracy'' – granting power to people based on their ability and hard work.
"Things come from the bottom up,'' Palmer said, adding that at Tamr, everyone is welcome to voice their opinions when making business decisions. "I work for the people who work for me. Like I said, I'm a rugby guy – a team person. I really believe that starting a company is a team sport. The best companies are driven not by one figure, but by a strong team structure.''