Jobs
How an office switch can change everything about the way a company works
CannonDesign is located at 99 Summer Street in Boston.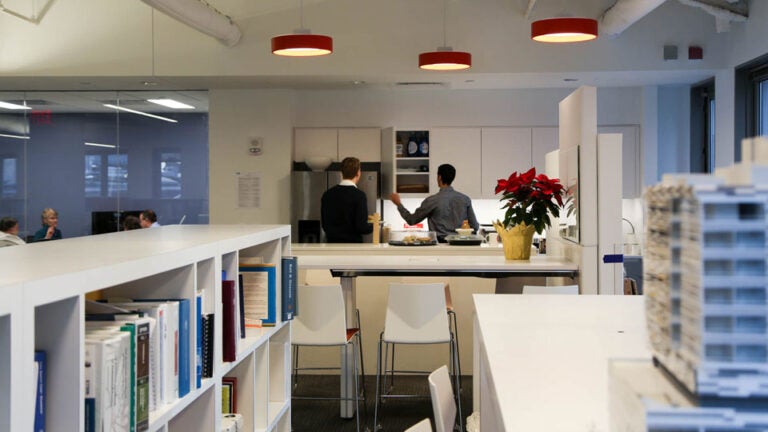 At global design firm CannonDesign, architects, engineers, futurists, and researchers create everything from college dorms and rec centers, to hospitals, baseball stadiums, libraries, and science laboratories.
Though their projects range widely in scope and size, employees must collaborate to make the best work possible – something that was a bit difficult until the company moved their offices from 100 Cambridge Street, to 99 Summer Street in Boston, said office practice leader Lynne Deninger.
"Our old building had this big core that prevented social collaboration,'' Deninger explained. Many employees had their own offices, complete with large oak furniture, filing cabinets, and doors you could shut for more privacy. This meant workers kept to their "pods'' more often – light designers talked to light designers, structural engineers got coffee with other structural engineers…you get the picture.
Or as CannonDesign's associate vice president of business development Anne Kroger said, "We had better views and more space, but we weren't friends with our colleagues.''
At 99 Summer Street, however, the smaller office space and an open floor plan has worked wonders for encouraging teamwork and friendship across pods, Deninger said. She mentioned that now some of the engineers want to knock down three bookshelves because they feel too separated from their co-workers.
"They feel like they're missing out,'' Deninger said, laughing. "They used to be separated by an entire building, now a bookcase is too much.''
This new emphasis on transparency also means conference rooms with movable glass walls, and huge smart boards where teams can showcase their latest projects. Employees are encouraged to post sticky notes with questions and comments on the blueprints.
There's also been a shift toward mentorship, Deninger added. There are no more corner offices. Instead, project managers with years of experience sit beside junior employees in their early 20s.
"They hear all of our phone calls with clients, and that helps them learn how to deal with things that come up everyday,'' Deninger said. "They're developing their soft skills without even knowing it.''
This would have been nearly impossible at the old offices, she added, where workers were more likely to communicate via email, rather than stand up and walk across the room for a quick chat.
Not only has CannonDesign's vibe become more fun (it's in the process of building a rooftop deck), but also Deninger said she thinks the quality of work will increase over time, something echoed by the company's design leader Sebastian Martellotto.
"At the old space, you really had to go on a tour to talk to people,'' Martellotto said. "Now, very different groups of people are working together on projects and touching base more regularly. I think this will lead to a more interpretive design process and much more collaboration.''
Employees have also started using the Summer Street space as a testing ground for features like "sustainability'' and "community'' they have long promised to their clients.
For example, all of the company's light fixtures are 100 percent LED. Since moving in, CannonDesign's in-house lighting team has experimented with turning down the light levels to save energy, and using desk lamps that sense when workers leave their computers, shutting off automatically.
Some of the pods' lights are now operating at just 40 percent of their full power. "We bring all these learning experiences to the client,'' Deninger said.
Now, it seems the company is finally transitioning from a traditional architecture/engineering firm, to an innovative multidisciplinary design solutions firm – right at the heart of Boston's financial district.
"Other firms may have an open office, but not an integrated practice,'' Deninger said. "We actually live it. Other firms have consultants. We have colleagues.''
Your guide to co-working spaces around Boston:
[bdc-gallery id="30682″]