Jobs
Meet Trillium Brewing Company's head brewer: A cognitive scientist who loves good beer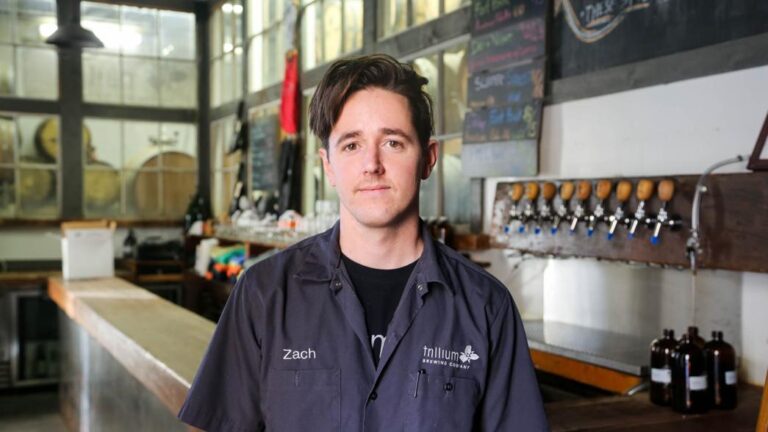 Zach Page is the head brewer at Trillium Brewing Company, a small (but successful) brewery headquartered in Fort Point. The 28-year-old started working there as a volunteer on nights and weekends while he was a PhD student at Brown University.
Page was soon brought on full-time by Trillium founders JC and Esther Tetreault, and later charged with planning all beer production for the company.
Boston.com spoke with Page about what it was like to land his "dream job."
How did you become interested in brewing?
I brewed the first week I turned 21 as a celebration at my home. I went to Indiana University Bloomington for undergrad. There's a really big home brewing scene there. I just started trying all the breweries out and really fell in love with the flavor. I took a beer judge certification program and started judging beers at contests.
It's sort of an addiction. Like any hobby, you can make it as simple or as complicated as you want.
How did you start working at Trillium?
I started as a volunteer. I'm originally from Indiana but I moved here for grad school. I was in a PhD program at Brown University in cognitive science. I was not thrilled with the topics I was researching, but I was really into home brewing.
I met with JC and asked to volunteer at Trillium on nights and weekends with about a dozen other volunteers. I helped out with pilot batches and once Trillium opened [in March 2013], I was brought on as employee No. 2, managing retail space and working as an assistant brewer. I moved to the back full-time after a few months and when the head brewer left, I took his position. I left Brown with my masters, which I doubt I'll use.
What does your typical day look like?
It depends on the day of the week. One day I might be producing beer; other days I might be packaging beer. I also could be planning schedules on the company computer or ordering supplies. Every employee has his or her own role but we overlap a lot. It's very dynamic.
Do you think there are misconceptions about your job?
People do romanticize it but I think it's a very romantic job. It's a fairly intellectual job; you use the scientific method and you have to be very detail-oriented and meticulous. But it's also very physical, especially when you're hauling in 50-pound totes of grain. It joins your mind and body.
I'm not just going into work and drinking all day – that's the most common comment I get from people. Tasting is a very small fraction of the job. It's a lot of cleaning. There's a running joke that I'm really just a glorified janitor.
What is the hardest part of your job right now?
I'm in charge of scheduling and planning all beer production at Trillium and we're running into some issues with expanding.
[Trillium opened another brewery in Canton. It's 16,000 square feet, which is far larger than the original 2,000-square-foot Fort Point location.]
Yeast reacts differently with larger batches, so we can't be on as rigid a schedule as we were. We're also learning how to use new equipment. Everyday, I'm not sure what issue we'll run into, so I have to be on my toes. We really had everything down before the expansion; everyone was very comfortable in his or her roles, cruising along. Canton is coming along, but it's a struggle.
What 5 tools could you not do your job without?
My personal protection equipment – boots, gloves, and safety glasses. A computer, a pen and paper, all types of data measuring devices, and pumps, hoses, and valves.
What makes your job meaningful to you?
At the end of a hard week, getting to taste a product you've put so much into with other employees is the most gratifying. That, and seeing how pumped our customers get. That's why I get up and do it again I guess.
Favorite Trillium beer?
Apricot Stonington. This beer came out of our wild beer program. It's a simple saison recipe, with the fermentation carried out by a native New England mixed culture collected from wine grape skins from the vineyard in Stonington, Connecticut [where JC and Esther Tetreault were married]. It has a nice acidity, very dry. It's aged on top of apricots.
What does "Trillium" stand for?
It's a flower native to North America. They're very fickle; hearty, but you can't transplant them—a weed-like plant but they have beautiful blossoms.
How do you unwind?
At the end of every day, I look forward to cooking with my wife and relaxing. It gets my mind off work, but I never really get away from it. There are always emails and texts to respond to, but I love it. I wouldn't want a job that I wanted to block out.
Where do you see yourself in 10 years, career-wise?
It's hard to say, but Trillium has very big plans. Hopefully, Canton is not the last expansion. I'm very invested in the company, so for the foreseeable future, I'll be with Trillium. It's my dream job. I feel incredibly blessed.