Jobs
A look inside Wayfair's stylish and rapidly expanding Boston offices
Wayfair is headquartered at 4 Copley Place.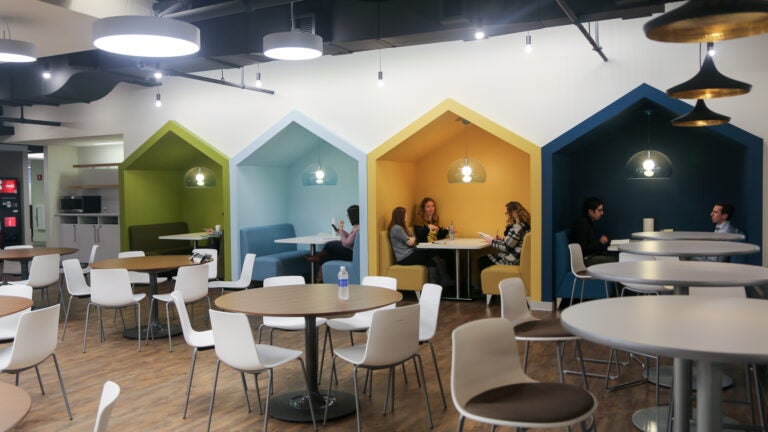 Working for online home décor retailer Wayfair has its perks, including super stylish offices outfitted with lights and furniture from the company's five major brands.
With names like "Nordic," "Safari," "Whimsy," and "Cat Tree," each room at Wayfair's headquarters at 4 Copley Place is themed to remind employees of a motif or product the rapidly expanding company sells. While "Safari" might feature zebra-print rugs and exotic throw pillows, employees working in "Cat Tree" get to enjoy a slightly quirkier office vibe with avocado-colored wallpaper covered in playful cats.
"We have all these smaller spaces set up to look like actual living rooms using the furniture we actually sell," said Jess Merrell, event marketer for Wayfair. "That way everything feels more comfortable to get things done. We don't have to go to Starbucks to have a private conversation."
Merrell started working for Wayfair as a co-op in 2009, returning after working at another startup in Cambridge. Merrell said she missed the energetic environment and young staff Wayfair provided.
"I've always loved the startup culture Wayfair has," Merrell said. "Even now, with over 2,000 people. The open floor plan is great for collaboration among different departments."
The company has grown aggressively since it went public in 2014, and its local expansion has only just begun. Though the Boston office now employs 2,000 workers, the company is in the midst of taking over an additional 94,000 square feet of space at Copley Place and is looking to fill hundreds of openings in analytics, business development, engineering, marketing, and more.
Despite its humble beginnings in the spare bedroom of co-founder Steve Conine's house back in 2002, Wayfair's most recent earnings report showed that its third quarter revenues in 2015 rose 77 percent to $594 million, up from $336.2 million in the same period in 2014. The company currently sells roughly 7 million products, ranging from bedframes to birdhouses, and works with over 7,000 suppliers across five distinct brands – Wayfair.com, AllModern, Birch Lane, DwellStudio, and Joss & Main.
Wayfair also recently launched a national television ad campaign to further raise the profile of the company, with ads airing on cable networks like HGTV, Bravo, and TBS.
The dynamism of the company is evoked in the open floor plan Merrell mentioned (even the CEO doesn't have a private office), but also in its many common workspaces, which are outfitted with foosball tables, unlimited free snacks, arcade games, TVs, and basketball hoops.
Krista Casey, graphic designer at Wayfair, said the playful office spaces help foster creativity, something that first inspired her to work for the e-commerce company.
"I was always into e-commerce in fashion but I hadn't thought of the home in that way," Casey said. "There are so many parallels between them." Casey compared Wayfair's different mediums of communication – print, online, TV commercials – to the diverse aesthetic options the company offers at its Boston headquarters.
"From an artistic perspective, I love that you can choose to work in a Moroccan-themed room or a '70s space," Casey added.
As Wayfair continues to grow, Casey said she has no doubt the company that sells "a zillion things home" will maintain its passionate practices, which includes ringing a gong every time a member of the sales team makes a sale.
"It's so important to the founders to keep that feel," she said. "There's been no shift in that collaborative, energetic culture over the past three or four years. In some ways, things have only gotten better."
Here's your guide to "co-working" in Boston:
[bdc-gallery id="30682″]