Jobs
The work life of a Brookline yoga teacher
Laura Ahrens works at Coolidge Corner Yoga and runs her own teacher-training school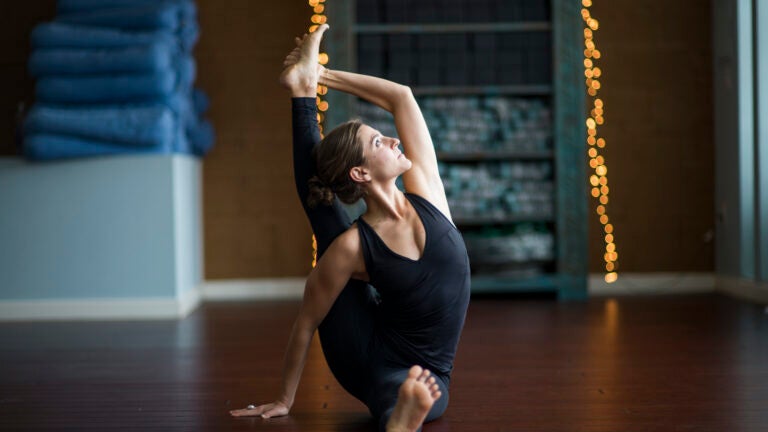 Laura Ahrens is a yoga instructor at Coolidge Corner Yoga in Brookline. The 28-year-old began working there as soon as the studio opened in 2013, quickly gathering a devoted following of students and later co-creating her own school of yoga, The New School of Yogic Arts, a 200-hour yoga teacher training program.
Ahrens spoke with Boston.com about what it's like to build a career in yoga.
 How did you get into yoga?
In 2009, my mom brought me to a class because her friend had just opened up a studio on Long Island. It was a vinyasa class. I don't remember much. I couldn't tell you what was meaningful about that class, I just remember being very struck by the practice and became almost instantly dedicated to it. It caused seismic shifts in my life. It was almost like I had been waiting for it a really long time and the moment I found it, it was like a plug in a socket and it lit everything up.
'Seismic' shifts?
I was about to graduate college with a degree in fine arts [from The University of the Arts in Philadelphia] but immediately became very involved in my practice and knew I wanted to take yoga teacher training. So my parents gave me my first 200-hour training as a graduation gift. I didn't know right away I wanted to teach yoga. I just wanted to deepen my practice and incorporate yoga into my life. But it sort of took over my life. I was in musical theater performing in professional productions, but not for long because I could feel this sort of internal conflict knowing that it wasn't my path.
Yoga changed the way I used my energy in terms of friendships and relationships, in terms of the activities I did. I started to sort of unhook from the ways that we're taught to use our energy in terms of television and social interactions. It's almost as if my vision became more clear. I didn't want to engage in draining social interactions and I didn't want to eat things that drained my energy. I wanted to sleep more to get up early and practice. It was like a deep clean of my life.
How did you start working at Coolidge Corner Yoga?
I came here on opening day. I had just moved to Boston a couple months before — in August 2013 and this place opened September 2013 — so it was very quick. I came to the opening day class and one of the teachers said they were holding an audition and I went.
What does a typical day look like for you?
It's very different day by day. I'm employed at Coolidge Corner Yoga, and I own my own company with my business partner called The New School of Yogic Arts, which trains people to teach yoga. I just graduated 28 brand new yoga teachers two days ago. I also lead international retreats. I'm going to Tulum, Mexico in two days. It's just a super chill sweet beachfront retreat that's very eco chic — rustic but still fashionable. The food is very fresh. You'll go there and never want mango again because it will never be as fresh. The retreat is just a tiny microcosm of what teacher training is like.
I teach five public classes at Coolidge a week, two for corporations that have hired me to teach their employees, and I lead two retreats yearly — the other is in Costa Rica. My classes are very language based; words are the scaffolding for your yoga practice to stand for. Generally, I go with a topic that seems relevant to something going on in the world and find a peak pose to create something that feels like a gift I can give to my class. Usually, I'll teach the same sequence once a week and it will evolve throughout the week.
In between classes, I meet with students and prepare material for the classes that I'll be teaching. I also read texts on the study of yoga, philosophy, anatomy. To continuously be a student is very important. I really love it.
What 5 tools could you not do your job without?
My mat, my sequencing notebook, the books I'm reading on my kindle. (I'm currently rereading the Bhagavad Gita.) Myself. My friends and family who encourage me to keep working and to stay really honest.
How do you unwind? 
Sometimes I'll see friends for dinner or hang out with the people who work at Coolidge Corner Yoga. They're like family. I also like spending time alone at the end of every evening and just hanging out by myself for maybe half an hour before I fall asleep. I also wake up every morning and meditate for 20 minutes to a half hour.
What was the last time you did something outside of your comfort zone? What happened and what was that like?
All the time I force myself to do that. I lead my first international retreat because I thought it was something scary that I wouldn't want to do. I think looking at yourself is scary. So is having challenging conversations with people. It's challenging to put yourself out there.
Sometimes what's scarier than not getting the things you've dreamed of is walking toward them.
Why do you do your job; what makes it meaningful?
My relationships with my students. I really love them. They are so receptive and heartfelt even through they struggle with loss and fear and hardship. Watching people blossom gives me an immense sense of hope for humanity – seeing that people can change no matter how old or sick or fearful they are is incredibly inspiring.
For my birthday, my students surprised me with three gluten-free vegan cakes, a check for the charity of my choice, and brought my entire family here.
Where do you see yourself in 10 years, career-wise?
I hope I can be a voice in the yoga community that influences people to become empowered and to live from their hearts. I want to influence people to connect deeply to each other and the Earth to global issues.
I hope to be an example of what it means to be living from the heart, standing my ground, and making deeply empowered choices that reflect my highest good and the good in other beings everywhere. That includes ants. I don't even step on ants. I won't squish a mosquito.