Jobs
This woman helps families through the worst day of their lives
Margot Cronin-Furman is a clinical social worker in the emergency department and trauma/surgical ICU at Beth Israel Deaconess Medical Center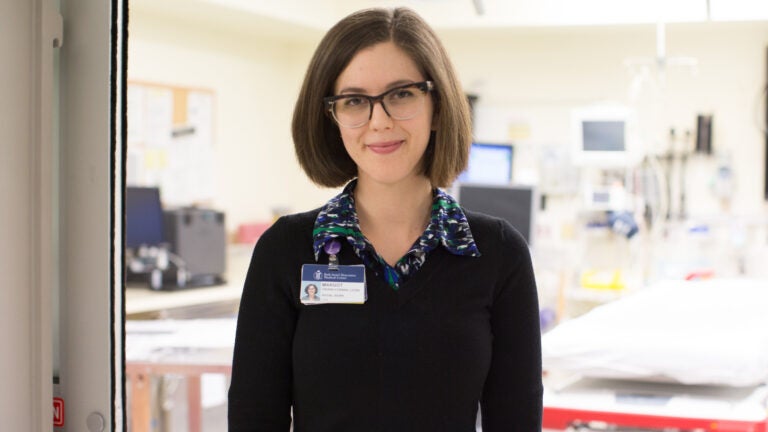 Upon entering the trauma center at Beth Israel Deaconess Medical Center in Boston, one of the first things you'll notice is a sign of abbreviations representing the various macabre situations humans get themselves into: stab wounds (SW), gunshot wounds (GSW), traumatic brain injuries (TBI), in addition to major burns, serious falls, traumatic car crash injuries, and blunt trauma.
It's a sobering reminder that while the center might be quiet now — around 11 a.m. on a freezing cold Wednesday morning — things can quickly deteriorate into chaos.
"That's usually around 3 p.m.," said Margot Cronin-Furman, a clinical social worker in the emergency department and trauma/surgical ICU at Beth Israel Deaconess Medical Center. "Because people have waited around all day and that's when they finally decide they're bad enough to come in."
Cronin-Furman relays this information with crisp efficiency bordering on cheeriness. She's used to the drama of working in both an ICU and emergency department, and to be perfectly honest, the 28-year-old rather likes it.
"There are terribly painful things that happen to people here, but also remarkably funny and beautiful things, so I love it all," Cronin-Furman explained.
Boston.com recently spoke with Cronin-Furman about how she "fell in love" with the ER and social work, and the art of staying strong when everyone around her is falling apart.
Describe what you do for a living.
I'm a social worker at Beth Israel Deaconess Medical Center's emergency department and trauma/surgical ICU. Hospital social workers have pretty diverse roles. We are the primary people responsible for the psycho-social wellbeing of our patients; all their non-medical needs. I do everything from connecting people with concrete resources they need to stay healthy or keep their house, all the way up to really nuanced clinical work.
Patients in the ER are generally struggling with homelessness, substance abuse, unsafe situations, violence, and traumatic accidents, but most of my patients are suffering life-threatening injuries from a traumatic accident in the ICU. I do a ton of work with patients' families. Social workers are trained to think about people as part of systems, and the family system we work with a lot because that is generally who's helping them or emotionally supporting them through illness and injury or whatever bad things might have come their way.
People come to the ICU or ER on their worst day and it's our job to help them make it a little better. It's a ton of counseling work. A lot of times, I'm just bearing witness to people's heroic struggles and sometimes giving people information about what's normal to feel, but a lot of times, I'm just listening to them and validating their experience.
Describe a typical day. (Also I know that question is fundamentally impossible, but try.)
My typical day is some level of managed chaos. There are certain meetings and things every day or once a week, but generally I'm just responding to patients and their families when they come in or when needs arise. It's very flexible and a lot of times it's feast or famine in terms of who is here and what they need. It depends on the patient and why they're coming in, but as a social worker, I'm a part of the trauma team, which means seeing people right after their medical needs have been met to make sure they have a safe discharge plan and have everything they need when they leave.
Did you always know you wanted to become a social worker?
No. In undergrad at Emerson College, I was in theatre. I was a stage manager. I stumbled backwards into social work. I think I wanted to do something where I was helping people. I loved doing theatre and it was a tremendous learning experience for me, but it wasn't as rewarding and I felt like there was something missing.
I graduated college a year early because I knew it wasn't what I wanted to do, and later worked at a crisis center in North Carolina. I found out that everyone with an interesting job there was a social worker, so I went back to school [at the Boston University School of Social Work].
BU has a trauma certificate program so that you can specialize in trauma work, which I found really interesting because I'm fascinated by how resilient people are, how they can recover from tremendous emotional and physical trauma. There's a lot of phoenix imagery I could use to describe it.
Why the ER?
At social work school, I did an internship at a children's hospital in their emergency department and fell in love with the ER. In the ER, you see the ends of the spectrum of the human experience that other people are not privy to. It's a lot of work with people who are dying or with a loved one of someone who has died and that's incredibly challenging work. But there's something so rewarding about helping someone through their worst day.
What is the hardest part of your job right now?
Two things. There's the emotional content, which is always tough and that never goes away. But what is more frustrating is the lack of resources in the community for patients. It's devastating when you have a patient with such clear needs, like substance abuse treatment, and you can't get them that because it's not out there. This problem is definitely all over.
It ends up with patients staying in the hospital longer, or getting discharged without a good plan. So a lot of them have to work really hard to get their needs met elsewhere.
Do you think there are misconceptions about what you do?
I think when people think of a social worker, they think of middle-aged white lady with white hair and chunky jewelry. They think of the motherly therapist or someone who is going to take your children away. Those are the two social work archetypes. But it turns out we're a huge, diverse profession. Over 60 percent of mental health services in the U.S. are provided by social workers.
What are 5 tools you couldn't do your job without?
First and foremost is learning how to actively listen to someone. Humor. An understanding of how the hospital system works. My pager. And probably just my pen and paper.
What do you do to unwind?
I have amazing friends and family who keep me laughing. I rest. I go outside. I like to dance; get some perspective.
Where do you see yourself 10 years from now? 
I don't know yet. I love where I'm at now and I think the next thing will present itself when I'm ready for it, but I hope to do something challenging and interesting and fun. I'm not sure how I can top this one.
Will you stay in the ER?
No. It's a grueling place. I think there are people who are lifers here, but most people spend several years or less then move onto something different. It's the pace.
Where do you find the strength to keep doing your job?
I wouldn't describe myself as a religious person, but I believe in the power of goodness in the universe and I think just the act of doing good work that's worth doing will give you the strength to keep doing it.
The 10 best jobs in America right now, and who's hiring in Boston:
[bdc-gallery id="33983″]