Jobs
Dogs are coworkers and customers at this Salisbury company
Kurgo is a manufacturer of dog travel supplies and accessories for active dogs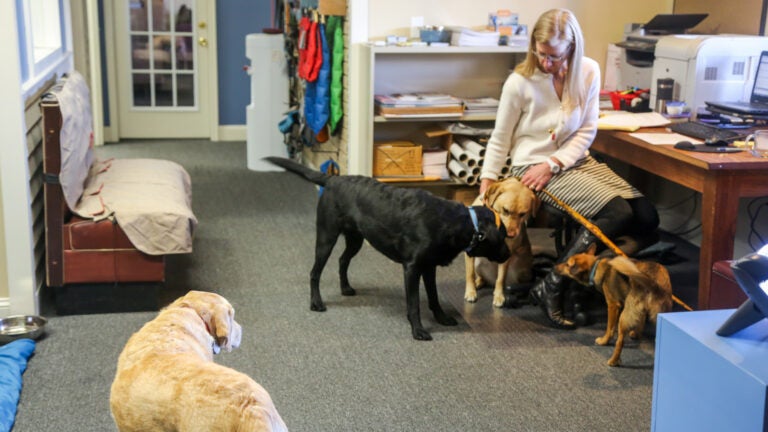 At any given time inside the offices of Kurgo, a Salisbury-based manufacturer of dog travel supplies and active dog accessories, a pack of employees that answers to Baxter, Dora, Maya, Cinder, Eb, Clover, Guinness, Gus, and Evie can be found chasing toys, napping, or perhaps sniffing one another's butts.
Though each member of the furry bunch has four legs and a propensity for peeing on the floor, without them, Kurgo, well, it wouldn't be Kurgo.
"Dogs are much more a member of the family than ever before, so the expectations for what people want in a dog product is also rising," said Kitter Spater, co-owner of Kurgo. "Historically, dogs have been kept in a dog house or outside, but now, most dogs sleep in their owners' beds."
Kitter Spater has co-managed Kurgo with his brother, Gordie Spater, since 2003. What started out of their basements has grown into a fully-fledged company of 22 staff members (dogs not included). Selling everything from water bowls and dog toys, to leashes, backpacks, and collars, Kurgo's attitude toward every product remains the same: "We don't release a product if it's already on the market or if we can't improve upon it," Kitter explained.
"We try to model our brand off brands like L.L. Bean and Patagonia, but for the pet industry," Gordie said, adding that every product — toys excluded — comes with a lifetime guarantee. "We want to gain customers for a lifetime."
The brothers grew up in the woods of Vermont, always with a dog or two in tow. Gordie went to Harvard Business School to learn about business management, and Kitter went to the Pratt Institute and studied industrial design and product development.
Their skill sets really ended up aligning.
"I do everything to get our products to manufacturers, while Gordie does everything to get our products out of stores," Kitter said.
Their love for action and the outdoors is obvious in Kurgo's office space, based in Salisbury.
Kitter and builder Daniel Sokol of Leed Containers designed the space to be very open and let in plenty of natural light, including patches of synthetic grass, Adirondack chairs, and an antique ski-lift from Sugarbush. There's even a canoe that belonged to the Spater brothers' grandfather hanging from the rafters. Kitter also used shipping containers (a callback to the pair's love of manufacturing) to fashion eight offices.
Invoking a more whimsical side, the space also features an Airstream trailer that currently functions as a closet but will later become another office.
"You might as well make work as enjoyable as possible," Kitter said, pointing out a metal slide and rocking horse, both of which came from a Craigslist ad for a defunct school's playground amenities.
But perhaps the most enjoyable aspect of working at Kurgo is the presence of dogs. On Boston.com's recent visit, a big chocolate lab and a tiny Pomeranian pug mix frolicked in one meeting space, while an elderly black lab napped in a corner. The other pups mingled about the office, hanging out at the feet of their owners, or wandering off to find a Kurgo chew toy to gnaw on.
About 90 percent of Kurgo employees currently have dogs, and Kitter said all workers are encouraged to bring their pets to work each day. After all, what better way to test products?
"We get a lot of inspiration looking at our own dogs and our problems," Kitter said.
In fact, Kurgo's first product, "Backseat Barrier," was inspired after a sudden stop in Kitter's car sent his dog Zelda flying onto the floor near the driver's seat, tangled among the pedals. "We take our work very personally," he added.
Most of the products involve dog owners staying active, another thing the Spaters want their employees to do.
All Kurgo workers have a FitBit, and over the summer they challenged one another to see who could accumulate the most steps in August. Collectively, the office walked over 3 million steps that month. On weekends, Gordie and Kitter can often be found skiing or hiking with their families (dogs included).
Ultimately, Gordie said having dogs in the office is a great way to blow off steam.
"Any job can be stressful at times, but having dogs around gives us a release," Gordie said, his Goldendoodle Baxter sitting patiently by his side. "Taking our dogs for a walk at lunch, or just giving them a scratch is a pausing point…like if you're having a serious conversation and the dogs are doing something goofy. It makes everything a little less serious."