Jobs
What it takes to make the Greater Boston Food Bank run smoothly
Cheryl Schondek is the vice president of food acquisition & supply chain at the Greater Boston Food Bank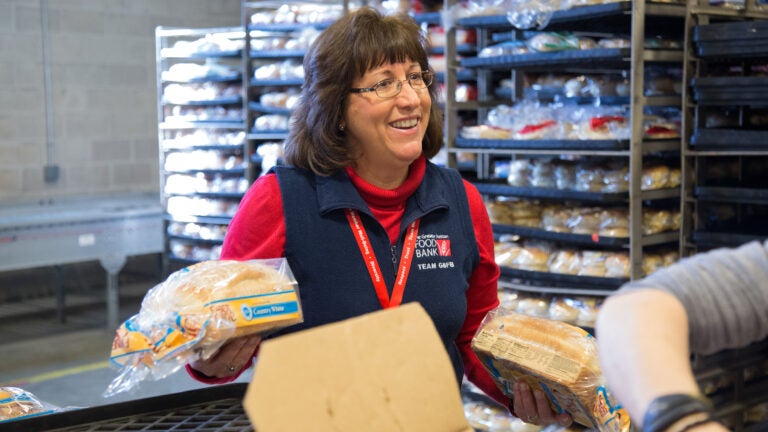 Cheryl Schondek is a very competitive person.
In the summer, she and her children challenge one another to diving competitions and Schondek whips out her finest swan dive and jackknife to the applause of her family. At her job as the vice president of food acquisition and supply chain at the Greater Boston Food Bank, she enjoys steamrolling records and racking up awards for feeding as many needy people as possible.
"This year, we're on track for acquiring 57 million pounds of food," Schondek told Boston.com recently, as she pointed out some of the various accolades the nonprofit has earned over the past few years. That's 7 million more pounds than in 2014, and ensures that everyone at risk of hunger in eastern Massachusetts gets at least one nutritious meal a day, she explained.
Schondek has worked at the GBFB for two and a half years now, and while the position has been challenging, she emphatically says it is a labor of love. "Your job isn't work when you love it," Schondek said. "This is not work."
The Greater Boston Food Bank operates out of a state-of-the-art 117,000 square foot food distribution facility located at 70 South Bay Ave in Boston and works to serve over 550 agencies, ranging from local food pantries, to shelters and community meal programs.
Boston.com met with Schondek recently to find out what it's like overseeing the daily operations of the largest hunger-relief organization in New England and one of the largest food banks in the country.
Describe what you do for a living.
I am the vice president of food acquisition and supply chain at the Greater Boston Food Bank. I oversee all of the food that comes into the building, and I oversee the management team that prepares to ship the food, as well as the transportation team.
What does your typical day look like?
My alarm goes off at 4 a.m. and I leave my house at a quarter to 5 to get here by 6 a.m. I go into  the warehouse, put on steel-toed shoes, and check in with drivers to see how many agencies are picking up that day. From there, I assess the scope of the day and the week. Then I'm reading emails, attending meetings, and working on projects all with the goal in mind to end hunger here in eastern Massachusetts and provide one meal a day to those in need. Whatever I do has to add value to those goals.
Today, for example, on February 2, we're preparing for 60 agencies to come to the building to pick up food that has to be ready – both dry and frozen. From our transportation team of eight members, we have six on the road today. One driver is going to Peabody to a drop site then going to a donor to pick up frozen fish. Another is going to Haverhill to pick up milk…It's a lot of moving parts, which I enjoy. I don't sit still. I like to be active.
How did you get into food acquisition? 
I went to the University of Vermont and studied liberal arts. Quite frankly, I had three job offers and Star Market offered me the most money. I started in the Newtonville store overlooking the Mass Pike. I was in the management training program, and started in produce. I never looked back.
I was pushed to do different things and succeeded because I had assistance and guidance from my mentors. I knew nothing about produce and traveled to Chile, Costa Rica, New Zealand, Spain, and Holland meeting with farmers. That job provided the proper training to be successful and I enjoyed it. I went in with the intention of not staying, but I absolutely loved it. I loved the 24/7 customer service.
So I worked at Shaw's and Star Market for 29 years in various areas of perishable, non-perishable, procurement, marketing, merchandising, and supply chain. That knowledge was very helpful as I made the transition from the for-profit world to the nonprofit world.
I knew the food bank was looking for someone on the food acquisition side and they contacted me. We had developed a rapport. Once you come into this building, you feel the sense that you want to help people in need. My husband said, "Why don't you try something different? Why don't you dive into something completely outside of your comfort zone?" So I did and I totally love it.
What's the hardest part of your job right now?
Not having enough food, money, or time to help those in need. As need grows in our community, the need to get more nutrition grows as well. The face of hunger has changed. One in nine people in eastern Massachusetts are food insecure, meaning folks don't know where their next meal is coming from.
Here's a staggering statistic: 25 percent are children and one in three are seniors. That's what keeps me up at night. That's what drives me to assist folks.
On a business note, when a truck shows up late like from a snow storm and we know our agencies have the same snow storm, we know clients can't get the food. So that's a slight interruption and we figure it out, but safety is first. It's a challenge.
Any big victories this year?
Recently, we were able to acquire clementines. Twenty-five percent of the food we provide is produce, but an item in the citrus category that's small, sweet, and easy to peel…it puts a smile to my face when agencies can offer that to their clients. This was the first time we brought clementines into the building.
What are 5 things you need to do your job?
The building, which is 117,000 square feet and LEED certified. [LEED, or Leadership in Energy & Environmental Design, is a green building certification program that recognizes best-in-class building strategies and practices.]
The team in the warehouse, and the transportation and marketing teams. The tremendous leadership from our board of directors. The 25,000 volunteers in our building that inspect, sort, and package food. Our food donors.
How do you find meaning in your work?
I take extreme joy in putting a smile on someone's face by providing nutritious food. It's a tear in the eye. It's goosebumps. I like being busy and I like having a huge challenge. My competitive juices flow to say, "How can I help people in need?" and "How can I create awareness?"
Do you remember the first time you did charity?
No. As a child, my mother was a nurse and I was a candy striper working in a hospital. I knew I didn't want to go into medicine. But culturally, charity was a part of my upbringing and a part of my DNA. If I win the lottery, I am going to continue visiting more nursing homes and helping more people. My family always says, "Don't answer the phone! You'll volunteer for something else."
For example, my husband is an eighth grade math teacher and he's here in the summer volunteering because I make him do that. He will sort food. My two daughters also volunteer here doing whatever I need them to do. One is a sophomore at Worcester Polytech studying chemical engineering. When she was home on her winter break, I had arranged an 80 person dinner party for the New England Produce Council, sponsored by Dole Food Company. She did coat check all night and my husband picked her up at the end and took her back to school. That's how my daughter spent her last day of Christmas break.
How do you unwind?
My family will tell you that I don't unwind, but I like to do outdoor work like mow the lawn. I do not cook, which is kind of funny since I've always been in the food world. I come from an Italian family. I had a Nonna. My mom still cooks; she does big Sunday dinners and I take leftovers home. I don't have the patience for cooking. It is not a passion of mine. I love to order off menus.
I also love to do charity. I go to nursing homes and bring flowers, plants, and cookies. I end up talking to everyone in the room.