Jobs
Massachusetts nurses want more workplace protection
Two Mass. senators have filed similar bills that would require health employers to conduct annual risk assessments and develop programs to minimize danger.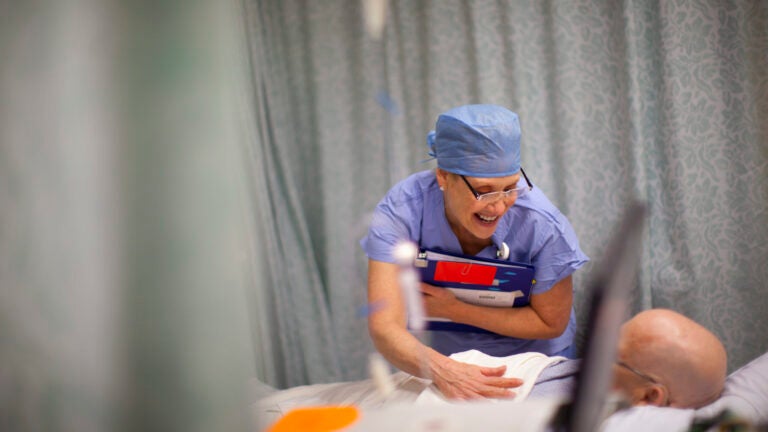 More than 85 percent of nurses in a recent survey by the Massachusetts Nurses Association said they have been punched, kicked, spit on, groped, or otherwise physically or verbally assaulted in the past two years, yet only 19 percent said their employer was supportive in trying to find solutions after they experienced violence.
That lack of protection was the crux of the testimony by nurses at the State House this week during a hearing on legislation that would require healthcare employers to put a bigger emphasis on workplace safety.
Kathy Coughlin, a registered nurse at Taunton State Hospital and the vice president of the MNA, told Boston.com that over her past 31 years as a nurse, she's been assaulted "at least 50 times."
"I've been punched, kicked, hit, spit at, threatened verbally, had a knife pulled on me, had a homemade weapon resembling a razor pulled on me," Coughlin said. "I've been pulled by the hair, pulled by my clothing, yanked around."
Coughlin was one of the nurses who testified this week before the Joint Committee on Public Safety and Homeland Security. She said that while nurses' complaints to healthcare employers about feeling fearful in their workplace are growing, their pleas fall on "deaf ears."
In the same survey of 221 nurses mentioned above, many said they found management's response to workplace incidents inappropriate, with 88 percent reporting  that "no relief was provided" after violent incidents, and 93 percent saying workplace violence training was inadequate.
Coughlin works for the Department of Mental Health at Taunton State Hospital, but stressed that workplace violence is not limited to psychiatric units or emergency centers.
"When we talk to nurses around the state, we hear of assaults from every unit imaginable," Coughlin said.
In 2014 alone, the nurses union said, Department of Mental Health data showed 394 staffers suffered injuries from workplace violence.
In response to the nurses concern, two similar bills filed by Senator Michael Brady (D-Brockton) and Senator James Timilty (D-Walpole), the committee co-chair, would require health employers to conduct annual risk assessments, develop programs to minimize danger, and assign a crisis manager.
Under the bills, the commissioner of labor would also design rules for compliance, and employers violating the regulations would be subject to fines.
According to the Massachusetts Hospital Association, however, there are already adequate workplace safety programs in place.
At the hearing, the MHA said Timilty's bill was "redundant," according to State House News Service, adding that a 2013 law imposes similar requirements and that hospitals already develop workplace violence prevention and crisis management strategies.
"Massachusetts hospitals, nurses, doctors and other healthcare professionals are on the same team – working together to ensure the safest hospital environment possible," Pat Noga, the MHA vice president for clinical affairs, said in a statement. "Not only do hospitals have policies and procedures in place to address workplace violence, the state has already taken action to support and strengthen hospitals' efforts."
"The current proposed legislation is problematic because it poses redundancy to current standards, which can lead to confusion, not clarity," Noga continued. "And the last thing that everyone who's working collaboratively to ensure safe hospital environments needs is the addition of confusion."
Coughlin disagrees.
She said that while hospitals may have safety programs on paper, they're little more than "lip service" without proper training, regular drills, and annual assessments.
"They claim they're doing everything they can to mitigate the risk, and it's just not true," Coughlin said. "Why would we lie? Why would we want to spend our off-duty time addressing this? We at our core are advocates for our patients and our profession."