Jobs
Why millennials aren't loyal to their companies
According to Deloitte's "Millennial Survey 2016."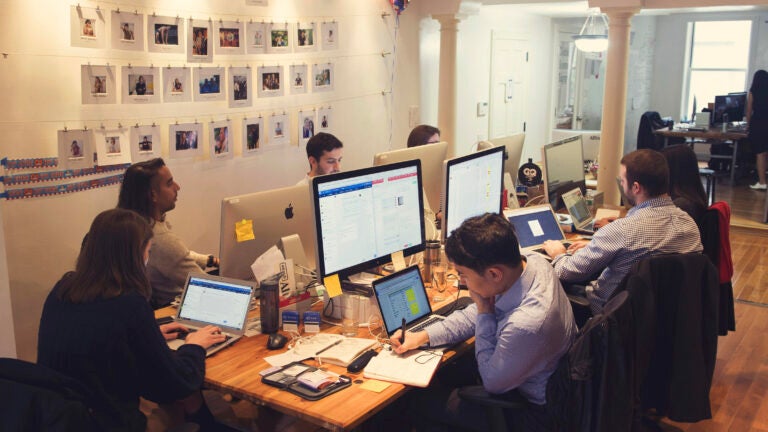 In 2016, one in four millennials say they'd leave their company for a new job if given the opportunity, according to a recent survey by global consulting firm Deloitte. When expanding that question to 2020, that number jumps to two-thirds of all millennials open to leaving their organization.
Just 16 percent of millennials said they expect to be with the same company a decade from now. Why the disloyalty? And what can companies do? These were some common themes uncovered.
Deloitte collected the opinions of nearly 7,700 millennials (those born between 1982 and the early 2000s) from 29 countries around the globe, asking respondents about their career plans and what they look for in a company. All participants of the survey were born after 1982, had a college degree, and were employed full-time.
Deloitte found that millennials with one foot out the door often cited feeling "underutilized" and "undeveloped as leaders" among their top concerns.
Sixty-three percent of respondents said they did not feel their leadership skills were being fully developed, and 49 percent said they thought they were being overlooked for leadership positions.
But even millennials in managerial roles feel pretty disloyal to their companies.
For example, approximately one in five respondents is the head of a department or division, or has a position within his or her senior management team
or board, yet 57 percent of these employees said they still plan on leaving their company by 2020.
Some millennials feel more loyal to their companies than others.
Millennials with children, for example, are far more likely to stay with a company than those without, with  32 percent of millennial parents intending to remain with their current employer for five years or more, compared to 24 percent of the latter.
Men were also slightly more loyal than women, with 64 percent of millennial men planning on leaving their company in the next five years, compared to 67 percent of women.
This could reflect the gender gap between men and women in leadership roles, as Deloitte points out millennial men are significantly more likely (21 percent) to lead a department or be a part of a senior management team than women (16 percent).
So what do millennials want?
Deloitte found this group cares little about the size or "buzz" surrounding a company, and is far more concerned with what an organization does, and how it treats people than anything else.
For a company to succeed in the long run, millennials said, it needs to provide a good income for employees, improve the skills of its workforce, generate and support jobs, and provide services and goods that have a positive impact on people's lives. In short, millennials want jobs with meaning, and they want the company they work for to reflect those values in the way it treats its workers.
Deloitte said:
Millennials' personal goals are more
traditional. They seek a good work/life balance, they want
to own their own homes, they desire a partner for life, and
they strive for financial security that allows them to save
enough money for a comfortable retirement. The ambition
to make positive contributions to their organizations' success
and/or to the world in general also rates highly.
What can companies do?
Companies can grow millennial loyalty by mentoring young workers and offering developmental opportunities for workers to broaden their skill sets. Additionally, Deloitte found that giving employees ownership over their assignments correlated with millennials reporting high levels of job satisfaction.
Local companies like HubSpot are known for giving millennial workers a rare level of autonomy over their contributions, even relatively inexperienced people who have just joined the company.
When Boston.com interviewed HubSpot in November 2015, the Cambridge-based maker of an inbound marketing software platform said this practice fosters loyalty to the company.
"If you are responsible for a particular part of the business, you own it,'' Dharmesh Shah, HubSpot's CTO and co-founder, told Boston.com. "You make the decisions and are expected to deliver the results. Nobody will tell you details about how to do something.''