Jobs
Meet the Boston man behind 200,000 roses
David Winston shares the title of president with his brother Ted at Winston Flowers, a third generation flower company.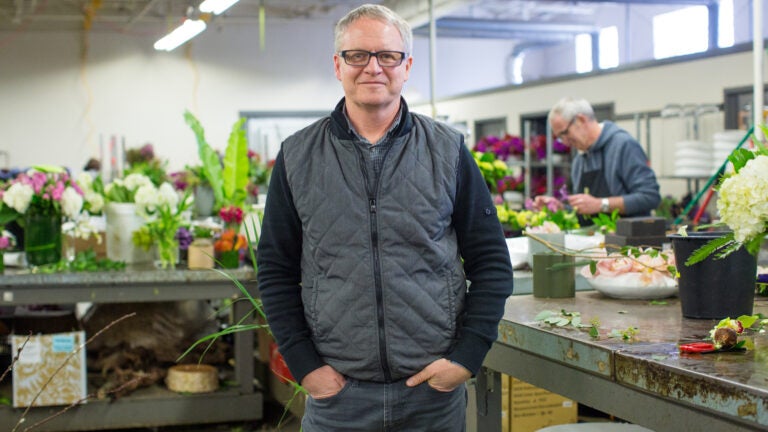 As Valentine's Day approached, the scene at Winston Flowers's headquarters was one of very organized chaos.
Workers careened around corners wheeling multi-tiered carts overflowing with red cymbidium orchids, roses in shades of blush and cream, burgundy amaryllis blossoms, and verdant ivy vines, while other employees meticulously arranged the blooms in vases at long metal tables.
Outside 160 Southampton St., 130 trucks warmed their engines, preparing to hit the road over the holiday weekend, during which time approximately 200,000 long-stem red roses would be packaged and delivered.
Amidst the bedlam, David Winston sat in his office. He was preparing for Mother's Day.
"Valentine's Day is the focus now, but I'm also thinking for next season," he explained.
The 55-year-old is the Boston-based flower company's president and CEO, a title he shares with his brother Ted Winston. While Ted manages the business and operational side of things, David focuses more on the creative aspects, working with a team of designers to ensure Winston Flowers sells the freshest, most beautiful flowers in "cutting-edge" arrangements.
The flower business is in the brothers' blood.
Their grandfather Robert Winston and his teenage son, Maynard, first wheeled their pushcart of flowers onto Newbury Street in 1944, but David said they couldn't have foreseen the success Winston Flowers would later have, cultivating a worldwide presence online, and operating seven shops throughout New England that employ about 250 workers full-time.
Boston.com met with David Winston recently to find out what it's like overseeing a third-generation flower company that strives to strike a balance between its old-school roots and avant-garde flower design.
Describe what you do for a living.
I own Winston Flowers with my brother Ted. We both share the same title of president and CEO but I focus more on the creative aspect of things and he's more on the business and operational side of things. I work with the design team to come up with the collections for each season eight or nine times a year.
That means every season and holiday, we have a new collection we display on the website, which the design studio sells for a month. When we come up with the collection, I work with the design team and the retail team to visualize what the stores will look like, what color palettes we want to sell. It's not about having everything. For Valentine's Day, we have reds and fuschias and a more pastel palette and we buy varieties of flowers in those realms of color. Of course, we also do a lot of custom work and events so we sell over and above our web collection, but we keep that as our main menu.
I also work with buyers. We buy flowers and accessories from Holland, Italy, Colombia, Ecuador, California, and the Far East.
Describe a typical day.
No day is really typical. It kind of changes a lot. The seasons and the spike of businesses are very different. I'm fortunate to be able to focus on the things I want to focus on. On a particular day, I might be at the studio for the day, which is this building, and check in with the designers and studio operations manager. I might touch base with the buyers and talk about the flowers and plants, or talk with warehouse guys about flowers coming in.
It's kind of fluid, not a lot of set meetings. I get a little claustrophobic when I have to be in meeting after meeting after meeting. On another given day, I might be on the road meeting with different vendors or a couple times of month I'll be out visiting stores. It's different all the time.
I tend to be more forward thinking so it's strange at the holidays because it's very operational. Next week, I'm already working on Mother's Day. I kind of float around and work with everybody.
Why did you stay in the family business?
I kind of grew up in it. I grew up on Newbury Street. I was born above the flower shop so I was always involved. I always worked part-time, always worked after school. I liked the action of retail, the meeting people, and the buying and selling.
In the old days, I'd go to the flower market in the morning, come back to the store, and merchandise the store. It was a long day but it was very rewarding. When my father was alive, he let me do my own thing from a young age. I met a lot of people. I liked the energy of it all. As it evolved, it just got bigger. At one point I was doing everything; now I have a buyer and sellers and I work with them more.
So you always knew you wanted to run the flower company?
When I was really young, I probably assumed that, but there was a time after high school where I contemplated something else. I actually went to college for a year where I was interested in law enforcement. I even passed the police exam and came really close to doing something like that. I'm glad I didn't.
I got bored studying. I got bored being alone in the library and I missed being on Newbury Street and being around people,the buying and selling. It drew me back.
There's a certain kind of energy to the whole thing — the reward of buying something beautiful and having people appreciate it.
How has the business grown in the past 38 years you've worked here?
A lot. It's probably about 10 times larger. We just continue to evolve creatively as a family business using cutting-edge design, computers and technology.
I don't think a lot of flower companies are in constant contact with their drivers through GPS, and make sure their clients get an email when their delivery is made. It's a level of service like no other. We look at the Four Seasons and the Ritz Carlton and that's the level of service we provide to out customers. We pay attention to everything.
We used to have three separate retail stores 30 years ago and they kind of operated independently and even had different names. We rolled them back and came up with the singular 'Winston' brand and logo, and centralized business at our studio facility here. Centralizing allowed us to grow and now we have six stores in the metro Boston area and one in Greenwich, Connecticut.
What's the hardest part of your job right now?
As the company grows, knowing where I came from and how I grew up, it's challenging that I don't get to connect with everybody as much as I used to. The fact that I don't know everyone's name and everyone's story…it kind of gets a little uncomfortable. I try. We do a good job, but that's coming from a place where we used to be five people in a flower shop.
What is the most meaningful part of your work?
I think flowers are very personal. Whether it's a guy giving to a girl, or a girl giving to girl, flowers are a romantic thing or they're very personal, like at funerals and weddings. People never forget those things.
Even though we're a business, I think we contribute to all of those nice occasions whether it's in a small way or a big way by having it be more beautiful. We add that extra oomph. You can go on a date, but people remember the music and the flowers, even if it's just in their subconscious. It's a business with a lot of emotion involved.
What is the biggest business lesson you learned from your dad?
Working hard. It never bothered me to work hard. There was always a huge work ethic there and I think it's still here today. He had a lot of camaraderie with his employees and that carries over to now. Some associates have worked here for 25 to 30 years. It's like a big family. I think he was always about having a very hard-working, honest career.
How do you unwind? 
I like the summer so I'm a little bummed out right now. In the winter, I buckle down and just try and get through it, but in the summer I like the outdoors, the ocean, boating . I like the peacefulness of that. We're not that busy in July and August and that's a good thing. I also like putzing around my house and the yard and the garden.
Do you have a favorite flower?
I probably don't. I like a lot of them. I like whatever is beautiful and in season. So maybe peonies and lilacs during late summer, or it might be dahlias and hydrangea. If it's spring, tulips and hyacinths. And then I always look for interesting varieties and seasonal colors of those.
Do you want one (or two!) of your four children to take over the family business?
I don't know, I think it's important they do their own thing and experience different things. I'm very fortunate for what I have, but my father and family was a little old school about the family business, so I'm doing the opposite with my kids.
I want them to experience a lot of things. I wish I could have – I had friends who backpacked through Europe, and taught skiing here, and bartended in the Caribbean. I never got to do any of that stuff. I want my kids to experience those types of things, to go abroad and decide what they want for themselves.