Jobs
Inside the Boston offices of Arnold Worldwide, and the mind of its CEO
Pam Hamlin has worked at the creative and advertising agency for almost 18 years.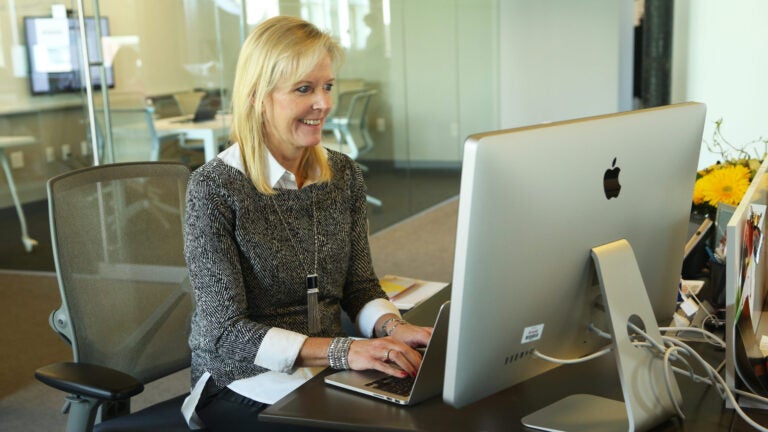 In 2013, Pam Hamlin became the global president at Boston ad agency Arnold Worldwide after spending more than 14 years at the company, which delivers services across all communication platforms – advertising, digital, promotions, direct, design and branded content.
Today, Hamlin oversees a staff of 800 globally, including 450 employees at Arnold's 10 Summer Street headquarters and 22 clients in various industries like New Balance, The Hershey Company, Fidelity Investments, and Ocean Spray.
Though Hamlin estimates she works over 75 hours per week, she said she loves the industry and can't see herself doing anything else.
Boston.com spoke with Hamlin recently to find out what it's like being one of the most influential people in Boston.
When did you get into advertising?
I always say I was genetically born into marketing. My dad worked on Wall Street and my mother was a designer. Marketing is very much a combo of left brain and right brain — where creativity meets commerce. How products are sold and how brands are built and a real love for art are my personal passions.
I went to the Carroll School of Management at Boston College, did an internship and was completely sold. I've had a career in advertising on the agency side since graduation. I've been with Arnold for almost 18 years.
How did you assume your role as global president at Arnold Worldwide?
I love the business and I really think if you do what you love and love what you do, you can do incredible things. I found my way into an industry that marries my strengths as a professional and my passions as a person. I worked through the account management track in the industry, which is a role that interacts with clients and leads brand agency.
I made a difference and made an impact and made it happen. I took on more responsibility throughout the course of my career. I was a partner at an ad agency prior to Arnold, then came here to be an account manager. When you do a good job, people notice. I love to lead people. I love teams. In 2006, I became president of the headquarter offices in Boston, and at the end of 2013 my responsibility expanded to the global offices, so now I oversee all of our offices.
What's a typical day like?
There is no typical day. My responsibility falls under three areas. First, I'm responsible for overall agency leadership and management, which means I'm responsible for the agency's business plan and continuing to evolve and grow. Second, engagement with key clients. I really enjoy client interaction a lot and working to solve problems through creativity. That's where I get super inspired. Third, I oversee business development — talking to new prospects, working on new pitches.
The allocation of that time varies week to week. It's a super fluid business. I travel a fair amount. I'm in the Boston office about 30 percent of the time and 70 percent in one of the other offices or with clients. I pretty much travel every week. Last year, I traveled 40 weeks of the year.
Favorite part of the job?
The people you get to work with. Advertising brings together some of the most interesting, creative minds in business. As products become more similar, I think creativity plays more of an important role in separating brands and making those brands more valuable for people.
Do any projects stand out to you?
I think the work we've done for Ocean Spray was really touching the stone of what made that organization unique. It's a grower-owned cooperative of cranberries and the 'straight from the bog' campaign has really been true to Ocean Spray and really defined them as a company.
Other than your parents, was there anything in your childhood that influenced your career path?
Two things. I was a Girl Scout early on and I could sell more Girl Scout cookies than the whole troop combined. I also really liked to paint. I took art classes all throughout high school. One hung in the state museum in Trenton, New Jersey. Those were two milestones — those two passions coming together, the left and right brain. Creativity and commerce, the art of selling.
Hardest part of your job right now?
I would say it's a really competitive market for talent today. If you talk to many people in my role that's what lots of people are talking about — the acquisition of great talent. How do you develop the talent you have and give them the professional opportunities to grow in their career? We have a very strong talent management team and HR team that creates a culture that great people want to be a part of.
It starts with having a great physical environment that allows people to be their very best. That's why our open space and open floor plan that we moved to was a huge step forward in having a more collaborative and more dynamic organization.
Arnold Worldwide moved its Boston headquarters to Summer Street in Downtown Crossing in September 2014. The site used to be home to Filene's Department Store.
What do you look for in workers?
The most important thing is having an innate curiosity, asking, "Why, why, why?" Someone who will never stand still and who continues to evolve. Technology has totally reshaped how consumers interact with brands. We look for people who are always leaning in, learning, and problem solving. People who ask, "How can we solve this problem through communication?" Another characteristic we look for are people who work well in teams. No individual can do it all in advertising. It's a team-based sport.
Biggest work-related achievement in the past year?
This business has quite a lot of volatility to it. We navigated incredibly well through a downward cycle and last year saw a double digit growth. I think my proudest achievement is just the ability to lead the business through the normal ups and downs of advertising: To keep it growing and going.
How do you unwind? 
[My family] loves to ski. We're avid skiers. We spend as much time as we can in the spring and summer at the Cape. We love the beach, love to boat. Those activities really bring my family together. I played lacrosse growing up, so I've been a girls lacrosse coach at our town for six years and that I really like, too. It's leadership in a different way, being a leader of younger girls.