Jobs
How to ask for more money as a woman, according to Boston's free class
Boston.com gathered tips from a salary negotiation workshop sponsored by The American Association of University Women, Mayor Marty Walsh, and the Mayor's Office of Women's Advancement.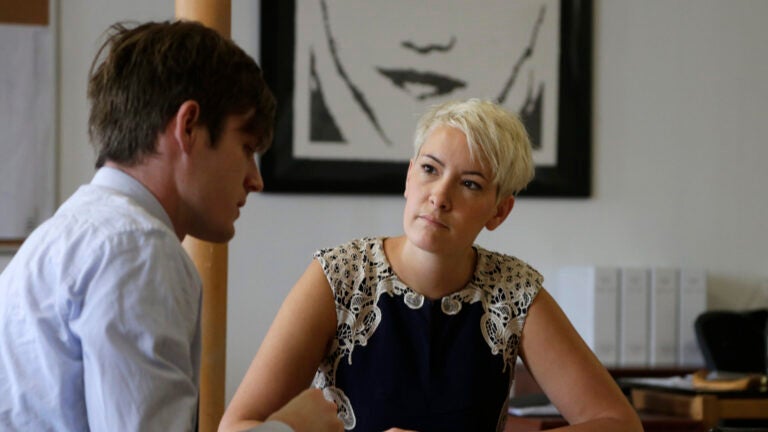 A recent salary negotiation workshop sponsored by The American Association of University Women and the city of Boston brought together women working in fields that ranged from medicine to architecture, finance, human resources, and advertising.
The workshop was one of nearly two dozen scheduled so far this year as part of an initiative by the Mayor Marty Walsh and the association to close the gender pay gap and to give free negotiation classes to 85,000 women in Boston.
Though their ages and experiences varied, the women gathered at YWCA Boston at 140 Clarendon St. had one commonality: At some point in their career, they had either been refused a higher salary, or hadn't negotiated at all — a widespread problem that (partially) explains why women are still paid just 79 percent of what men earn in the U.S.
In Boston, full-time male workers are almost twice as likely as female full-time workers to earn $100,000 dollars or more per year, according to a Boston Redevelopment Authority Research Division analysis of U.S. Census Bureau data.
Led by Sarah McCue, a certified financial planner from Morgan Stanley, the workshop offered tips on how women can calculate the salary they need, while also figuring out the salary they deserve.
Here were 7 negotiation tips:
Know your budget. Knowing your monthly budget is crucial to preparing your negotiation strategy. You should be realistic with yourself and figure out how much of your salary goes to housing, food, transportation, health, and entertainment. This lets you identify your minimum acceptable salary.
Do your research. Learn the kind of salaries people with your job earn in your city. This data is available at websites like Glassdoor, LinkedIn, PayScale, and Salary.com. This knowledge gives you a bargaining chip when meeting with your boss or a potential employer.
Identify a target salary. When comparing similar job descriptions, look at the salary range for the job title and choose a target somewhere from the 25th to 75th percentile.
Don't forget benefits! Using a site like Salary.com, you can click on the "Benefits" tab to identify the value of what you would get for benefits if paid the median salary for a job title. When negotiating, don't forget that you can ask for things like flexible working hours, transportation reimbursement, or even educational opportunities as well as more standard benefits like 401K matching and health insurance.
Bolster. A "bolstering range" is 20 percent higher than your target salary. Aim high, but be realistic. Think of it as the best case scenario when negotiating your salary.
Set a meeting. Unless you're in the hiring process, ask your boss to meet to "discuss some aspects of career development." If you say you're arranging a meeting "to ask for a raise," your boss might avoid responding.
Prep your pitch. Your pitch should be prepared ahead of time and practiced a few times before meeting your employer. Be positive, and refer to things like specific accomplishments, recent increases in your responsibility, revenues you've brought to the company, and any awards you've received. Be confident and persuasive, but remember you have the power to end the discussion at any time should you feel at risk.
What if things don't go so well?
The association suggested that women anticipate the employer's reactions and formulate persuasive responses. For example, if your boss ends up saying, "I don't have the budget for this high a salary," you should already have a response. There's no right answer, but preparation is half the equation of a great interview or meeting.
One thing to avoid, however, is getting personal about why you need the money or benefits. Experts said being objective makes you seem more competent.
One attendee, 25-year-old Stephanie Koltun, said she came because she's had a "rough time" negotiating for a higher salary at her current job as a designer at a Boston-based architectural design firm.
"I didn't negotiate at all when I was first hired because I felt loyalty to the company, and was in a time-crunch," Koltun said. "I really needed a job. Then, when I did negotiate later on, I felt like I could only speak to my accomplishments since I didn't know what anyone else made."
This feeling of uncertainty, or "being in a black box," was a common theme at the workshop. Many women working in the private sector said they felt silly ball-parking what they thought they were worth when potential or current employers asked what salary they'd like to make.
"I'd really like to hear from HR people on the other side of the negotiation table," Koltun added. "I'd like to do better next time."
Women can register for salary negotiation workshops here.