Jobs
How this MGH doctor balances patients at home and medical innovation abroad
Dr. Kristian Olson juggles three jobs, three kids, and a bee-keeping hobby.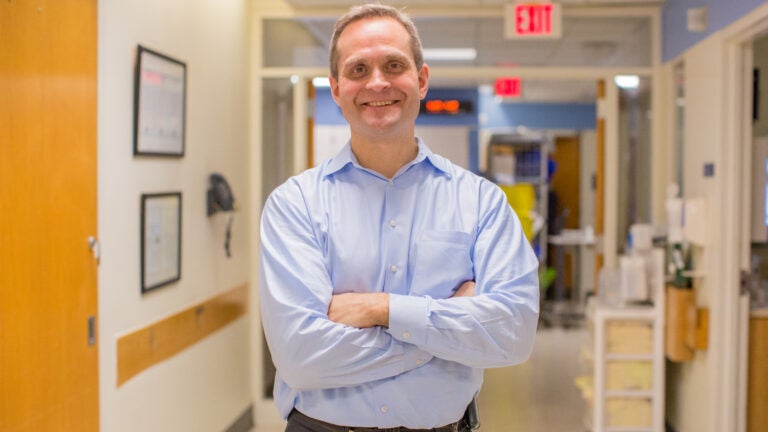 Dr. Kristian Olson didn't always want to be a doctor.
When he was an undergraduate at the University of British Columbia, he recalls telling his parents he'd never work inside or wear a tie. His junior year, he put three slips of paper in a hat labeled, "Africa," "Asia," and "South America," and closed his eyes. After drawing "Asia," Olson bought a ticket to New Delhi and spent seven months traveling through India.
"I was fascinated with other cultures and languages, but you saw this suffering," Olson said. "And I thought, 'I'd rather come back not being a voyeur, but having a skill-set.' Then I decided to go to medical school."
Three degrees later, Olson's job as medical director of the Consortium for Affordable Medical Technologies (CAMTech), a global initiative headquartered at Massachusetts General Hospital that accelerates medical technology innovation to improve health outcomes in low-and middle-income countries, does require Olson to log quite a few hours indoors. But he still chooses not to wear a tie and regularly travels to places like Darfur, Indonesia, Cambodia, Ethiopia, Uganda, and India.
Boston.com met with Olson to find out what it's like juggling his CAMTech duties while also working as a pediatrician, internist, and assistant professor at Harvard Medical School.
Describe your job.
I'm core educator faculty here at MGH and I treat patients with complex medical problems with residents and students. The other 100 percent of my time, I work at CAMTech as the medical director. What we're trying to do is accelerate medical technologies that are affordable and save lives in third-world countries. I review all aspects of the activities we're doing. It's a small, committed group. I brainstorm all activities we're doing and really help a number of teams from around the world figure out what the next stages are clinically for their devices.
I use to look at problems as real problems and now I see them as challenges to overcome.
What types of devices has CAMTech come up with?
One that is emblematic of what CAMTech does came out of our first hack-a-thon.
A Ugandan pediatrician stood up and pitched a problem. He said he trains women in helping babies breathe and created a program designed to help birth attendants resuscitate newborn babies. He said, "I go and follow up with these birth attendants one or two months later and they're ventilating incorrectly."
This was such an "aha" moment for me. I've worked in newborn resuscitation since 2003 internationally and I'm really passionate about it. So me, Data Santorino [the Ugandan doctor], a mechanical engineer from MIT, and an electrical engineer from MIT worked together over one weekend and came up with a working prototype of this air device.
1.8 million babies die globally from not taking and maintaining their first breath so that was part of the reason I was so excited about this technology. It empowers the user with real-time feedback of the quality of their ventilation. Every 30-second delay in giving a baby a correct breath, there's up to a 16 percent higher mortality rate for up to 6 minutes. It's a pretty simple device.
What else does CAMTech do?
Innovation is just the start. The really hard work happens after an idea is germinated. As an innovator, there are all these questions like, "What's the next step?" We do a few things to help with that through CAMTech, like offering innovation awards to the most promising people and we offer entrepreneur bootcamps that bring in experts from the medical device world to help engineers, designers, and clinicians move forward with their products.
Describe a typical day for you.
It really varies whether I'm overseas in Uganda or India, traveling around to other sites where CAMTech is running events or trials, or seeing patients. Generally, I start on the commuter rail at 5:50 a.m. and do emails on the train for an hour. At 7 a.m. at least once a week I have a multidisciplinary meeting with my Ugandan colleagues. Then the CAMTech people here at the hospital have a staff meeting about our next events. Then I'm seeing patients, and start teaching at 8 a.m., seeing patients till the early afternoon. I finish up the day with whatever on the innovation front is happening. Then I take the train home and work for an hour till I get home and pick up my daughter from gymnastics.
That sounds like a lot to juggle.
My family would say it's too much. It's certainly a full-time job.
What's happening now working for this platform of innovation helping innovators in Uganda and Boston – it makes me look at my own practice differently. I use to look at problems as real problems and now I see them as challenges to overcome. Now I have an outlet to stand up and pitch an idea and work with engineers, patients, etc. and have an outlet to brainstorm and think of novel solutions. In medicine in general, failure isn't tolerated but in these venues you're encouraged to fail and think of ideas outside your normal field. Some people who wouldn't think of themselves as innovators end up being the most important part of the team.
Where was your last trip?
I went to Ethiopia in January. There, I was visiting with a number of colleagues who I worked with on helping create a program to fight this multi-drug resistant tuberculosis. The other reason I went there was to meet my mom who got fascinated with Ethiopia when I was working there and took an educational tour. I landed and met her at the airport and spent four days with her going to some of the clinical places I worked in, meeting patients with TB.
What's the hardest part of your job right now?
Having enough time to follow up on all the things that need to be done and all the things that could be done. There is never enough time in a day and that's the biggest challenge.
What do you do to unwind?
I run. I play with my kids. I garden. I have this big garden and a lot of fruit trees. And I'm a beekeeper. It's really calming. I really did it because I was interested in what goes on in the hive so I joined the Worcester County Beekeepers Association because it's the oldest in the world. I'd tell people at the hospital that I had to leave and go to "bee school" and they thought I meant "B School," or business school. I went for 8 weeks and graduated with a certificate in beekeeping.
I harvest the honey and make lotions. I also realized we have maple trees so before going off to Uganda, I ordered vials and my kids were all excited. We placed these vials on the trees and in one week, we had 55 gallons of sap which ends up being a gallon and a half of syrup. I created these labels for honey and syrup and lotion that say "Triple O's Farm" because I have triplets — and because of Whitey Bulger's favorite hangout, Triple O's Lounge.
What's the biggest challenge facing medicine?
It's different when you're in a low- or middle-income country where there is a human resource dearth as well as disrupted infrastructure without technology to provide the care you need.
Here, the challenge is creating higher value healthcare so that our outcomes per cost is less. And the administrative burden on clinicians (whether nurses or physicians or occupational therapists) is really becoming crushing. If we could better utilize the skills that people were really trained to do rather than document them, it would really help the entire system.
What makes your job meaningful?
Being at the intersection of education and clinical care with an outlet to think creatively and overcome problems with technologies well-suited for where they're intended. It's a balance though because then you have more than one job.