Jobs
CEO Desk: How Taza Chocolate's founder brought a taste of Mexico to Somerville
Alex Whitmore, CEO of Taza Chocolate, makes authentic stone ground chocolate.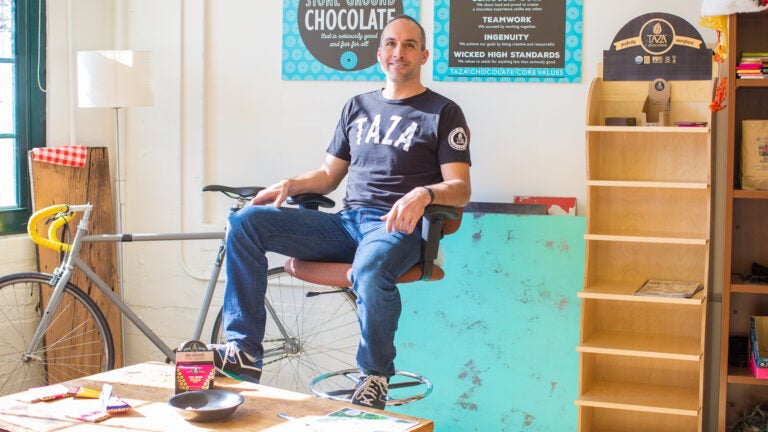 Alex Whitmore said he felt the pressure to achieve greatness from a young age.
Both of the native Bostonian's grandfathers were famous in their respective fields. Whitmore's maternal grandfather, Albert L. Lehninger, was a world-renowned biochemist who authored a textbook used by biochemistry students for decades, while his paternal grandfather, Dr. Willet Francis Whitmore Jr., was a leading urologist at Memorial Sloan Kettering Cancer Center in New York City who had patients traveling across the country for surgery at his hands.
"There was this moment where I was like, 'What am I doing?'" Whitmore said. "'Look at what my parents and grandparents achieved. What am I really doing?' I had a moment where there was this total shift that definitely drove me to take the big leap and put it all on the line."
Whitmore's big leap? Founding Taza Chocolate in 2005 with his wife, Kathleen Fulton.
Today, the Somerville chocolate factory is well-known among locals, but Whitmore hopes to grow the company, unique for its authentic stone ground chocolate and its dedication to ethical cacao sourcing.
Boston.com met with Whitmore recently to talk about what it's like being the CEO bean-to-bar company, and to find out how he apprenticed with Mexican molineros, learning their ancient chocolate-making secrets.
Describe what you do for a living. 
I'm the co-founder and CEO of Taza Chocolate, a chocolate manufacturing company here in Somerville. We make and market stone ground organic chocolate. We're one of only a handful of companies in the country that are bean-to-bar chocolate makers. Our chocolate has a very gritty, rustic texture to it. It's very different from most chocolates in the market. That's our specialty.
Tell me about the origin of Taza.
I always loved food, loved chocolate. But I really wanted to start a company that would be something I'd be really proud to go to everyday. I was also inspired by other entrepreneurs, specifically Robin Chase who started Zipcar. She's really cool.
I ended up taking a trip to Oaxaca, Mexico, seeking out something exciting related to food. What I saw there blew me away: simple rotary stone mills that were distilling cacao beans into this rustic chocolate. That was the moment I knew. I bought a couple of those mills and shipped them to myself, then later studied under molineros in Mexico. The beginning of it all was 2005, and in 2006 we started manufacturing in earnest.
Describe a typical day.
I live in Scituate Harbor so I commute on the commuter rail and ride my bike from South Station to here. I walk through the factory, say "good morning" to everyone, then I usually have meetings starting at 9:20 a.m.
We have a leadership team here of six people who run all the specific aspects of the business — from marketing, to HR, finance, manufacturing, and wholesale — and I'm constantly checking in with them about various projects, issues, or strategies we're working on. Sometimes, I have offsite meetings to get to, be they with potential customers or suppliers.
Mostly, my job is about the future. I'm focused on what we're doing in 2017 and making sure we're steering the company correctly to get us there on time, while my leadership and management team is more focused on this year and making sure we're achieving our goals on a monthly and quarterly basis.
What was apprenticing with molineros like?
A little challenging. I didn't have a whole lot of time and money to spend puttering away down there so I ended up developing friendships with a couple people who knew how to mill chocolate. It was very secretive. No one wants to show their stone dressing to you — that's the grinding pattern, the furrows on the stone. Depending on what you're grinding, you want a different furrow design. For example, when you're grinding just cacao beans, that's one design, and you use a different one for grinding cacao mixed with sugar.
So it took some relationship building with a couple molineros to learn how to dress millstones and to learn how to properly use the machines. Even coming back here, it took me awhile to learn. If you use them wrong, the room fills with smoke and the chocolate tastes terrible. That took some elbow grease. It's like any lifelong thing; you get better and better and better.
Why were you drawn to such an obscure method of chocolate-making?
I loved the chocolate. I loved that it was textured and no one I knew had ever had anything like it before. I was like, "I want to bring this home, this style of chocolate making back to the U.S." I want to show people how different chocolate can be.
Some people just hate it. It's very polarizing. Some people are like, "I want this chocolate smooth." But the people who love it, love it; they gotta have it. We have very loyal customers. We work really hard at winning them over not only with delicious chocolate but also by being a great citizen in the community, making sure we pay the producers really well and are a good employer here in Somerville. We're trying to have a net positive impact in our community.
Taza is big on ethical cacao sourcing, and is the first U.S. chocolate maker to establish a third-party certified Direct Trade Cacao Certification program, meaning, you maintain direct relationships with your cacao farmers and pay a premium above the Fair Trade price for their cacao. What made you decide to partner only with cacao producers who respect the rights of workers and the environment?
When we started this company, we didn't begin knowing we wanted to do that. We knew that we wanted to make stone ground chocolate. At the time, there wasn't this burgeoning craft chocolate industry like today, so getting high quality cacao in the U.S. wasn't easy. Also, because of the kind of chocolate we were making, we knew we wanted to be certified organic, but getting high quality cacao and having it be certified organic was impossible.
That drove us to the farms very early.  We got their quality improved, or got them certified organic early on to develop relationships. We just started doing it. And then we realized we were having a big impact on these small communities because we were paying a premium to these people for producing a high quality product.
Eventually, we were like, "This is awesome." It's something we're really proud of. Engaging communities that way also gets the staff engaged and keeps suppliers loyal. We don't have the same supply issues you'd have if you were just trading commodities and it engages customers as well.
We have a very holistic approach to the business. Some people call it "capitalism with a conscience." A lot of companies just sign up for Fair Trade but we have a very unique program we've developed for premium cacao. We also practice open book management; we're very transparent and allow people to walk through our manufacturing factory. We're also the only company in the world that publishes what we pay for our cacao beans. We like to think that a rising tide lifts all ships. Transparency is a key value for us.
What did you do before founding Taza?
I was an anthropology major at Vassar College. After that, I ended up getting a job as first mate on a sailboat, a private yacht owned by Walter Cronkite. Eventually I was promoted to captain. We sailed around for 1.5 years. In the summer, we sailed in Martha's Vineyard and Nantucket, sometimes Maine. In the fall, we went to the Chesapeake Bay and wintered in the British Virgin Islands. I met all sorts of people, from politicians to astronauts. I even spent two weeks with Andy Rooney and his wife in the Caribbean. He was a great guy. Very much more lighthearted in real life than how he was on "60 Minutes."
Then I ended up moving out West to Portland, Oregon, and got into the food industry. Eventually, I moved back east and worked for Zipcar where I met Robin Chase. I did a lot of other things in between including packing parachutes for skydivers and building boat parts for racing sailboats.
That's a lot of different things. What made you want to focus on becoming an entrepreneur?
I was definitely driven in a lot of ways by the achievements of my parents and grandparents. My grandparents — both of my grandfathers — were famous in their sector. My grandfather on my mother's side was a famous biochemist who wrote the biochemistry textbook all students used for 20 years. On my father's side, my grandfather was a world-renowned surgeon in urology. People flew from all over the world to have him perform surgeries at Memorial Sloan Kettering Cancer Center. I wanted that kind of achievement in life.
What's the hardest part of your job?
Oftentimes I play the role of conductor, making sure the business is coordinated from a financial standpoint to lead to a positive outcome in the short- and mid-term. I manage the managers. So sometimes, that's very smooth and easy because they do a great job, but sometimes it's very challenging at coming up with solutions to problems the world has faced us with.
Work-life balance is also challenging, like getting enough exercise and spending time with my two daughters and wife. She comes in two days per week and works from home two days per week. That balance is really challenging. It's hard to do everything.
How do you unwind? 
I try to get a workout in at least two or three days per week, usually during my lunch hour or sometimes during weekends and that really helps me unwind. Or coming home at the end of the day and spending time with my kids, reading them books or playing games with them.
I also love to cook up a big dish of food or multiple dishes so that we have food throughout the week. I just made this giant tray of braised pork chilaquiles for the family. Mexican is one of my favorite cuisines, especially when you go there. Oaxaca is definitely my favorite culinary destination. I'd prefer a week eating there over a week eating in France. I just love the ingredients and the way they use them. Plus, it's an ancient culinary tradition.
What makes your job rewarding?
When you launch a product, or develop and execute a plan and achieve your goals, it's such a great feeling, especially when it involves so many great people. Seeing that synchronicity and teamwork happen is very rewarding for me.
I wasn't a born leader. Some people have the natural ability to lead and I did not, so that challenge for me is something that means when we accomplish something together, it makes me feel great.