Jobs
How to become a James Beard award-winning chef? A lot of hard work
Jamie Bissonnette, head chef of Boston restaurants Coppa and Toro, talks about his job with Boston.com.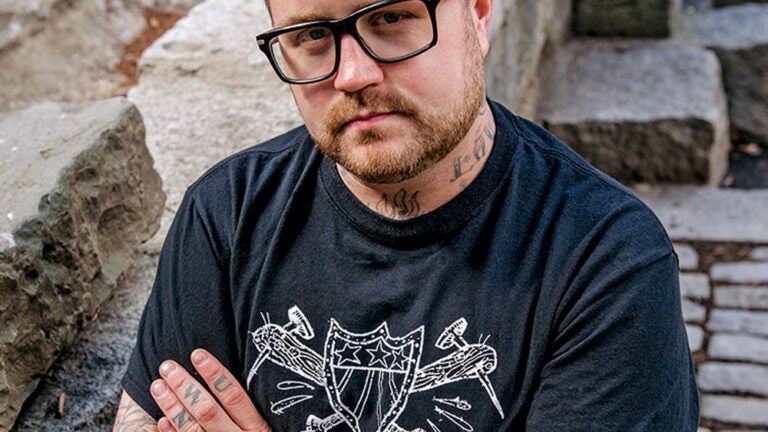 If you ask Jamie Bissonnette why he thinks he won a James Beard Award (the culinary world's highest honor) a couple years ago, he won't say it's because he's the most talented chef on the East Coast.
He'll just tell you he works really, really hard.
"I've always worked hard," the head chef and co-owner of South End restaurants Toro and Coppa said. "I knew if I wasn't the best or smartest cook around, I could beat anyone by my work ethic. As luck would have it, I became pretty good."
Bissonnette recently talked to Boston.com about what it's like following your passion from a young age and going on to co-own two of Boston's most esteemed establishments — Toro, a Spanish-inspired tapas restaurant that also has a New York City location, and Coppa, a hip Italian joint that specializes in small plates, pizza, pasta, and charcuterie, including salumi.
Describe what you do for a living.
Ken Oringer and I are chefs and business partners. We co-own Toro and Coppa and we're about to open a restaurant in Cambridge called Little Donkey, which will probably open some time in June.
What's a typical day like for you?
It depends on what city I'm in. It's half and half; 60 percent of the time I'm in Boston and 40 percent of the time I'm in New York.
I wake up, look at my calendar for the day and figure out if I have budget or construction calls, then head to whatever restaurant for whatever city I'm in. Then, it's a series of meetings with staff members, prepping for specials, looking over schedules, talking to purveyors.
Closer to serving time, I have meetings with staff about specials or anything new going on. I like to talk to staff about people we like and look up to, and talk about experiences in the restaurant and industry over the past few days. Then, we have staff dinner and open up. I tell the cooks what to cook when and why, while tasting and testing things. I also spend time talking to tables and walking around if possible, making sure everything's going well. If I'm not needed in the kitchen, I might even run food.
I take notes throughout day and at the end of the night, I sit down and write down what happened — both good and bad — starting with deliveries that didn't come in, menus that need changes, the budget, creative ideas, and things we're excited about. Then I write down my game plan for the next day and send an email out to management and the kitchen, front and back, do some ordering or have my sous chef do some ordering, clean the kitchen, pull food and go home.
Today, I woke up in New York and went to bed last night at 1 a.m. I'll be heading to Amtrak soon to get to Boston tonight. I have to get to Coppa at 9 p.m. to work there tonight and tomorrow, Coppa is having a bagel pop-up so I'll have to be back between 6:45 a.m. and 7:15 a.m.
Wow, that sounds like a lot of time. How many hours do you work per week?
I don't keep track of how many hours I work per week. As a business owner, I feel like I'm always working. I might find time to unwind by like watching a movie on the train, or I might spend that time uploading a budget. Plus, I talk to Ken Oringer sometimes every hour, or three times in an hour via text or cellphone.
How did you and Ken start working together?
Ken opened Toro before I was his business partner for 2.5 years then I joined him. We're very close. Toro has always been a Spanish-inspired small plates tapas restaurant where every time you go, it's fun. We want music loud enough that it feels like a party but you can still hear yourself and want the food to be the best food it can possibly be. The last thing we want is a place that thinks it's too cool.
Ken Oringer became well-known for Boston hotspot Clio, a modern French restaurant he opened in 1997 and won a James Beard Award for in 2001. Bissonnette spent some time in the Clio kitchen and made an impression on Oringer, who asked Bissonnette to head up the kitchen at KO Prime, where Oringer was then head chef. They opened Coppa together in 2009 and the rest is history. 
Did you always know you wanted to be a chef?
Part of me thinks that deep down my subconscious knew I was just born to cook. I cooked something for some of my dad's friends who were painting the house when I was 10 or 11. I made them open-faced sandwiches. One of them jokingly called me "chef" and I was coincidentally flipping through the TV and started watching "Great Chefs of the East" on Discovery Channel. I just felt it. It was like the first time you hear a band you fall in love with. I could hear the clang of a pan on a burner. That was my symphony. I just knew that was what I needed to do.
Some people know very early in life what their trajectory is going to be and some people don't. I was one of those people who always knew half my trajectory. I always knew I'd be a chef.
How did you learn how to be a chef?
I went to The International Culinary School at The Art Institute of Fort Lauderdale at 17, learned a little there. I learned enough to know I wanted to continue my education. It turned me out with the fundamentals of seasoning, and I could hold a knife properly. It gave me expectations for what a career in cooking looks like. I knew I was going to get my ass kicked and not make any money and that was it.
One chef said I was a hard worker who took a lot of pride in what I did, and he said if I didn't forget that I'd do okay. Then I traveled and tried to work with the best and learn from the best. If a new restaurant opened, I had to eat at it.
Where did you travel and what inspired you?
Everywhere. Everywhere is inspiring, whether it's Burlington, Connecticut, and stopping to get a Polish sausage on the side of the road and getting the history of that sausage, or going to Madrid to have a churro. For me, it's always about the trip, not the destination.
Even at a young age, I knew coffee was always better at gas stations in Europe than coffee shops in America and that inspired me to pay attention to the little details. I lived in Miami and Phoenix. Traveled to San Francisco regularly. I also went to Paris, Madrid, San Sebastián in Spain, Vietnam, Thailand, Singapore, Iceland, Mexico, and Portugal.
What is the hardest part of your job right now?
Finding balance between running the business and doing the creative stuff in cooking that I want to do. Balancing life. I'm 39. I realize now I need to take some time off to spend time with loved ones. It's really hard.
There's been a lot of news in the media recently about how high-pressured chefs' lives can be. Do you feel intense pressure to be successful?
Trying to stay ahead of the curve is stressful, and knowing that in Boston, close to 150 employees depend on our businesses to feed their families can be stressful. We want our restaurants to feel like families.
How do you unwind?
I build LEGOs. I just got a new one. It's an adaptation from The Empire Strikes Back. Three weeks ago, I built the Millennium Falcon from Star Wars. I also collect records.  Shopping for old records is therapeutic.
What is the most rewarding part of your job?
You know, I was standing in Coppa the other day and I looked around and thought, "This restaurant has been open for 6 years," and I was seeing familiar faces and new faces and the staff was having fun, opening wine bottles at tables, and the kitchen was humming and it was a great feeling knowing that people can choose so many places to eat in Boston and that night, a couple hundred chose ours. It still feels like a neighborhood family restaurant and that's so rewarding to me. If that wasn't our restaurant, I thought I'd want it to be ours. Not losing that feeling makes me feel good.
Which local chefs do you admire?
I'm continually inspired by Dante de Magistris, the chef at Dante in Cambridge and its brother restaurant, il Casale in Belmont. He inspires me with how he keeps the restaurant so family-run and he's always cooking like the most delicious food and he's got the best personality around it. If I could eat Italian food regularly anywhere I'd go to his restaurant.
I have to ask: What is your favorite thing to cook? 
Eggs. I love cooking eggs. I love showing young cooks how to finesse eggs. It's so hard and unique to make good eggs. You have to have the perfect temperature of your pan to properly cook eggs.