Jobs
One of the state's biggest and best tech employers is moving to Lowell
Kronos Incorporated, which provides companies with workforce management solutions in the cloud, was based in Chelmsford.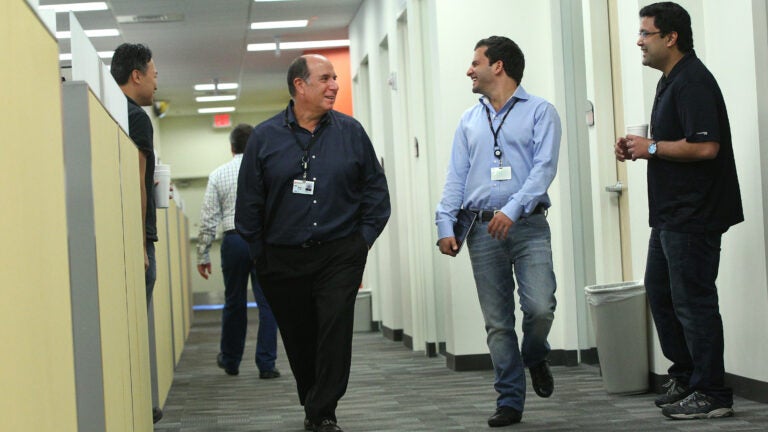 Kronos Incorporated, one of the state's largest tech employers and one of The Boston Globe's "Top Places to Work 2015," is moving its global headquarters from Chelmsford to Lowell.
The software company, which provides cloud-based workforce management platforms, announced this week that Kronos will relocate to Cross Point Towers, where it will occupy nearly 400,000 square feet of office space, by summer 2017. It will become one of the largest employers in Lowell with over 1,200 employees.
Aron Ain, the CEO of Kronos, said in a public statement that the move was necessary for company growth and greater connectivity among workers.
"Relocating to Cross Point will unite all local employees under one roof in an entire tower that's befitting of our 'WorkInspired' culture, passion for innovation, and collaborative and curious Kronite nature," Ain said. "The new space will provide a plethora of amenities to Kronites in an ultra-modern, high-tech, eco-friendly space that will help us continue to attract and retain top talent while accommodating future growth plans."
Kronos has around 4,700 employees worldwide and said it plans to hire another 1,000 in 2016.
The company hired more than 200 employees in its Chelmsford headquarters in 2015, and many of its 300+ current job openings are based in Massachusetts.
Kronos is partnering with architectural firm Packard Design to re-create the Cross Point office space, investing over $40 million for a modernized facility that will include a fitness center and game room, onsite daycare facility, café and bistro, and a brand new Tavern in the Square restaurant, bar, and patio scheduled to open in the spring of 2016.
The relocation from Chelmsford to Lowell will be Kronos's largest in a series of recent office openings and renovations around the world, including Indianapolis; Tigard, Oregon; Bracknell, England; Mexico City; Noida, India; and Sydney.