Jobs
How the 'Top Places to Work' show appreciation for workers
In honor of Employee Appreciation Day, which is March 4.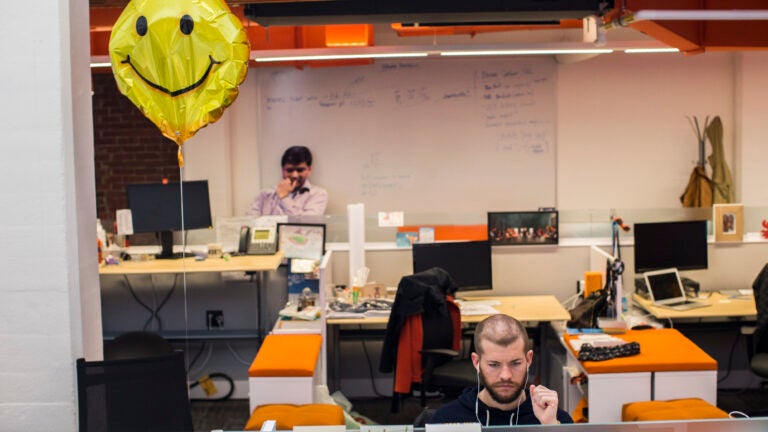 Employees love being recognized for good work. "It's human nature," said Eric Mosley, CEO of employee recognition firm Globoforce.
"We all have the need for positive reinforcement for our work and self actualization," Mosley said. "We need someone to say, 'Thank you, I appreciate your work.' Until that happens, there's a positivity deficit in all of us."
In a Globoforce survey of 828 random U.S. employees, 92 percent said recognition made them feel appreciated and 85 percent said it made them more satisfied with their jobs. Additionally, 79 percent of respondents said recognition made them work harder, while 75 percent said being thanked for their hard work increased their intent of staying with a company.
When workers are recognized for their contributions, they become happier, more creative and more productive workers, Mosley added. That's why successful companies like those recognized by The Boston Globe's Top Places to Work generally show recognition for their workers on a regular basis.
With March 4 ushering in national Employee Appreciation Day, Boston.com asked some of 2015's top companies what they do to show employees they care all the time.
HubSpot, a Cambridge-based online marketing company, offers fresh juice on Mondays, Waffle Wednesdays, and "master classes," or workshops for HubSpotters by HubSpotters. The classes let employees learn a new skill or dive into a topic of common interest, like "Intro to Negotiation," "Illustrator 101," or "Learn how to DJ."
HubSpot also gives workers flexible working arrangements, unlimited vacation, group exercise classes, and complimentary nutrition consultations. Did we mention they have an on-site barista?
Kronos Incorporated, a workforce management cloud software company in Chelmsford, offers workers financial benefits like adoption assistance, child care assistance, scholarships for children of Kronites, and a student loan program that consolidates employees' loans, helping them chip away at the principal with a contribution from Kronos.
In terms of work-life benefits, Kronos allows employees to take off as much time as they need without a cap for sick, vacation, volunteer, or personal days. The company also expanded maternal leave to 12 weeks of fully paid leave and added a parental leave benefit that provides four weeks of fully paid family bonding time for new parents of both sexes.
Akamai Technologies, a Cambridge-based a cloud services provider, brings hundreds of pies into the office for Pi Day on March 14. The company also has movie nights hosted by the CEO, a Halloween party for employees' children, employee credit to Akamai's store, and shipping services for workers' holiday packages.
RE/Max Leading Edge, a Winchester-based real estate agency, gives staff members birthday gifts and cards on their birthday, and hosts a dinner in Boston each year in February for its top 10 real estate agents and their guest. They also have an annual company-wide summer BBQ and holiday party with dinner and dancing in December.
Herb Chambers, a car dealership based in Somerville, gives every employee a free turkey on Thanksgiving.
Rockland Trust, a commercial bank in Rockland, said they have internal peer recognition programs including "You Make a Difference" and the "Shining Star" program, which let workers acknowledge fellow employees who go above and beyond their role in customer service, community involvement, or building relationships.
"Recognition doesn't just come from the top down, colleagues can recognize one another for a job well done," said Lauren Mahoney, assistant vice president of human resources at Rockland Trust. "For both programs, nominations will be accepted from any employee, including peers and supervisors."
Rockland also offers career development programs that involve cross training, mentoring, and shadowing opportunities that help employees achieve long term career goals.
Mosley said he's noticed a shift in management style among some of Globoforce's clients, who have become more interested in enforcing positivity among workers, rather than invoking discipline and aggression.
"If you go back 10 years, people thought of Silicon Valley tech companies as soft, but now the biggest companies in the world all have these peculiar cultures, which is inspiring a new generation of managers," Mosley said. "Companies are tapping into the inherent creativity of employees and learning that we can all have exceptional cultures and employees."