Jobs
Daylight saving time made you a lazier, sloppier worker this week
When you mess up a human's circadian rhythm, it isn't a pretty sight.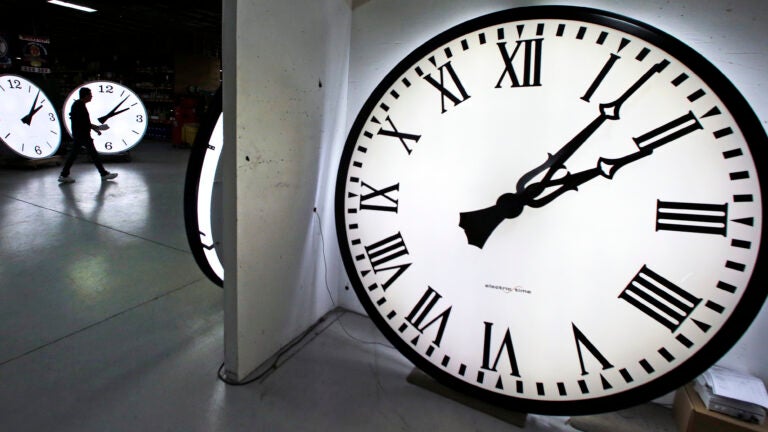 Still feeling sluggish after moving your clock an hour forward on Sunday? That's a legitimate complaint, but the window for blaming your lack of productivity on daylight saving time is probably closing, according to Christopher M. Barnes, an assistant professor of management and organization at the University of Washington.
Barnes, who studies circadian rhythm and its impact on workplace productivity, told Boston.com the lost 40 minutes to an hour of sleep most Americans experience the Monday following the spring forward generally only affects workers for a few days. But those few days can be pretty rough, with Barnes's research showing workers are more lazy and sloppy on the Monday following daylight saving time.
"I don't know about long-term implications, but short-term effects play out primarily on the Monday after daylight saving and peter out throughout rest of the week," Barnes said. "It might take two to four days to get back to normal."
For those few days, however, it's perfectly natural for workers to feel more tired and less productive, Barnes said.
That's because, for various reasons, it's easy for people to stay up later than usual, but it's hard for them to go to bed an hour early to offset that lost hour, he said. This means on Monday morning, tons of employees were operating on an hour less sleep than they normally get, which messed up their circadian rhythm — the finely-calibrated internal clock that shapes energy levels throughout the day.
In fact, his research shows it's actually more dangerous to work on the Monday following the switch to daylight saving time.
In a study of mining injuries across the U.S., Barnes found a spike in workplace injuries of nearly 6 percent on that Monday. The severity of those injuries, as measured by days of work lost because of the injuries, also increased by a whopping 67 percent, representing 2,600 more workdays lost because of injuries experienced on that one day.
Other research Barnes has done has shown that workers tend to "cyberloaf" – or, use their computers and Internet access to engage in activities that are not related to work – at a significantly higher rate on the Monday following the shift to daylight saving time than on other Mondays. In fact, for every hour of interrupted sleep the previous night, participants in Barnes's lab cyberloafed for 20 percent of their assigned task.
"Other researchers have found a spike in heart attacks, a dip in stock markets, and a dip in moral awareness," Barnes said. "So there are lots of harmful effects on the Monday after daylight saving. There's no real benefit."