Jobs
You're 'cyberloafing' right now. Here's how your employer might stop that one day.
Cyberloafing means using the Internet for purposes not related to work, like looking at cat videos, or checking your NCAA March Madness bracket.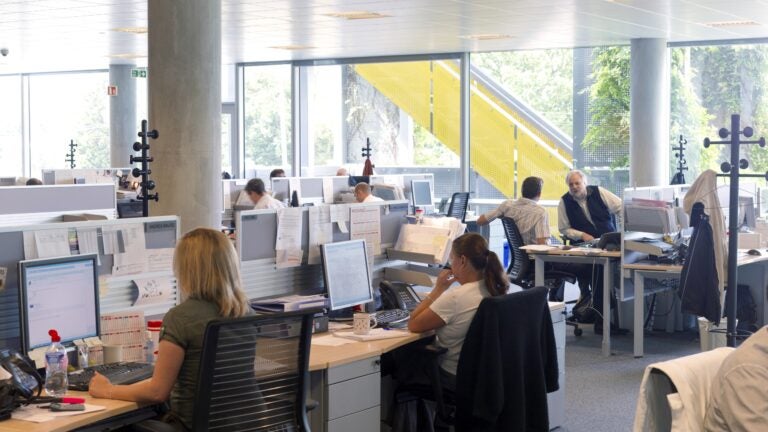 For many office workers, the Internet makes it all too easy to get distracted from work-related tasks. There's Facebook, Twitter, Pinterest, and an endless stream of clips from "The Ellen DeGeneres Show" on YouTube.
"Cyberloafing," or using the Internet for purposes unrelated to work, costs U.S. business as much as $85 billion a year, and some studies have shown workers cyberloaf for more than 60 percent of their time online at work.
Researchers think they might have found a solution to the problem using a combination of anti-cyberloafing software and psychology.
In a workplace experiment, Jeremy Glassman, a doctoral candidate in information systems at Arizona State University, and a team of researchers exposed workers to "operant conditioning," a learning principle in which specific actions are met with immediate positive or negative consequences in an effort to change long term behavior.
On a company network, the researchers installed a system that divided the Internet into sites that employees can always, sometimes or never visit. Sites in the "never visit" category were blocked outright, like they are at many workplaces.
Leisure sites like those for social media accounts or shopping outlets fell into the "sometimes visit" category. For these, on-screen warnings were used to give employees reminders when they visited sites that were not work-related.
Glassman told Boston.com workers could browse leisure sites for 10 minutes at a time, but after 90 minutes total on any given day, the employees were blocked from those sites and had to explain to their managers why they needed more than the allotted time on leisure pages.
At any time, workers could request to a manager that a leisure website be marked as work-related.
"This gave workers a sense of justice and fairness at how [the software] was being applied," Glassman said.
At the end of the experiment, the agricultural company said cyberloafing had been "significantly" reduced, though they did not measure any effect the program had on workers' productivity or output.
The company also did not solicit direct employee feedback, but said managers' response to the program was "favorable."
Glassman said most companies already use some form of blocking software to prevent workers from accessing websites that eat up the company's bandwidth, such as video sites, or that could cause legal issues for the company, like pornography websites.
Many employees find that a little cyberloafing is perfectly fine, however.
In a survey of about 200 workers, about 97 percent of men and 85 percent of women said it was acceptable for employees to cyberloaf at the workplace.
These workers reported that cyberloafing for around an hour per day helped them "deal with practical issues and personal issues," in addition to making them "more interesting" workers.