Jobs
How 100 Boston businesses are committing to closing the gender wage gap
Mayor Marty Walsh announced this week that over 100 companies have signed on to the city's 100% Talent Compact, a business-driven initiative to get equal pay for men and women.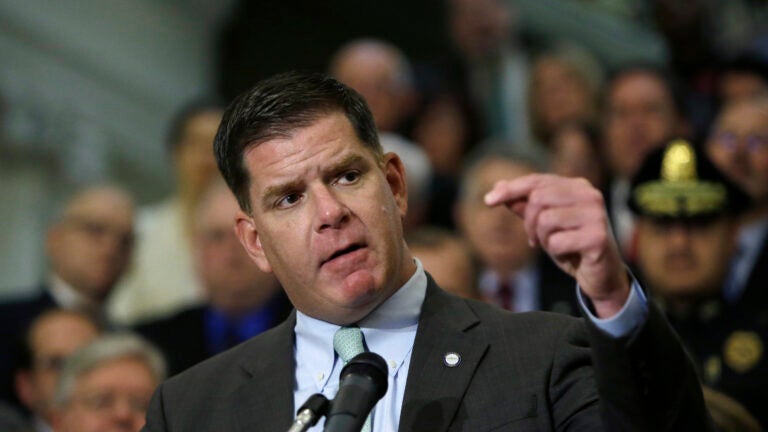 Mayor Marty Walsh announced this week that the number of Boston-area businesses that have signed a commitment to close the gender wage gap has doubled — from 50 last year to over 100 in 2016.
The commitment, called the "Boston Women's Workforce Council's 100% Talent Compact," is a voluntary pledge that companies in Boston sign to indicate their promise to help close the gender wage gap in the workplace. Boston's initiative is the first of its kind in the country.
By signing, businesses agree to share payroll data (broken down by sex, race, job category, and length of employment) with the city's Women's Workforce Council. The data will be used to provide an accurate measurement of the wage gap and to help develop solutions later on.
The involved businesses — in industries including academia, biotech, technology, consulting, and finance — have also agreed to implement research-tested interventions and participate in a biennial review to discuss successes and challenges. The first review will be held this fall.
Some local businesses that have already signed on include Boston Children's Hospital, National Grid, Raytheon, State Street, and MassMutual.
The gender wage gap is a well-known fact.
According to the city, white women make 83 cents for every dollar that men make in Boston, but the gap is worse for women of color. Nationwide, women make 78 cents per dollar a man makes.
Research suggests the wage gap is due to a number of factors.
Some experts cite implicit bias, or unconscious judgment, while others say women continue to go into lower-paying fields more often than men. Studies also show that women are less likely than men to ask for a raise.
Evelyn Murphy, cochair of the Women's Workforce Council, told The Boston Globe the metrics will provide a window into the wage gap that will then be provided to employers in hopes they will implement solutions.
"This will enable the city and its workforce to see that and sustain a situation where the wage gap is eliminated or reduced dramatically," Murphy said. "This is something that in the next five years is going to have a measurable impact on the gender wage gap that no other city in the nation will have."