Jobs
'Fortune' magazine publishes article by Dan Lyons about HubSpot
Dan Lyons, a Winchester-based author and longtime journalist, wrote a critical book about his 18 months working at the Cambridge software company.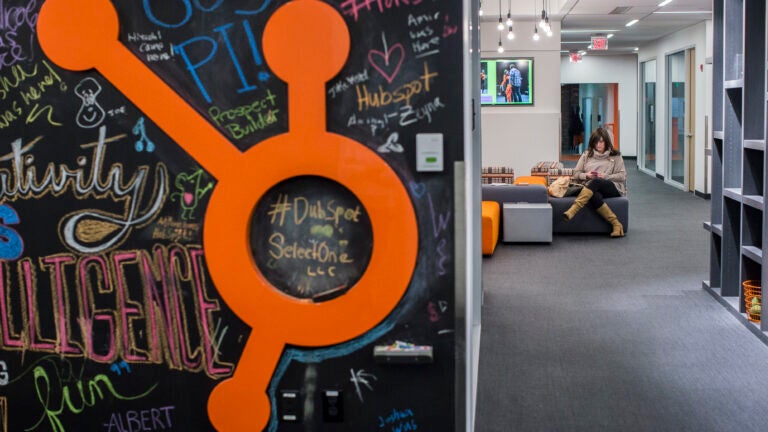 Those eager for Dan Lyons's disdainful new book about his 18 months spent working at Cambridge software company HubSpot can read an exclusive sneak peek in Fortune this week.
Called "Disrupted: My Misadventure in the Start-Up Bubble," the book paints an unflattering portrait of the company, according to the Globe, portraying it as "a hard-driving workplace full of old-fashioned office politics and backstabbing."
The Fortune excerpt is entitled "My Year in Startup Hell," and explains how Lyons went from being an unemployed middle-aged journalist to a marketing fellow at one of the hottest tech startups in Greater Boston. In it, Lyons portrays HubSpot, which topped the Globe's list of the best places to work in 2015, as the epitome of a cultish and juvenile trend in tech workplaces.
Lyons writes:
The offices bear a striking resemblance to the Montessori preschool that my kids attended: lots of bright basic colors, plenty of toys, and a nap room with a hammock and soothing palm tree murals on the wall. The office-as-playground trend was made famous by Google and has spread like an infection across the tech industry. Work can't just be work; work has to be fun.
Lyons, a Winchester-based author and former Newsweek employee, was in his 50s when he was hired for the marketing position, working there between April 2013 and December 2014 before writing a book detailing his experience.
According to the Globe, Lyons describes HubSpot as a tech company filled with young people and "a touch of frat-house behavior" that ultimately creates a work environment inhospitable to older workers like himself.
In "My Year in Startup Hell," Lyons continues:
Upstairs there is a place where you can drop off your dry cleaning. Sometimes they bring in massage therapists. On the second floor there are shower rooms, which are intended for bike commuters and people who jog at lunchtime, but also have been used as sex cabins when the Friday happy hour gets out of hand.
Lyons also describes workers as being hunched over their laptops "like seamstresses in Bangladeshi shirt factories," and refers to his two-week training period as a bunch of pep talks that sounded like "brainwashing."
In July 2015, "Disrupted" was subjected to scrutiny when HubSpot fired its chief marketing officer for violating the company's ethics policy in connection with attempts to procure a draft manuscript of the book. Other HubSpotters resigned or were fined in connection with the incident, which was turned over to the federal authorities, who opened a criminal investigation (though no charges were ever brought).
The book hits stores in April.
Read the full Fortune excerpt here.