Jobs
A peek inside the work life of a software engineer in Boston
Nick Davis works at Rapid7, a company that provides security data and analytics solutions to organizations.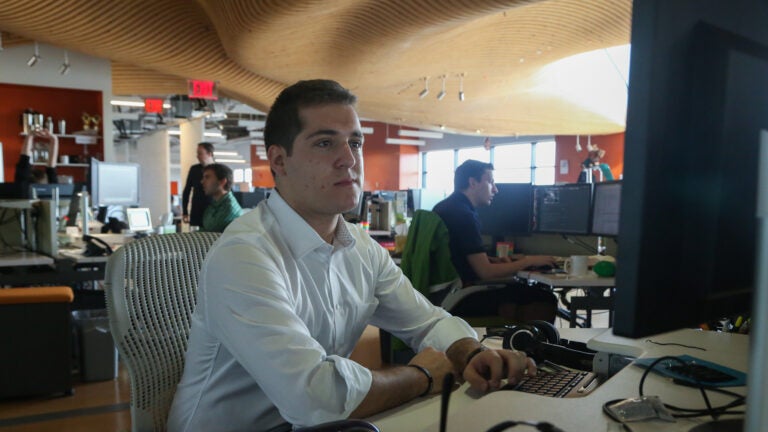 Software engineer is one of the most in-demand jobs in Boston, not to mention one of the most lucrative.
While San Francisco might be renowned as the tech capital of the country, research shows that software engineers in Boston actually get more bang for their buck in terms of cost of living, making an average salary of $117,000 per year.
At 23, Nick Davis is well on his way to having a successful career as a software engineer at one of the top companies to work for in the city — Rapid7, a business that provides security data and analytics solutions for organizations that want to improve their network security.
Davis, a self-described "cybersecurity nerd," landed the gig after an interview at a Tufts University career fair.
Boston.com met with Davis recently to get a better understanding of what software engineers do, and how interested workers can break into the field.
Describe your job. 
I am a software engineer on the platform products at Rapid7. I work on both the front end (client side) and back end (server side) of our data technologies. Our insight platform is a user entity and behavior analytics product. A broad generic way to describe my job is I help companies detect and respond to attacks on their network in real time.
How do you know when a company has an attack on their network? 
I can tell you how we do it. We take in all your security information, pretty much anything you can give us, we want it.
That gives us a wide cut of your network so we can see what's going on and lets us attribute an attack back to a computer doing the work, which we can attribute to a user. We can understand user behavior and understand what we think might be good or malicious in action, maybe not even intent.
For example, I have my email on my phone. If I check my email, the system sees that. I checked it five minutes ago from here in Cambridge. But let's say 30 seconds later it looks like someone checked my email again, but not in Cambridge, in China. That's scary behavior so we're going to tell a client about instances like that. Once that detection occurs, we can tell a company who was involved and they can launch an investigation and pull in all sorts of data, put together a timeline of events.
These investigations and responses to incidents…each case can be partially unique, but some have common elements. We try to anticipate the need of our clients and provide the information automatically so they can go in and find out what happened in that particular instance.
Describe a typical day.
Every morning we do a "standup" where our team gets together to talk about what we did yesterday and what we will do today. It's a way to sync up and get on the same page. It can involve planning and design meetings, where we draw on whiteboards to figure out what we will be building in the next few weeks.
It's a lot of programming all the time, and it's a lot more collaborative than it sounds. I'm coding all day and developing new features or fixing bugs, and I'm talking with various people about what they're doing and seeing how it all links together. And then there's always a game of ping pong at 3 p.m. and stuff like that, but mostly I'm doing design and architecture and building stuff.
Did you always know you wanted to be a software engineer? 
Definitely not.
I've always been a kind of technical person and into problem solving. That goes back to being a little kid at my grandfather's house. Everyone went away and when they came back, I took apart the speakers.
Going forward, I was always technically inclined. I love tech, and math and science. In high school, I got really into applying technology. I started doing things like physical computing and programming and I built a 3D printer. When I started thinking about colleges, I thought I'd have an engineering focus but my interest started very broadly.
In college as I learned and experienced new things, I didn't know I wanted to do software engineering. I studied computer engineering, which is a cross between hardware and software. Then I found security and security to me is a very romantic thing because it's all about good versus evil. I found the concept very exciting and played with it on my own in my free time.
A couple months or a year later, we had the Tufts career fair. I got ready and was talking to lots of different people. I saw my friend having a conversation across the room, so I walked up and listened in, and I heard the recruiter say he was from Rapid7. The next thing I knew, I was interviewing and I interned there, and now I'm a full-time software engineer.
What is your favorite part of your job?
If I had to say my favorite favorite part, it would be the people I work with. They are all amazing, smart, funny, and caring people. The breadth of problems I get to solve on a daily basis is amazing. I'm excited to come to work every day because there are always new problems. 
What is the hardest part of your job?
I think it's making sure that I prioritize all the work we have to do properly for myself. The security world is constantly evolving. I might come in and have a brand new problem to solve and I have to see how to fit all my work together. We do this thing called "continuous integration," which means we might release new features to our products five to 10, 15 times a day.
Staying on top of it all and making sure I have the right order of what I should be working on is probably the hardest thing, but in a really kind of fun way because I constantly get to add and improve our products. I'm very active all the time and that is challenging but satisfying.
How do you unwind?
We play ping pong here. We do a lot of fun activities together, which might mean board games at the end of the day, or we might go play spikeball together. I love music, so finding and listening to new music and discovering new bands is fun. My mom is an artist so another fun thing to do is go to the Museum of Fine Arts.
Where do you see yourself in 5 years?
I think I just want to continue to learn and develop myself and my skills and experience as much as I can and see where it takes me. It would take a whole lot for me to leave this place, so I'm relatively confident I'll be here if they'll have me, but in what capacity, we'll have to see.