Jobs
Center for Workplace Innovation launches in Boston, tackling the design of how and where we work
The new center is nomadic, and will pop-up in locations around the U.S.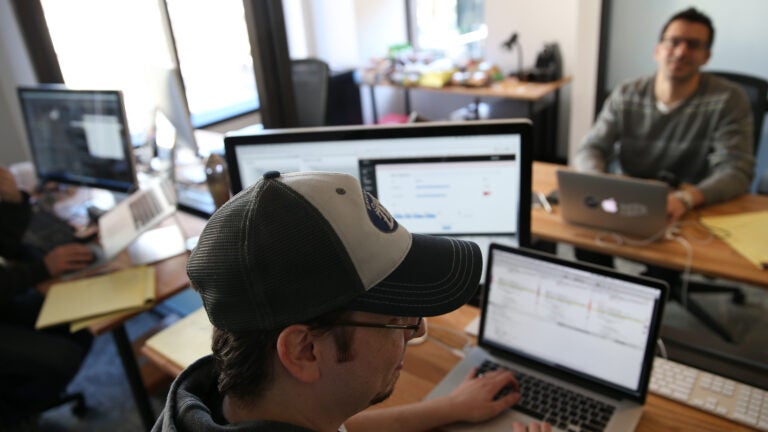 Only 35 percent of U.S. managers are engaged at their job, and Sam Aquillano, founder of the Design Museum Foundation, wants to change that.
His plan? Inspire leaders to design better work environments with the brand new Center for Workplace Innovation, which launched this week in Boston alongside center partner Jamestown Properties.
The center, described as "part think tank, part resource," will focus on solving problems related to companies' architectural and organizational design and culture. It will be a nomadic platform for community members to engage is as they hop from city to city. Boston is just the beginning, Aquillano said.
"How do we get people to be more engaged and productive?" Aquillano asked. "The cost of disengaged workers is like $550 billion per year. It seems crazy but it makes sense."
Local business leaders from industries ranging from architecture to biotechnology gathered Tuesday at The Design Museum Foundation Boston, a nomadic museum that educates people about design, to share ideas about designing a better workplace. Aquillano told Boston.com he envisions the movement as cutting across sectors and job levels.
"We want it to be as participatory and accessible as possible so everyone can find a way to engage with the center in some way," he said. "We're trying to inspire professionals, but we also want to connect with and inspire the CEOs in the C-suite. We want to show them you can be really intentional with creating a culture and having it reflect your brand values and drive innovation."
In addition to interior designers and CEOs, the center is also geared toward attracting furniture designers, product designers, graphic designers, business leaders, entrepreneurs, behavioral scientists, organizational behavior experts, and others.
The Design Museum Foundation's website states:
The design of how and where we work has always been important, but attention and discourse have crescendoed in recent years as it is clear that well-designed workplaces translate into higher productivity, happier teams, longer employee retention, and increased revenue.
Aquillano said the Boston launch was just the beginning of the center's programming, much of which is yet to be determined but will pop-up around the country. The center will also produce media about workplace design for online, and a podcast is in the works, he added.
"If we're successful, employees will happier, more engaged, and more productive; and companies will achieve greater success, retain top talent, and create more impact," the website continues.