Jobs
Dan Lyons: Current startup workplace culture is 'unsustainable' for millennials
The author gave a discussion at WorkBar Cambridge this week about his scathing new book featuring HubSpot.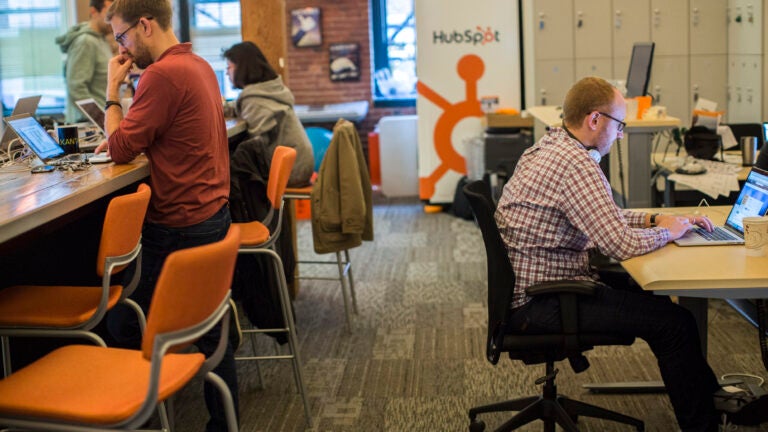 After a slightly awkward "hello" to some HubSpotters in the audience, Dan Lyons began discussing his scathing new book about HubSpot at WorkBar Cambridge on Wednesday night.
The Winchester-based author and longtime journalist recently published "Disrupted: My Misadventure in the Start-Up Bubble," which describes the 18 months Lyons spent working at HubSpot as a marketing fellow. According to The Boston Globe, the book paints an unflattering portrait of the Cambridge-based software company as a "a hard-driving workplace full of old-fashioned office politics and backstabbing" with "a touch of frat-house behavior."
Though the book is highly critical of HubSpot, Lyons says it's a larger critique of the workplace culture endemic to startups and the tech sector at large.
On Wednesday evening, Lyons spent much of the hour-long talk discussing what he sees as blatant ageism in the tech and startup sectors, which makes it hard for older workers like him to find and keep jobs. But he also expressed deep concern for another age group: millennials.
Startups like HubSpot predominantly hire well-educated young people fresh out of college, Lyons said, and make them feel like the luckiest workers in the world to be hired by a place that's "harder to get into than Harvard."
But then, Lyons said, the startups "churn and burn" through employees, having them work long hours for average pay until they're burned (or weeded) out to make room for the next crop of young 20-somethings. Rather than making stable careers for themselves, young workers are settling for a life of being treated like a "widget" that can be replaced at any time, he added.
"There's this whole generation that's told, 'This is your life,'" Lyons said. "'You'll be job-hopping every two years.' And this new generation is buying into it! How workers are treated is getting left behind in this world."
To extrapolate on this point, Lyons described an acronym used at HubSpot to review workers. It's called "VORP," or "value over replacement player." In baseball, VORP demonstrates a player's contribution to their team, as compared to an imaginary "replacement player."
At HubSpot, Lyons said workers were given a VORP rating of 1 to 5 based on how much value they add to the company, compared to someone who could take over their position for a smaller salary. Lyons recalls getting a 3, maybe a 2.
"I thought this was ridiculous," Lyons said. "It seemed like the cruelest thing in the world."
Is there a remedy for this growing workplace culture? Lyons said he wasn't really sure, but having more diversity (of race, gender, background, and of course, age) at tech firms and startups would be a good place to start. Diversity leads to a wider array of viewpoints, and Lyons surmised that some workers (like himself) wouldn't accept the new normal.
Diversity could take a long time to solve, however.
"In many large companies and endemic to startups, there's this bro culture," Lyons said. "Rich guys with a lot of money are left to their own devices, so they hire people just like them."
Until these guys learn that diversity is profitable and doesn't just look good on paper, Lyons said he doesn't foresee companies making a big push for it.
The severity of this, Lyons added, is that the vast wealth of knowledge accumulated by skilled older workers (and women and minorities) is lost on an industry that could really use some guidance.
"Technology is probably the most important industry in the world right now, and what they're saying to the vast majority of the population is, "You have no place here. You don't get a role in this wealth,'" Lyons said. "And that's not right. That's not progressive."