Jobs
How some women are closing the gender gap in Boston's theater industry
A new WBUR article highlights the lack of diversity among the field's artistic directors and executive directors.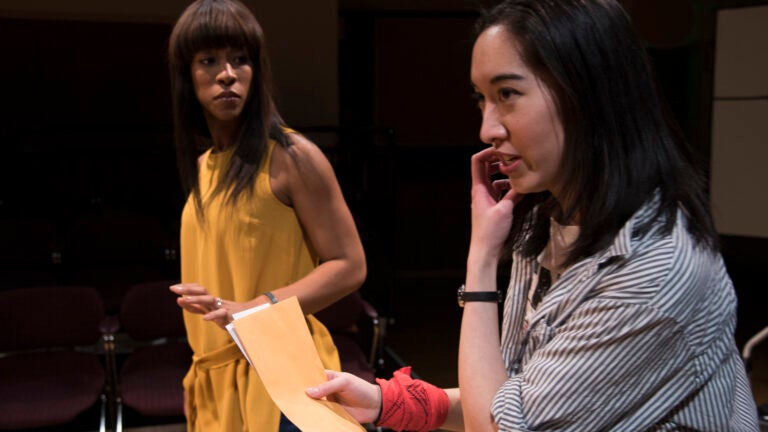 Though women represent the core of theatergoers in America, they're often missing from top theater leadership roles.
In fact, an ongoing study at the Wellesley Centers for Women at Wellesley College found that women have never held more than 27 percent of leadership positions in American nonprofit theater.
It's not uncommon to see women hired as stage managers or assistant stage managers, yet you hardly see one listed as a theater's director. You're also far less likely to see a Broadway show that was written by a woman.
WBUR explored this issue in a recent article and discovered that while Boston's theater industry reflects discouraging national trends in some ways, it is also one of the few cities actively working to close the gender gap endemic to theaters.
Among Boston's 11 large- and midsize-theater companies, just two have female artistic directors, but as WBUR points out, a grassroots movement has started, with more women starting their own companies.
Olivia D'Ambrosio, founding member and producing artistic director of Bridge Repertory Theater, based in Cambridge, told WBUR she doesn't look to fill quotas, but is probably more cognizant of showcasing women's work than many male artistic directors would be.
"It's not a stated part of our mission to meet any sort of parity quota, and we don't give ourselves any special points for doing it," D'Ambrosio told WBUR. "It's just an inevitable outcome of who we are." Up next on stage at her theater is "Mud Blue Sky," a play written by Marisa Wegrzyn, directed by Bridget Kathleen O'Leary. A comedy about three aging flight attendants, "Mud Blue Sky" stars three Boston actresses.
Other local theaters run by women include Fresh Ink Theatre Company, Apollinaire Theatre Company, Nora Theatre Company, and Fiddlehead Theatre Company.
Read the full WBUR story here.