Jobs
MIT grad helps companies make awesome art to improve office culture
LimeSHIFT's first client was Life is Good.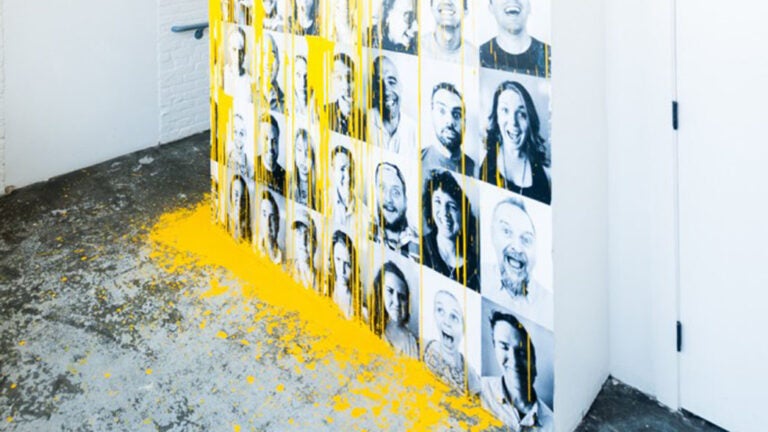 When you walk into the Fort Point offices of apparel company Life is Good, one of the first things you'll notice is a large collage of the employees' faces, wrapped around a stairwell.
Some of the workers in the collage make goofy smiles, while others feign surprise or sadness, and the entire piece appears to be dripping with bright yellow paint — Life is Good's signature color.
Called "Electric Joy," the art is meant to embody the culture of Life is Good, a company defined by its cheerful t-shirts, baseball caps, and sweatshirts that say things like, "Do what you love, love what you do," and, "Not all who wander are lost."
The art wasn't always there, however.
"Electric Joy" was created for Life is Good by limeSHIFT, a "social enterprise" out of the Massachusetts Institute of Technology that helps companies create public art to display in their offices as a reflection of their values and culture.
To design art for Life is Good, limeSHIFT had an artist spend weeks with the employees, doing interviews and workshops to better understand the apparel company's values, and how those values manifested themselves in an office environment.
Elizabeth Thys, limeSHIFT's co-founder and CEO, told Boston.com the artist (Yazmany Arboleda) asked workers to describe their day-to-day role and how they felt about their space.
"When we were doing the workshop with Life is Good, a couple things happened," Thys said. "We got employees to think more creatively about their role in the office and how they communicate and interact in their physical space, which is really important for opening channels of communication. The other thing that happened was employees felt more ownership in the space."
Life is Good is the first private company limeSHIFT has made art installations with, but Thys, a graduate of MIT Sloan School of Management, said she's eager to bring art to more workplaces.
LimeSHIFT is headquartered in New York, but Thys said they're also speaking with companies in both Boston about developing art installations.
"Art making is a powerful tool for community engagement," Thys said. "By inserting beauty into an office space, art can positively influence employees and impact business results."