Jobs
Boston has one man in charge of overseeing all of the city's most precious artifacts
Joe Bagley loves his job, but he needs help.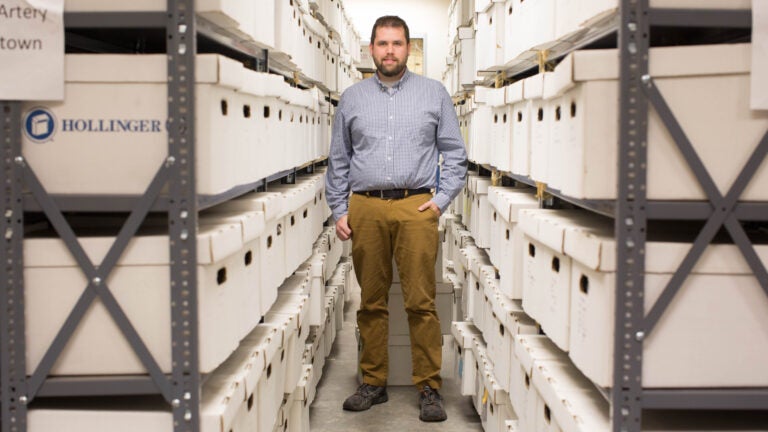 In a nondescript building in West Roxbury, over 1 million of Boston's most precious artifacts sit untouched in rows of white, acid-free boxes.
There are cannonballs from the 18th century, clay pipes embellished with the British crown, 17th century chamberpots, perfectly intact Chinese porcelain plates, and 7,500-year-old Native American spearheads.
Most of the artifacts (about two-thirds) have never been properly sorted. There are no digital records or photos of them. There's no way for the public to learn about their significance to Boston's rich history.
That's because for the past 33 years—since the City of Boston Archaeology Program's founding in 1983—only one person at a time has held the title of "city archaeologist," a position that's basically 10 jobs swept into one role.
Or as Joe Bagley, the current city archaeologist, gently puts it: "I do a little bit of everything."
Beyond his salary of just over $49,000, the archaeology program receives no operating budget from the city of Boston. The 31-year old operates the entire program on a $1,500-per-year budget from donations. It's no easy task.
Bagley is in charge of reviewing any project that impacts city landmarks, and must determine whether those developments could bear fruitful archeological digs. If a site seems promising, Bagley usually goes out himself and digs it up, with a host of volunteers.
Bagley also runs and maintains the archaeology lab, where he processes newly excavated collections and attempts to reprocess older collections to make them more accessible and digitized.
In a perfect world, Bagley would be able to dedicate most of his time to writing reports about the significance of the artifacts he finds. But the lab is open to the public, so Bagley said his work is often interrupted with visitors wanting a tour, volunteers who need training, or archaeology students looking for a thesis topic.
In the time that's left over, Bagley does public events like walking tours and guest lectures, and manages the program's social media platforms, "a job in and of itself," he jokes.
Instagram may not be Bagley's forte, but he's happy to do it. The Casco, Maine native is desperate to get the public's attention.
Unless the archaeology program gets more funding, Bagley fears the mountain of unseen treasures in his lab will continue to grow, hidden from the public and wasting away in their white boxes.
"We are approaching a brick wall where we can't grow any faster," Bagley said. "I'm feeling that there's an impending overwhelming amount of stuff that I can't go further with. A backlog of work. It's hard to carve away time to finish projects, and I don't want to add to that pile of unfinished projects."
Bagley estimates he could use at least two or three more full-time archaeologists to help him with the digs, as well as process and maintain all of the collections in the lab.
"We're probably sitting next to hundreds of thousands of dollars of archaeology," Bagley said. "It's just sitting here. It's kind of a waste. I have to keep up with what we're digging now, but back here in the lab, older collections are just sitting there."
Bagley's determination has led him to try his hand at writing grants (often unsuccessfully), and most recently, a book.
"A History of Boston in 50 Artifacts," which hit stores this spring, is what Bagley hopes will serve as a "wake-up call" to the city.
"All of the royalties from the book are going back to the city for this program," Bagley said. "My justification for writing it is that it will help fund the program and be a wake-up call to the city for more funding, like, 'Look, I'm willing to write a book for more funding.'"
Bagley laughs. "I don't mind writing. I just wish I could spend more time writing my reviews rather than a book. Hopefully, the city will say they can invest more money in this program to make it better."
If Bagley's current book and grant-writing efforts are successful, he hopes that a few more hands will help most of the city's artifacts get digitized over the next three years.
"I want a complete catalog of artifacts and photographs of the meaningful artifacts, if not everything," he said. "And a user-friendly guide to using each collection and a review of what that collection means. None of our collections are there yet, but by digitizing it, we will have more people willing to use our data. It would be like going to a library and peeling the first page of every book back."
Expanded budget or not, one thing is certain: Bagley doesn't want to go anywhere. He earned two archaeology degrees—a bachelor's from Boston University, and a master's from UMass Boston—before applying for the job as city archaeologist. He fought with over 200 people for the job, but his specialty in Native American artifacts gave him a leg up over other candidates. He loves his job and said he feels unbelievably lucky to have it. After all, how many people get to snoop around other people's personal belongings for a living?
"I fundamentally enjoy it," Bagley said. "I don't get bored of my job. It's exciting and other people are interested in it. People want to hear about your job at parties, which is weird. You get to geek out about something without being too geeky."
His current obsession is the excavation of The Industrial School for Girls in Dorchester.
Founded in 1853, the school was incorporated in 1855 for the purpose of teaching destitute or neglected girls how to be domestic servants for upper-middle class families. It was the first reform school for girls in the U.S., and most of the students were orphaned, deserted, or "rendered unfit by drink or crime."
Bagley is fascinated by the site because it produced so many artifacts, and is an ideal microcosm for understanding what life was like for a poor, young girl in the 1850s.
"The amount of artifacts we found there and the detail of them was mind-blowing," Bagley said. "There were tons of pins. All the activities of the house were represented. There were knitting supplies and crochet supplies."
Bagley's still in the process of analyzing all the pieces; when Boston.com visited, he was hunched over a table filled with fragments of the school's kitchenware—some plate shards no larger than a couple inches. But he thinks when he's finished writing his review of the site, it could potentially "re-write" what people think about poor girls growing up in 19th century Boston.
"I want to know what it was like for them to live there," Bagley said. "Were they actually being done a favor? Did the girls see the school as a place where they were being given an opportunity, or did they feel like this was hell? I haven't gotten to it yet."