Jobs
This nurse travels around Boston making sure the elderly can stay in their homes
To many of her clients, Allison Neff is a familiar face who helps with grocery shopping, cleaning, and chemotherapy sessions.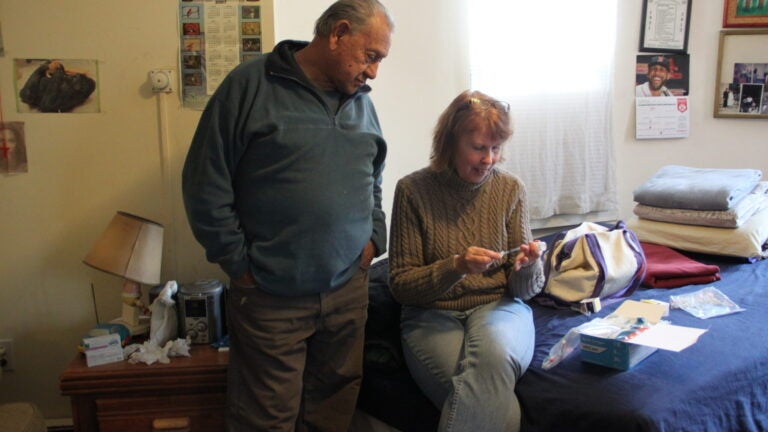 Her official job title may be "clinical nurse liaison" for the Elders Living at Home Program at Boston Medical Center, but to her patients, she's "Detective Neff."
That's because when it comes to figuring out what's wrong with her clients, Allison Neff leaves no stone unturned.
Neff joined the Elders Living at Home Program, which prevents homelessness among seniors, in 2008. Her job is to conduct home visits to ELAHP patients who don't qualify for visiting nurse services provided by the state, but who need assistance with some aspect of their health. Many of her patients are at imminent risk of losing their housing, or were homeless and are now transitioning into housing.
ELAHP keeps elderly people in their homes by providing intensive case management services, and as a nurse who defines her role in the broadest sense of the word, Neff is up to the task.
Her care includes medication management and compliance, and nutrition and health literacy, but Neff also grocery shops and cleans for many clients. She gets their mail and makes sure their bills are paid. Sometimes, she accompanies them to five-hour chemotherapy sessions, or stops by their home if she senses they're feeling lonely.
As Neff likes to say, "I am the captain of the ship and it's my job to get the ship to port and get the passengers off the boat."
Captain, detective, nurse and more
And as far as Neff is aware, she's also the only nurse in Boston with her unique role.
Unlike most agency programs, hers is grant-based, so Neff's role is as flexible as she wants it to be. She determines how many patients to see per day and how long to stay with them, and since the program does not bill, she can provide patients with items they wouldn't necessarily get, like a new lamp, or a telephone. At one time, she was following 40 patients with different caseworkers.
"I don't have a typical day," Neff said. "That's what I like about it."
When Boston.com spoke with Neff recently, she was preparing to go to West Roxbury to help a client prepare insulin shots. After that visit, she planned to drive to Dorchester to make sure another client had paid his rent.
But having a "plan" for the day typically doesn't work, Neff said, because you never know what might pop up. It can take hours to help a non-native speaker sort through his or her mail, or persuade a diabetic to cut back on eating candy. Once, Neff recalls, she discovered that a patient had plenty of food but no utensils.
To do her job well, Neff has to know the intricacies of her patients' medical needs: What medications are they taking? Do any foods interfere with those medications? Are their medications causing any adverse side effects?
Neff also has to keep track of more nuanced aspects of her patients' lives, like which clients might forget to shower, and who enjoys a little more privacy.
"With each client, I've kind of had to re-invent my job position as I go along," Neff said. "But they trust me because I'm the nurse."
Future of home nursing
The constant change is what Neff said she enjoys most. That, and the gratitude her patients show.
"Sometimes, they're just glad to see me, or happy I was able to go to the store and get them food," Neff said. "Sometimes I'll just make their bed."
By ELAHP's estimates, the program has been a huge success, with 90 percent of its patients over the past two-and-a-half decades maintaining housing in the face of imminent homelessness.
But Neff, who is in her late 50s, fears that with an aging population and a dearth of affordable housing, her one-woman show might not be enough to keep up with the needs of Boston's elderly.
"The problem is, I'm the only nurse that does this in the city of Boston," Neff said. "There has to be more grant money to allow agencies like the one I work for to grow…I know we are coming into a huge nursing shortage, because of nurses my age especially. Baby boomers are retiring, and then we're going to need nursing care."
Neff's concerns may be worrisome, yet as long as she's around, many of Boston's most vulnerable can rest assured that Detective Neff won't miss a beat — they'll be taken care of.
"Sometimes I think about quitting my job, but there's always someone else," Neff said.