Jobs
An emergency room nurse in Boston shares what drives her
Stephanie Mastrocola is a nurse in the ER at Brigham and Women's Hospital.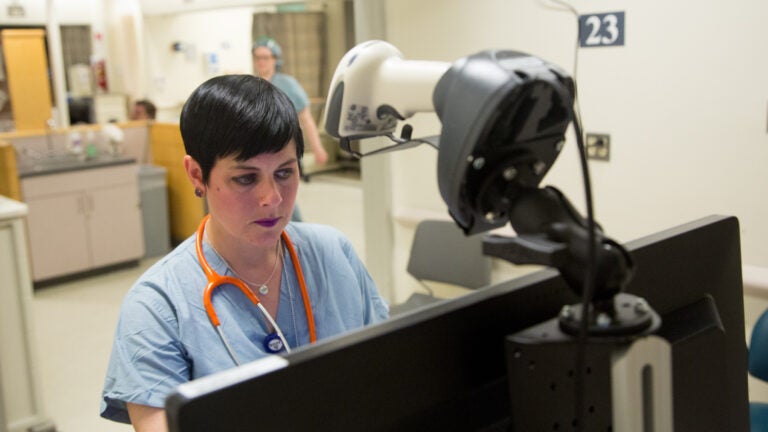 Nurses can specialize in a dizzying array of areas including genetics, geriatrics, labor and delivery, long-term care, neuroscience, cardiac care, and oncology, just to name a few.
All of these specialties require hours of training and real-time experience, but few of them require as diverse a skill set – or as calm a demeanor – as the chaotic environment of the emergency room. That's why Stephanie Mastrocola, a nurse at Brigham and Women's Hospital, chose the ER.
Mastrocola, a 40-year old West Roxbury native, said the idea of leaping into the unknown was what made her switch to the ER from working in Brigham's critical care unit.
"Nursing is funny," Mastrocola said. "When you get comfortable with one field, you want to go into something unknown."
Mastrocola became a nurse in 2001, and has been working in the ER for the past 10 years. Prior to that, she worked in general medicine and the ICU, where she developed a knack for working with patients with heart conditions and the elderly.
While Mastrocola loved the ICU, she said she started to feel restless, and wanted to challenge herself.
"It's been everything I wanted it to be," she said, though it took her a while to get accustomed to making split-second decisions. "The most challenging thing is time. When I walk out of the emergency department every night, I think about the patients and families that came in, and the minimal amount of time I had to make not only the patient but also their family feel that they can trust me. I wish I had more time with people."
The job is not without some incredibly painful and emotional moments, but Mastrocola said seeing death one hour and a baby being born the next is part of what makes her job beautiful.
"I meet people on this job I would have never encountered, especially the elderly," Mastrocola said. "They have so much knowledge and advice to give. I have sat with people who have given me advice about my child, my marriage. When you have the time, you create these bonds that really touch your life. They've made me make decisions in my life I might not have made otherwise."
Mastrocola wears a bracelet on her wrist that says, "It is what it is," and, "Keep smilin'" to remind her to be positive. She got the bracelet from a former cancer patient for whom she promised to run a half marathon.
While training for Boston's "Run to Remember," Mastrocola said running became one of her favorite stress outlets.
"Running makes me release everything," she said. "It helps me clear my head, helps me think about something I could have done differently in a situation, maybe how I could have handled it differently."
The ER isn't for everyone though.
Mastrocola said ER nurses have to be comfortable thinking quickly and managing extremely vulnerable patients who may be confused, sad, even angry.
"You can have someone thrown in here and put in an IV, and seconds later, they're wheeled off to the [operating room]," she said. "Some people are not okay with that. It took me two years to get comfortable in the ER after coming from the ICU. I had a hard time transitioning and wasn't sure I could acclimate myself to this environment."
Mastrocola found her "backbone" through her co-workers, however.
"The ER is a different culture," Mastrocola said. "We know just by a look that we're saying, 'I need to get out of here for a few minutes.' I work with extraordinary people."
Some nurses burn out after a few years in the ER, but Mastrocola said she isn't switching to a new department any time soon.
"In five years, I'll still be here," Mastrocola said. She smiled. "But in 10 years, I might want to transition to home hospice care."