Jobs
The 'Frugalwoods' couple had a baby, and still plan to retire by 33
Boston.com first spoke with the Cambridge couple about their frugal lifestyle last August.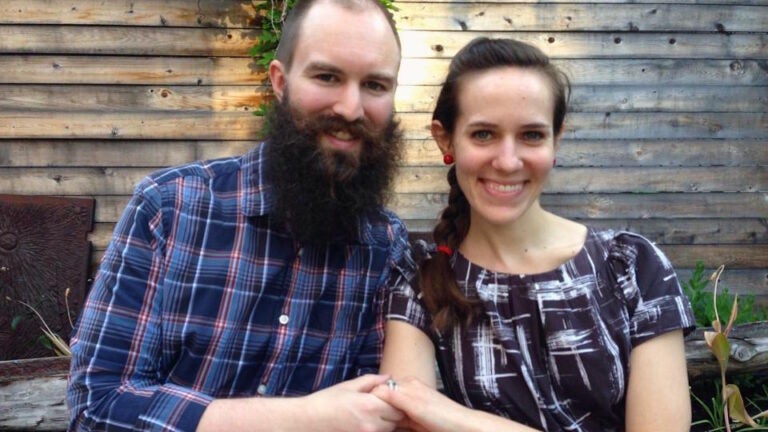 When Boston.com first met the 'Frugalwoods' last year, the Cambridge couple said their extreme frugality would allow them to retire by 33, own two houses, and eventually spend their time pursuing the activities they love: hiking, traveling, cooking, practicing yoga, woodworking, and astronomy.
That was in August 2015. Since then, a lot has changed for Liz and Nate Frugalwoods, who finally revealed their first names on the blog where they detail their financial journey.
Specifically, they had a baby, bought that second home (a gorgeous homestead in Vermont, equipped with a barn and 66 acres), and Liz left her office job in communications to freelance from home full-time.
Do the Frugalwoods still plan on retiring in just two years? You better believe it.
Until early 2014, Nate and Liz were a fairly typical young professional couple. They had both gone to college. Liz had gone to grad school. She was a communications manager. He was a software engineer. They were first-time homeowners.
"We had done essentially the standard track of what you're supposed to do," Liz told Boston.com last year. "But in early 2014, we realized it wasn't making us happy or fulfilled.''
They just weren't into the 9-to-5 office life, so they started cutting expenses wherever they could with the goal of retiring and moving to Vermont in the fall of 2017 — when they will both be 33 years old.
We caught up with the couple recently to find out whether having a baby or buying a new home had impacted their master plan. Neither had.
"Our culture tells us that for these special events, we have to spend a ton of money and we've found that you really don't have to," Liz said. "You don't have to focus on consumption."
The Frugalwoods had their baby girl Estelle (also known as "Babywoods") in November, and spent just $20 furnishing her nursery and providing her with the clothes and toys she needs.
They did this by embracing the second-hand and hand-me-down route, contacting friends and family members with baby items to give away, raiding garage sales, and joining the "Buy Nothing Project," an international organization with local branches that helps neighbors exchange items completely free of charge.
This method equipped the Frugalwoods with a used car seat, play mat, baby carrier, bouncy seat, hats, bibs, and pacifiers, among many other baby items.
"With babies, you can insource a lot of stuff," Nate said. "We just took baby photos at home. We dressed her up, put her on a blanket, and the grandparents loved it. It's just an example of how we're caught in a paradigm where we think we have to pay professionals for everything."
In fact, aside from diapers, rash cream, and Vitamin D drops from Costco, the Frugalwoods have not purchased anything new for Estelle, and say that she's had virtually no impact on their monthly savings.
"On the whole, our overall spending is almost exactly the same," Liz said. "We're totally up for taking the baby crap you don't want."
According to the monthly expense report published to the Frugalwoods' blog each month, this is an accurate assessment. In April 2016, they spent just over $4,000 on everything from food and taxes, to insurance, electricity, and gas. In April 2015, sans baby and new home, they spent just under the same amount.
The Frugalwoods are also having plenty of fun finding free activities for new parents in Greater Boston.
A little Internet sleuthing helped them find free playgroups and hiking groups like "Hike it Baby Boston," and they get all of their new parent literature from the Cambridge Public Library.
"There are scores of things to do that don't cost anything," Liz said. "Lots of parents are looking to get together and socialize without spending money. Having wonderful people over is free and gives you someone to talk to and connect with."
Ultimately, Liz and Nate reject buying tons of material things for Estelle because they don't think new toys will make her as happy as their undivided time will.
"Maybe she doesn't have brand-new fancy baby shoes, but she has our time," Liz said. "If we weren't frugal and we had boring, crazy lives, she might, but that's the trade off we make."
As for their new home, the Frugalwoods said they were able to buy the house of their dreams through two years of intense saving — about 70 percent of their net income. They never budgeted, they just started operating on "frugal autopilot," and eliminating all unnecessary expenses: eating out, movie tickets, new clothes, and all of the other seemingly trivial items people buy all the time.
The home came fully furnished, which eliminated any new expenses on furniture or decorations.
"The move is not much of an expense," Liz said. "We bought a home that's move-in ready. We don't need to take on any expensive renovation or repair costs and it comes with garden beds, a barn, and apple trees. It's about deciding what's important."
The Frugalwoods have also rented out their Cambridge home with a lease start date of June 1, and the projected income from that property will cover their Vermont mortgage with some money left over.
Sure, they're in an enviable position, but it wasn't without plenty of hard work, planning, and dedication.
You might be wondering: What if their daughter doesn't share the same frugal mentality?
Nate pauses.
"By and large, the way we will be raising her is with this belief system," he said. "This is what our family does and this is what we believe in. She will just understand that we don't buy things. That's just what we do. If she saves her money and can buy something, that's her ability, but hopefully some of our philosophy will rub off on her. I guess we'll find out."