Jobs
Massachusetts nurses say staffing shortage leads to patient suffering
The Massachusetts Nurses Association has been lobbying for the passage of a bill that would put limits on nurses' patient assignments for the past 17 years.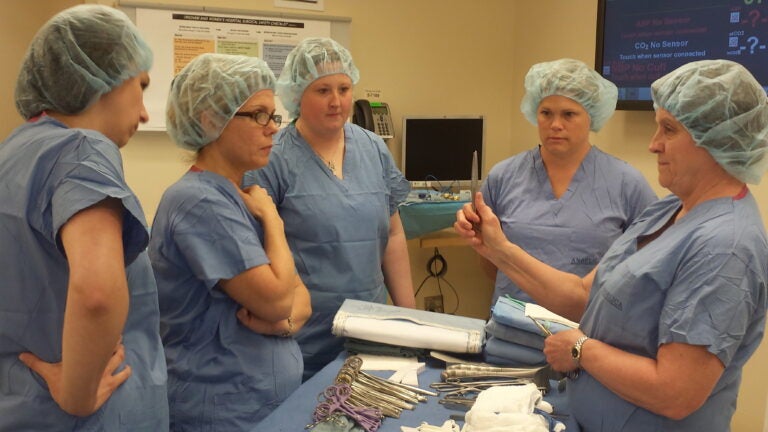 Nurses in Massachusetts want changes they say will make things safer for themselves and for their patients. But they're having trouble getting them.
Many hospitals are chronically understaffed. Whether that's due to a shortage of qualified nurses or cost-cutting measures by some hospitals, the Massachusetts Nurses Association says it puts workers and patients at risk. Patients don't get the specialized care they need, and nurses have been reporting more violent incidents with patients.
As a result, nurses in Massachusetts are lobbying for the Patient Safety Act, which would put limits on nurses' patient assignments. Variations of this bill have been filed unsuccessfully for the past 17 years, and this year appears to be no different.
Donna Kelly-Williams, an obstetrical and neonatal nurse at Cambridge Hospital and president of the MNA, told Boston.com she'd like to see the Patient Safety Act, filed in the State House by Norfolk Democrat Denise C. Garlick, passed because it would limit nurses to caring for four patients or fewer in medical and surgical units, with nurses caring for even fewer patients in complicated care situations.
"Studies have shown that patients need adequate staffing to recover properly," Kelly-Williams said. "Patients come in all varieties with all different needs. We need to have the right number of nurses available to give patients the best outcome possible."
Over the course of Kelly-Williams's 40-year career, she's seen patients spend less and less time in the hospital — and that's a bad thing, she said.
"By the time patients are getting to the hospital, the patients are much sicker than when I started my career in nursing, and they don't stay as long," Kelly-Williams said. "We get them in when they are very, very sick, and send them home when they're not fully ready with instructions. It's very difficult for the average patient to follow instructions safely, and nurses have a limited time to teach them before they're discharged. As nurses, we're very frustrated at not having adequate resources available for patients to care for them more thoughtfully."
When patients are released before they're ready, Kelly-Williams added, they're more likely to return to the hospital with complications.
Another concern related to understaffing? "Floating."
When certain units of the hospital are under-staffed, nurses from other units "float" in to cover the gaps.
Mary Sue Howlett, associate director of nursing at MNA, said floating throws inexperienced nurses into unfamiliar units without proper training. For example, a nurse who specializes in the neonatal unit could be asked to work in the emergency room.
Howlett compared this to having a plumber work on your home's electrical wiring system.
"Nurses need to be able to care for patients, and that means having them be oriented to that population," Howlett said. "If they're floating between units and haven't been oriented to that patient population, the patients don't get the care that they deserve. You wouldn't want a medical doctor doing surgery on you, so why would you want a medical nurse caring for you post-operatively?"
Pat Noga, the vice president of clinical affairs for the Massachusetts Hospital Association, disagrees with the nurses. She said the Patient Safety Act would hurt hospitals' collaborative efforts to bolster the readiness and availability of nurses.
"The artificial one-size-fits-all staffing mandate proposed by the MNA union will do nothing to improve the supply of nursing in the Commonwealth," Noga said.
She added that the MHA is preparing as best it can for the influx of retiring nurses, and is working with the state Department of Higher Education to increase the number of nurses with a nursing bachelor's degree or higher, and to streamline the educational pipeline for quicker achievement of degrees.
"The Coalition is also working to provide mentorship to diverse nursing candidates, better prepare graduate nurses for transition into the workforce and engage healthcare employers to support their nursing workforce and advance employees' career objectives," Noga said.
In April, the Patient Safety Act was placed in a legislative study committee and so it will not advance, once again.