Jobs
The work life of a data scientist at Kronos, one of Massachusetts's top employers
Kronos is a workforce management software and services company based in Chelmsford.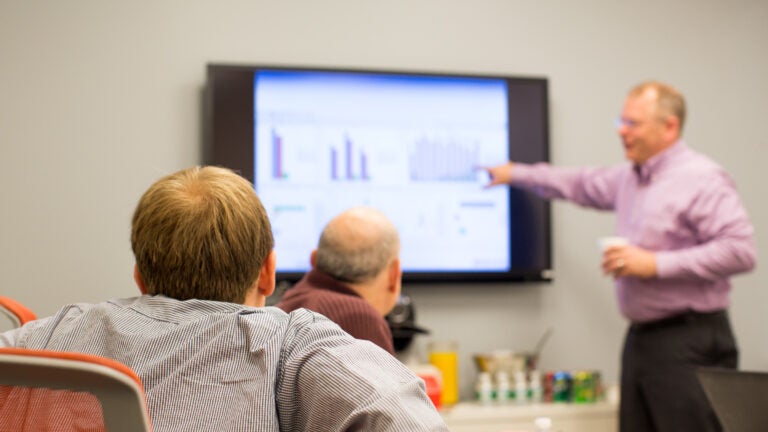 If you've ever worked for a large retailer, hospital, restaurant, school, or government agency and have had to record your hours, there's a good chance you've used Kronos — probably without even knowing it.
Kronos, a Chelmsford-based workforce management software and services company, provides a human resources platform to companies, and it's consistently ranked as one of the best places to work in Massachusetts.
Whether an employer needs to keep track of time and attendance, scheduling, absence management, hiring, human resources, payroll, or labor analytics, Kronos's platform has the tools to do it. Most of these organizations are hoping that using Kronos's applications to hire, schedule, and analyze their labor resources will result in optimal efficiency and will reduce their labor costs.
But who has the time or money to sift through millions of data points to determine whether that third manager is really necessary on Wednesday nights, or to understand how many 'clopenings' are going on at a chain of over 11,000 coffee shops?
That's where Kronos's data scientists come in.
"You can get overwhelmed with data. You can get buried in it," Gregg Gordon, vice president of big data for Kronos's workforce management practice group, said. "Our job is making it easy to use and having an impact on business."
Data scientist came in No. 16 on this year's Glassdoor list of highest paying jobs, and in late 2015 the employer review site put data scientist in the No. 1 slot on its list of best jobs for work-life balance.
But that salary and quality of life is earned through lots of brain power and problem-solving ability. At Kronos, it means being able to take on a wide range of projects.
Sometimes Kronos data scientists provide retailers with forecasts of what business will be like in a certain store so it knows how many people to schedule. Other times, Kronos's customers will come to them with a specific problem they need solved.
For example, Gordon said, one hospital came to Kronos because it was concerned employees were switching shifts back and forth in order to get a premium the hospital offered to workers who were willing to pick up shifts.
"The chief nursing officer heard people were swapping shifts back and forth just to get the premium, and wanted to know whether people were actually doing that or not," Gordon said. "We did a network map of all the swaps that took place showing who swapped with who and used color-coded arrows to show that the more green it was, the more that person swapped with the other person."
Gordon brought the diagram up on a projector.
The network map showed a lot of swaps overall, but in reality, only two sets of three people were constantly swapping with one another.
Gordon explained that in the grand scheme of the hospital, this was such a small portion of employees that the chief nursing officer didn't have to worry about an impact on the hospital's bottom line.
The solution might sound simple enough, but Gordon said the map required an exorbitant amount of data.
"These are the kinds of things we work on. Hiring these people is really, really hard," Gordon said as he gestured to two data scientists, Tom Walsh and Alex Krowitz, seated in a Kronos meeting room.
So, what does Gordon look for when hiring data scientists?
"To be successful at Kronos, you need product knowledge, workforce analytic knowledge, industry knowledge, and data scientist skills," Gordon said. "It's really hard to hire one data scientist and have them have all these skills, so I hire highly collaborative people with a mix of those skills and when you put them together, that's when the magic happens."
That's why data scientists at Kronos work in pods to solve customers' problems and improve one another's competencies, but Gordon reiterated that it's very hard to get a job there.
Gordon said he typically hires people who majored in economics, finance, computer science, engineering, or mathematics, and looks for exceptionally bright candidates with solid critical thinking skills.
"I look for people with intense curiosity," Gordon said, mentioning that many graduates apply to Kronos to be data scientists after seeing the high salaries these workers typically earn. "And then I ask what them what they do in their spare time, and if they don't enjoy digging in the data, just took the mandatory data science courses, then I know they wouldn't enjoy doing what you do on the job."
Walsh is one of those guys who truly loves digging around in data.
Walsh got his bachelor's degree in computer science from the University of Maryland Baltimore County and a PhD in the same field from Rutgers University before working in a number of jobs across industries and academia where data science is used.
One of the things Walsh loves most about his job at Kronos is that he feels like a detective.
"We like to explore data, but for a lot of what we do, we're working on real identified business problems," Walsh said. "Someone comes to us and says, 'I think something's not right here,' whether it's time card fraud detection or clopening. So we get to be detectives and figure out what is actually going on there from an objective point of view."
What's the hardest part of being a data scientist? "Data is noisy," Walsh said.
"People make random decisions," Walsh said. An employee will incorrectly punch his or her time card one day, and then won't make a mistake the next. "Seeing through that fog to figure out why they made those decisions is a challenge."